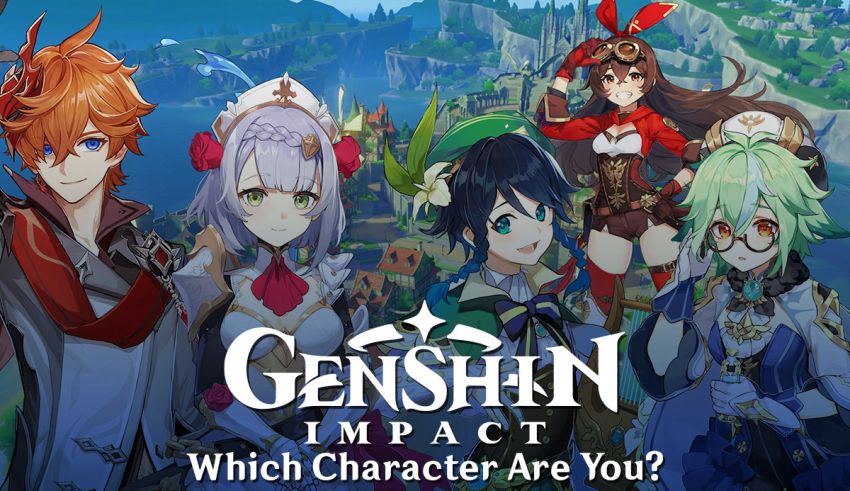 This quiz has an accurate answer to the question which Genshin Impact character are you? Just answer 20 simple characteristic questions to find out.
The Most Accurate Genshin Character Finder
Many Genshiners want to know which hero's personality is similar to them. This quiz, therefore, helps those asking, "Which Genshin Impact character am I?" Just like the Pokémon Character Test, the goal is to find your perfect match after analyzing your persona.
However, the results offer more insight into your character. (See below).
Meet Your Hero
The first thing you learn after taking the quiz is which Genshin character you are. The algorithms look through all 30 profiles to find your perfect counterpart.
Discover How Rare You Are
Fans already know that Genshin characters and heroes have a rarity rank. The higher it is, the harder it gets to acquire them. The Genshin Kinnie Finder Test reveals how rare you would be if you lived in Teyvat.
Note: We will not consider the hero's rarity for this part. Your results will be based on your own persona's rarity.
Find Out What Weapons You Would Use
Weapons play a significant role in the Genshin universe. You might want to know what type of firearm you would use if you were an actual hero. (If that's the case, the quiz will give you the correct answer).
Get Additional Info About Your Character
If you check out the game's forums and subreddits, lots of fans ask questions like, "Which Genshin character are you?" And the answers are pretty diverse. Our character quiz reveals additional information such as your birthday, element, and nation to make things even more fun.
Every Genshin Impact hero has a specific birth date and message. By taking the test, you have the opportunity to discover your possible birth month and day, as well as the message you would receive in the game's universe.
Elements are vital for your character to grow and develop. That is why we included them in the Genshin personality match test.
It is always fun to know where your character is from and what their backstory is. The test results include a brief history of your match's past, as well as their nation.
Which Genshin Impact Character Are You?
Not every Genshiner would spend time taking the full character quiz. So, here is an alternative way of finding your perfect match. Read the following descriptions of each main persona in the game to see which one is more similar to you.
This is the easiest way of discovering your soulmate in the game. But it would not result in accurate pairs. So, we still recommend taking the quiz for the most reliable results.
#1: Traveler
Everyone is a traveler when it begins. However, the Traveler in the game is also the protagonist of the story. Regardless of gender, this character is determined, hardworking, and hopeful. They try hard to save their sibling from evil.
#2: Amber
She is a natural guide. You can rely on Amber's help no matter how challenging the task is.
#3: Lisa
Being one of the hottest Genshin characters, Lisa is a humble but powerful mage.
#4: Sangonomiya Kokomi
She does everything in her power to give the people of Watatsumi Island the hope they need. Sangonomiya is a cheerful and helpful girl. No matter how challenging the task is, she is there for you to lend a hand.
#5: Kaeya
According to fans on Twitter, "Kaeya is a firm believer in found family, and he has chosen who he values. He is also observant, battle-prepped, and genuinely friendly."
#6: Aloy
Some fans know her as the protagonist of the Horizon Zero Dawn video game. However, as a Genshin character, Aloy is still an independent, ambitious, and brave girl. She is goal-oriented and serious about her objectives.
| | |
| --- | --- |
| Character | Age |
| Sangonomiya Kokomi | February 22nd |
| Aloy | April 4th |
| Lisa | June 9th |
| Kaeya | November 30th |
| Amber | August 10th |
| Xingqiu | ​October 9th |
| Venti | June 16th |
| Ganyu | December 2nd |
| Hu Tao | July 15th |
| Zhongil | December 31st |
Genshin Impact 4.0: Dive into the New Adventures!
The much-anticipated 4.0 update is here, and it's packed with exciting content. Titled "As Light Rain Falls Without Reason," this update introduces us to the mesmerizing region of Fontaine and its underwater wonders. Ready to meet some new faces? Three new characters are making their debut: the fiery 5-Star Lyney, the breezy 4-Star Lynette, and the icy 4-Star Freminet. But that's not all! Some of our favorite characters, like Zhongli and Tartaglia (Childe), are returning in the Banner phases.
Dive deep into the waters of Fontaine with the new swimming and diving mechanics. Explore the underwater realms, battle new bosses, and embark on fresh quests. And for all the collectors out there, two new Artifact sets are up for grabs, along with new battle pass weapons and craftable weapons from Fontaine.
Events? We've got plenty! From the "Relic Records – Creations of the Hydro Nation" event, where you can explore and collect Fontaine intel, to the "Mega Meka Melee" event that lets you assist a Fontaine shop owner with intriguing experiments. Not to mention the photography challenge "Studies in Light and Shadow" and the combat-centric "Verdict of Blades" event.
Mark your calendars because Genshin Impact 4.0 drops on August 16th, 2023. For our friends in the US, that's August 15th, 2023, due to time zone differences. So, gear up, Travelers, and let's dive into the new adventures that await in Fontaine! 🌊🌟
Disclaimer
QuizExpo does not own any of the images used in the Genshin Character Quiz. miHo Yo owns all the said pictures.
How to Play?
Playing personality quizzes is straightforward: Choose the option that's true about you—or you relate to—and select "Next." Unlike trivia quizzes, personality tests have no right or wrong answers. But the questions are in forced-choice format. The point is to push you to choose an option that makes the most sense, not the one that's 100% true. For the most accurate results, don't overthink your responses. Go with options that you "feel" are the best.
Questions of the quiz
1

What is your favorite activity in the Genshin world?

Doing missions

Scouting

Improving my working

Crafting

Fighting

All of them

2

Which one sounds like your favorite playstyle?

Casual

Stealth

Strategic

Peaceful

Adventure-oriented

Action-oriented

3

Imagine a giant monster shows up in your city. What do you do?

Defend

escape

Prepare a group to fight back

Help people evacuate the city

Keep the monster busy while others escape

Kill the monster single-handedly

4

You found a huge treasure somewhere deep in the woods. What do you do?

Share it with my friends

Tell everyone about it

Save it for later

Give to people in need

Buy new gears

Buy new weapons

5

What type of anime shows do you often watch?

Funny

Romantic

Harem

Scary

Shonen

Dark

6

Of the following options, which one is your favorite color?

Yellow

Red

Blue

White

Orange

Black

7

Pick a weapon.

Sword

Bow

Dagger

Bladed shield

Spear

Battle-axe

8

Pick a means of transport.

Walking

Horse

Fast travel

Wings

Dogs (sledding)

Running

9

What type of nickname would you like to have as a Genshin hero?

The Humble Hero

The Lovely Lady

The King/Queen

The Angel

The Savior

The Unknown

10

Would you feel bad for killing your long-time nemesis?

Maybe

Yes

No

It depends

That would be stupid

I feel nothing for my enemies

11

What is your priority when playing Genshin Impact?

Complete the missions

Discover more places

Rank up my weapons

Spend time with friends and NPCs

Look for treasure chests

Fight more enemies

12

What type of hero attracts you the most?

Determined

Kind

Confident

Helping

Brave

Orderly

13

Choose one word that describes you better as a Genshin fan?

Obsessed

Enthusiastic

Interested

Casual

Hardcore

Addicted

14

Pick your favorite Genshin gadget.

Wilderness Rod

Windtangler

Wishmaker

Geoculus Resonance Stone

Wind Catcher

Electro Treasure Compass

15

Are you good at following orders?

Yes

Most of the time

I'm good at giving orders

Not really

No

It depends

16

Which of the following Genshin characters do you dislike? (You have to pick one).

Kaeya

Lisa

Amber

Aloy

Traveler

Sangonomiya

17

How do you spend your money in the Genshin universe?

I buy important items

I buy aesthetic items

I use it to upgrade my character

I save all my money

I buy armor

I buy weapons

18

How much real-world money have you spent on buying in-game stuff?

$0

$2-$5

$5-$10

$10-$15

$20

More than $20

19

Fill in the blank. My enemies deserve _____________.

A second chance

To be forgiven

To be imprisoned

To be loved

To die

To be tortured

20

Final question; how many hours do you play Genshin Impact each day?

1 hour

2 hours

3 hours

4 hours

5 hours

More than 5 hours!