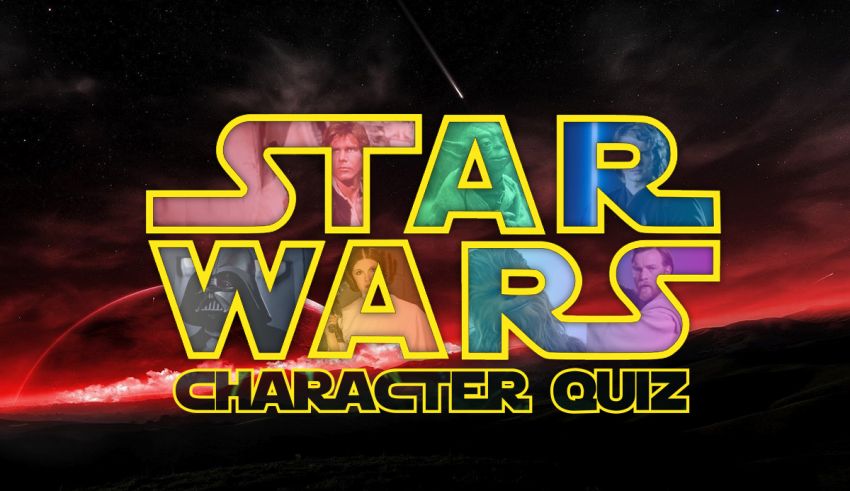 Which star wars character are you? Let's find out by this accurate personality quiz. This test matches you to 1 of 21,647 characters by some simple questions.
Which star wars character are you?
Undoubtedly, Star Wars is a familiar name for most of us because we've watched at least one of its movies in our lifetime. These movie series have had an impressive impact on ordinary people's cultures and lifestyles. These films' atmosphere and characters are attractive for any age group, from children to adults. Even sometimes children or young people choose one character as a role model for themselves.
Are you one of these people? If yes, which star wars character are you? The answer to this question may be challenging for you because you need to know the famous characters well. But this can take a lot of time, so there is a good suggestion for you, and this is the "Which star wars character are you?" quiz. You will learn more about this quiz here.
What is the story of the Star Wars movie series?
Star Wars is a series of science fiction films about an interplanetary war between an authoritarian government and Luke Skywalker's rebel alliance in a fictional, distant galaxy. In these films, humans, aliens, human-like creatures, and even smart robots all play roles together and add to this series's magic. Each of these characters has its strengths and traits that fascinate its fans.
Why do we say movie series? Because it consists of three trilogies that last from 1977 to 2019 and surprise their fans every time. The first trilogy began with Star Wars in 1977 and ended with 'Return of the Jedi' in 1983. After a 16-year hiatus, the Prequel trilogy started with the movie 'The Phantom Menace' in 1999 and ended with the movie 'Revenge of the Sith' in 2005. This time, the break didn't last long, and ten years later, in 2015, the Sequel trilogy started with 'The Force Awakens' and ended with 'The Rise of Skywalker' in 2019.
Star Wars is a fictional universe and a brand known primarily for its films, and in the years that followed, it gained its reputation in comics, computer and console games, and television productions. Today, there are millions of fans around the world who are looking forward to the new seasons of this series.
Star Wars Characters
Can you believe there are about 21,647 characters in the Star Wars universe? Of course, this figure is normal because all Star Wars series are rich and full of events. These films have been in our lives for over forty years and are a collection for all generations. Your father and even your grandfather may have memories of these films. Which of these characters do you know and love most? Despite a large number of characters, maybe only a certain number could become famous and always live in the minds. Here are four favorite characters:
Darth Vader
Darth is one of the most popular villains in cinema. He is a heartless and violent person who always likes to fight. Darth is impatient but always tries to show himself calm and in control. He has no tolerance for disobedience, defeat, and betrayal, and for these reasons, he can easily kill his people. His extraordinary powers include Telekinesis, Telepathy, Tutaminis, and Immense Strength.
Han Solo
He is one of the most popular characters in Star Wars. Han is very kind and honest and always tries to take care of his friends and family. His interests include money, betting, piloting, and family. Han is also fearless, responsible, and selfless and can withstand any difficulty. He is a multilingual person, and His abilities include piloting and utilizing blasters.
Yoda
Yoda is a small, cute, and kind green alien that we all know well. He is a symbol of kindness, intelligence, care, and mystery. Yoda often behaves like a grandfather for teenagers and always wants to advise and teach them new things. He loves peace, nature, animals, and his friends and hates war, evil people, and chaos. His remarkable powers are Extended Longevity, Force Deflection, and Telekinesis.
Princess Leia
She was among those who wanted to restore the galaxy's freedom and establish a new republic. Leia was brave, fearless, intelligent, and a leadership person. But sometimes, she became stubborn, headstrong, emotionally insecure, and impatient. A sense of justice, dignity, and good morals caused her popularity. Leia has visions of the past, the present, and the future, and she was also an outstanding hand-to-hand fighter.
Star Wars Quiz
You may also come across quizzes when you search for Star Wars. These quizzes are the newest and ideal way for fans who want to test or learn new things about films. There are currently two types of these quizzes: Star Wars trivia and Star Wars personality test.
The Star Wars trivia challenges your knowledge of movies by asking a few general questions. This also has different levels; for example, the expert Star Wars trivia suits true fans and sometimes professionals. On the other hand, there are easy trivia quizzes that are suitable for people who may have seen only a few series and do not know enough about the film.
"Which star wars character are you?" It could be a title for the personality quiz. In this test, by answering a few personality-based questions, you will finally find out which of the characters in these films you look like.
How to Play?
Playing personality quizzes is straightforward: Choose the option that's true about you—or you relate to—and select "Next." Unlike trivia quizzes, personality tests have no right or wrong answers. But the questions are in forced-choice format. The point is to push you to choose an option that makes the most sense, not the one that's 100% true. For the most accurate results, don't overthink your responses. Go with options that you "feel" are the best.
Questions of the quiz
1

Which one bothers you?

Slavery

Being cheated

Chaos

War

2

Are you willing to take risks and save people in dangerous situations?

No, why should I do this?

Yes, only for my friends and family

Yes for everyone

I do not know, it depends on the situation

3

Choose one of the following weapons:

4

Can you communicate with other people on short or wide distances? Or do you have telepathy?

Yes, I do

Not at all

Sometimes

This is one of my powers

5

What is your Zodiac sign?

Leo

Pisces

Virgo

None of them

6

Which of the following is closest to your interests?

Interrogation

Betting

Animal care

Spending time with my loved one

7

In which of the following do you have significant ability?

I can manipulate people by intimidating them.

I can speak several languages.

I use a carefully planned strategy to achieve a specific end.

I am highly skilled in diplomacy, and negotiation

8

Your friend is doing something that goes against your beliefs. What is your reaction?

He/she is no longer my friend.

No matter

I try to ask him/her a logical reason

I do the same

9

Family is...

I don't know

One of my interests

A place for education

A place for love

10

What is your favorite eye color?

Multicolored eyes

Hazel

Green

Brown

11

What is your most distinctive personality trait?

Heartlessness

Responsibility

Smugness

Independency

12

Which of the following quotes is most familiar to you?

"I find your lack of faith disturbing."

"Never tell me the odds."

"No, try not. Do, or do not. There is no try."

"There's still light in him, I know it."

13

What is the principle of life?

14

What is your personality weakness?

Malevolence

Sometimes I act selfish

Sometimes I advise people a lot

Sometimes I get so stubborn

15

If you wanted to have extraordinary power, what would like it to be?

I want telekinetically crush objects

I want to fly any kind of aircraft

Immortality

I want to have visions of the past, the present, and the future

16

How many other languages do you have besides your mother tongue?

17

What motivates you to achieve your goals?

Arguing with people

My friends

Hope

Those I love

18

What is your favorite field of study?

Engineering

Astronomy

Sociology

Politician

19

Which personality trait of your friend makes you stay away from her/his?

Lots of humor

Irresponsibility

Unkindness

Being cowardly

20

What is your personality type?