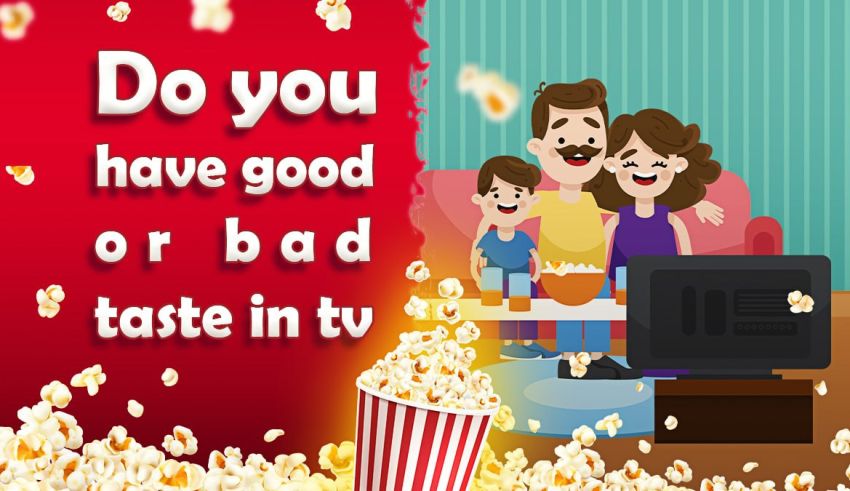 Do you have good or bad taste in TV? Take this television preference test to analyze your watch list with brutally honest results.
Analyze Your TV Preferences with a Quiz
The TV Show Taste Quiz is a 20-question preference analyzer that reveals if the content you consume is relatable, respectable, and cool.
The goal is to dig into what you're likes and dislikes, so we can figure out what kind of vibe you give off and how other people might interpret your favorite shows.
If you're unsure about the quality of your TV preferences, take this test. In just a few minutes, we'll let you know how much pride you can take in your Netflix watch list.
Signs Your Taste in TV is Actually Great
Generally, you have good taste in TV if you try out new stuff, are open to criticism, can remain unbiased despite the social media hype, and have strong opinions about the shows you like. But here are all evident indicators of an elegant preference:
People ask for your recommendations. One obvious sign of having good taste in TV is getting lots of recommendation requests. If people want to watch what you watch, your taste is a-okay. 👌🏻
Your taste in TV is diverse. People with bad TV taste have a limited pool of choices. But if you can appreciate enjoyable shows with different genres, you're a savvy TV lover.
You give unpopular shows a chance. You know you've got good taste when you're not swayed by all the hype in the media. Classy people pick their favorite shows based on what they actually like instead of what everyone else is talking about.
You know exactly why you like a TV show. Having strong opinions and being confident in your taste is a good sign. It indicates that your entertainment preferences reflect their personality, and you're not a casual normie.
You're almost a TV historian. Knowing a lot about famous screenings, actors, and lore is a solid sign of good taste.
Your inner critique is objective. Being a non-biased audience is a prerequisite to having good TV preferences.
Does It Matter to Have Good Taste in TV?
Just like your taste in music, your TV preferences are personal and shouldn't be judged by others. The only potential issue could arise in romantic relationships where both partners may have different viewing habits. But even in that case, those people can figure out ways to respect and appreciate each other's taste with no emotional damage or unnecessary argument.
Quick Tip: Try out our compatibility test to see if your and your partner's TV tastes match.
Find Out How Relatable Your TV Preferences Are
Are you ready for a TV-critique-level personality test? The following questions identify if your taste in television shows is good or bad by analyzing your choices and habits.
By the way, you can also take our Anime Suggestion Test to find high-quality shows to binge-watch—and maybe step up your binge-watching game. 🙄
Anyways, let's analyze your taste in TV with 20 entertaining questions.
How to Play?
Playing personality quizzes is straightforward: Choose the option that's true about you—or you relate to—and select "Next." Unlike trivia quizzes, personality tests have no right or wrong answers. But the questions are in forced-choice format. The point is to push you to choose an option that makes the most sense, not the one that's 100% true. For the most accurate results, don't overthink your responses. Go with options that you "feel" are the best.
Questions of the quiz
1

What kind of TV shows do you often watch?

Critically acclaimed shows

I watch shows that my friends recommend

Anything binge-worthy, I like mindless entertainment

Trendy shows and buzzworthy series

2

How much do you know about your favorite shows?

I have expert-level knowledge

I have surface-level knowledge

I usually know the general plot, not much else

I'm obsessive and often know everything possible

3

How do you choose a TV show to watch?

Personal interest

Word of mouth (familiar titles)

Popular, trending shows, and recommendations

Hype, social media buzz, and fandoms

4

How many streaming services are you subscribed to?

More than 5

1-2, basic plans

3-4

I have almost all of them

5

What do you think about classic TV shows?

I appreciate and respect timeless classics

I enjoy some classics but prefer modern shows

I'm indifferent; I prefer new content

I'm obsessed with some classic shows

6

What do you do after watching the last episode of a show?

I reflect, analyze, and discuss

I move on and look for a new show

I start a new show immediately

I rewatch, analyze, discuss, and join the fandom

7

How often do people ask for your TV show recommendations?

Frequently (I'm a trusted source)

Occasionally (they ask for casual suggestions)

Rarely (I'm not seen as an authority)

Constantly (I'm known as an expert)

8

Which one's more important? The cast, the story, the director, or the reviews?

9

Does the social media hype around a show affect you?

Marginally, not easily swayed

Somewhat, curious to try

Significantly, eager to watch

Absolutely, must watch immediately

10

Are you likely to dive into a show's lore and iceberg?

Definitely, I love deeper meanings

Sometimes, it depends on the interest

Rarely; I prefer surface-level content

Always, I'm obsessed with my favorite shows

11

On a scale of 1 to 4, how big of a TV show critique are you?

4 (Expert)

2 (Casual)

1 (Not a critique)

3 (Obsessive)

12

Do you like watching other countries' TV shows?

Absolutely, I appreciate diverse stories

Sometimes, it depends on the genre

Occasionally, I like popular foreign shows

Rarely, I'm mostly into American shows

13

How interested are you in art & entertainment news?

Interested

Somewhat interested

Not interested

Extremely interested

14

Do you follow your favorite show's crew on social media?

Yes, I love behind-the-scenes insights

Sometimes, but only if I'm curious

No, I don't do that

Absolutely, I follow every cast member

15

Do you post about your favorite TV show on social media?

Occasionally

I have done that before

I've never done that

Yes, that's all I do on social media

16

Have you ever tried taking a personality quiz about a TV show that you like?

No, but I love the idea

Kind of, yes

No, that sounds silly

Yes, I'm always looking for more quizzes

17

How biased are you when it comes to your all-time favorite shows?

I don't think I'm biased. I appreciate all shows

I might be slightly biased

I'm very biased, but I can tolerate negative opinions

I'm extremely biased. I can't stand haters

18

How often do you rewatch a nostalgic show?

Once in a while

Rarely, I'm into new content

Frequently, I rewatch my comfort shows

Constantly, I can recite every line

19

How likely are you to start using a show's catchphrases?

Unlikely, I'd rather discuss the plot

I might do that if it's something funny

Very likely, I love to quote shows

Absolutely, I use them every chance I get

20

And finally, define a great TV show in three words or less.

Artistic, thought-provoking, original

Entertaining, relatable, memorable

Addictive, binge-worthy, mindless

Iconic, obsessive, unforgettable