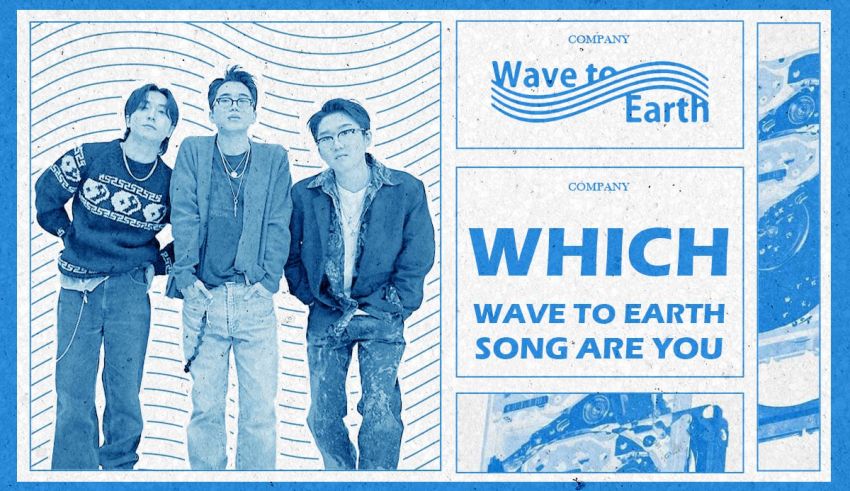 Which Wave to Earth song are you? Take this personality test to see if you're Seasons, Light, Daisy, or another track.
Brief on Wave to Earth
Despite all the buzz around K-pop, Wave to Earth is a humble indie rock band from South Korea. The group consists of three members: Kim Daniel, Shin Donggyu, and Cha Soonjong. However, this underground crew has collaborated with lots of up-and-coming stars.
Wave to Earth tries to swim against the stream, following a non-confirming path that opposes that of K-poppers. Since their debut in 2019, they've focused on melodic, lyrical music that's soulful and relatable, not insincerely hyped.
I came across WtE on a lucky day as I was mindlessly scrolling Spotify. But it took only a few minutes to binge-listen to all their EPs and singles, finding myself a new favorite Korean band.
With the quiz on this page, I will help you figure out which of their masterpieces resonates with your personality—and try to explain why.
Which Song from Wave to Earth Are You?
I'm sure my soul song is Seasons. But what about you? If you're not as certain as I am, try the quiz on this page. The 15 questions I will ask you can expose the lyrics that represent your true persona.
Here are some of the Wave to Earth songs you might match:
Seasons
Nouvelle Vague
Light
Love
Homesick
Bonfire
And more…
All Albums Included
2023 became a better year for K-Rock fans when Wave to Earth released their third album, 0.01 Flaws and All. But I'm a fan of their previous EPs as well, Wave 0.01 and Summer Flows 0.02. So, what's saying is that the current song test that I've created includes tracks from all of them.
Songs Do Reflect Your Personality
Do you know what some Wave to Earth fans might be asking? "Why bother figuring out their song?" Well, here's the deal: Science says the music you jam to can reveal a lot about your personality. So, when you discover your WtE track, you're actually uncovering some hidden facets of your character. And that's the coolest way to connect with your favorite K-Rock band.
I've used my music and psychology knowledge to assign personality traits to some of the Wave to Earth songs. Here's the result; use the table to find your heart's song.
| | |
| --- | --- |
| Track | Persona |
| Seasons | Selfless, protective, sacrificial |
| Daisy | Pure, transformative, joyful |
| Light | Reflective, resilient, open-minded |
| Nouvelle Vague | Appreciative, serene, devoted |
Wave to Earth Fans Need This Test
Do you enjoy the lyrical magic of WtE? If yes, this song quiz is the perfect choice. Answer simple, relatable questions of mine to see which track of the band represents your personality. (I guarantee satisfying results—even if you're not a fan.)
Also, I've been jamming to VCHA's new song. I think you'd love it as well. That's why I recommend you try the "VCHA Member Test" as well.
That's all from me. Now, let's expose the Wave to Earth song in you.
Disclaimer
QuizExpo does not own any of the images in this quiz and intends no copyright infringement.
How to Play?
Playing personality quizzes is straightforward: Choose the option that's true about you—or you relate to—and select "Next." Unlike trivia quizzes, personality tests have no right or wrong answers. But the questions are in forced-choice format. The point is to push you to choose an option that makes the most sense, not the one that's 100% true. For the most accurate results, don't overthink your responses. Go with options that you "feel" are the best.
Questions of the quiz
1

Which season is the most poetic?

2

What makes Wave to Earth songs unique?

Band members

Melodies

Lyrics

Moods and themes

3

Are you a fan of K-pop?

Yes, absolutely

I used to be a K-pop fan

Kind of; I enjoy most music genres

No, not at all

4

What do you think of South Korean underground music?

I think it needs improvements

I like it as it is

I'm optimistic about its future

I don t think it gets enough attention

5

How would you feel at a Wave to Earth concert?

Happy

Calm

Inspired

Bittersweet (I'd feel a joyful sadness)

6

What do you do when you're lonely?

I watch movies, write, or read

I play games, check in on friends, and things like that

I listen to my favorite songs and attend to my hobbies

I drink, smoke, eat, or sleep

7

How do you deal with heartbreak?

Therapy

I just pretend I'm fine

I go out, keep myself busy, and try to have fun

I drink, smoke, eat, or sleep

8

Which one better describes you at a bar?

Trying to have fun and meet people

Looking to flirt with random strangers

Laughing out loud and dancing

Minding my own business and drinking quietly

9

What s your usual midnight mood like?

Peaceful

Nervous

Energetic

Depressed

10

What's a good one-word definition for depression?

Self-Reflection

Resilience

Transformation

Weight

11

What s joy to you?

A shared smile with a loved one

The joy of achieving goals after hard work

Partying with loved ones when your life is on track

I guess I don t know anymore

12

How do you feel when listening to Wave to Earth?

Spiritual

Nostalgic

Inspired

Sad (in a good way)

13

Which one makes an artist?

Love

Memories

Creativity

Wounded soul

14

What calms you down when you're stressed?

Others (loved ones or friends)

Me (I talk myself out of stress)

God or something spiritual (I pray and feel better)

Something else

15

Which one sounds like a heartfelt wish?

Serenity

Health

Success

Money