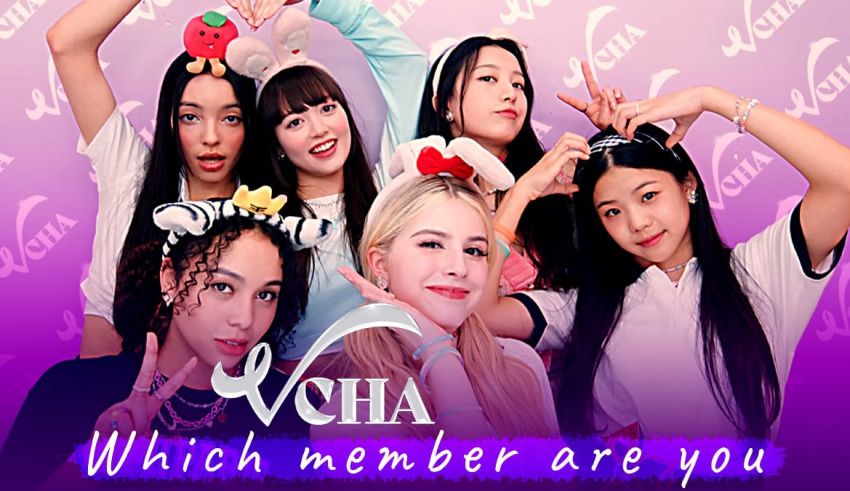 Which VCHA member are you? This A2K Quiz reveals if you are Kylee, KG, Savanna, Camila, Kendall, or Lexi!
Which VCHA Member Are You?
VCHA is a six-member band comprised of North American and Korean girls. The group is set to debut on an undisclosed date in 2023, with Kaylee, KG, Savanna, Camila, Kendall, and Lexi all chosen through the America To Korea (A2K) contest.
Although this American-Korean pop band is a relatively recent phenomenon, fans already want to know which VCHA member they are. So, we used the gals' official profiles to come up with the most accurate personality test.
For those wanting to better know this K-Pop group's members, here are the brief descriptions of their personas.
Kylee
As the youngest member of VCHA, Kylee is cute and innocent. However, she has a straightforward and disciplined personality that often brightens other girls' moods.
KG
Taking Taylor Swift as her role model, KG is artistic and relatable, with high feminine energy. Her favorite color is pink, and surprisingly, she's good at basketball—just a tiny hint at her colorful personality.
Savanna
A natural dancer, Savanna is an ambitious, athletic girl. She is quick with learning and is not afraid of trying out new things—whether they're dance moves or life experiences.
Camila
Camila is the healer of VCHA; she's an empath who, outside of K-Pop, is on her way to becoming a nurse. Personality-wise, Camila is calm and nurturing, though she also has a fierce and impulsive side to her.
Kendall
Despite her quirky side, Kendall is a graceful, naïve girl with an impressive talent for working under pressure. (There's a reason she became a successful ballet at a very young age.)
Lexi
As the leader of VCHA, Lexi is supportive, protective, and reliable. Despite her young age, she ensures every member of the band is doing fine, caring for them like an older sibling.
This A2K Quiz Reveals Your Bestie and Gemstone
In the America 2 Korea show, contestants had to acquire four gemstones—one for dancing, one for vocals, one for character, and one for star quality—to qualify for the next round.
Now, in the VCHA Quiz, you get to receive some gemstones as well! We can't evaluate your singing or dance moves (obviously), but we have some other surprise gems for you.
Discover Your Match with MBTI and Star Sign
The way this VCHA Member Quiz works is that it first identifies your MBTI and star sign and then compares your profile with those of the girls. This way, you find your true counterpart—or bestie, if you will.
If you can't wait for the results, discover your actual bias with the following table.
| | | |
| --- | --- | --- |
| VCHA Member | MBTI | Star Sign |
| Kylee Lee | ESTJ | Sagittarius |
| Savanna Collins | ESTP | Leo |
| Kendall Ebeling | ISFP | Gemini |
| Camila Valdes | ISFJ | Leo |
| Lexus Vang (Lexi) | INFJ | Sagittarius |
| KG | ENFP | Gemini |
By the way, now that you are here, give our Stray Kids Quiz a try. As you probably know, SK is another K-Pop group that works under the JYP Entertainment label, the same company that created VCHA.
Disclaimer
QuizExpo does not own any of the images in the VCHA Member Quiz and intends no copyright infringement.
How to Play?
Playing personality quizzes is straightforward: Choose the option that's true about you—or you relate to—and select "Next." Unlike trivia quizzes, personality tests have no right or wrong answers. But the questions are in forced-choice format. The point is to push you to choose an option that makes the most sense, not the one that's 100% true. For the most accurate results, don't overthink your responses. Go with options that you "feel" are the best.
Questions of the quiz
1

What's your hidden talent?

I'm stronger than I look

I'm low-key an artist

I'm athletic

IDK if I have any talents

I'm good at things like fashion

I can cook!

2

What type of bestie are you?

Rational

Supportive

Adventurous

Naughty

Shy

Older sibling type of friend

3

What s your dressing style?

Trendy

Traditional

Sexy

Feminine

Casual

Chic

4

What do you think about makeup?

I don't like it

I kind of like it

I don't need it

I love it

Meh, I sometimes wear it

It depends on the type of makeup

5

What kind of K-pop music do you often listen to?

Dance-encouraging stuff

Melodic and relaxing

Harsh and intense

Modern and unique

Traditional and old-school

I like all sorts of K-pop music

6

What makes VCHA unique in your eyes?

Relatable, young members

Diversity

Girl Power

The beauty and charm of the girls

The songs and the lyrics

All of the above

7

What would your role be if you were a K-pop band member?

Maknae

Songwriter

Choreographer

Dancer or face

Producer

Leader

8

What do you think of the finalists of A2K?

I like some of them

I think they're all talented

Some of them didn t deserve to be there

I'm not sure about the finalists

I loved them all

All of them deserve to be there

9

Which one's your favorite season?

Summer

Spring

Winter

Fall

I'm not sure

All of them

10

Choose the type of hobbies that you usually enjoy.

Sports

Reading or writing

Going out or dancing

Video games or eating

Watching TV or things like that

It depends on my mood

11

Pick yourself a funny nickname. (Just do it.)

Jaklin

Juplin

Jimba

JaJa

Jazin

Josein

12

What's your sense of humor like?

Dark

Normie

Sarcastic

Teasing

Silly

Dry

13

What makes a K-pop girl special?

Experience

Voice

Dance

Style

Face

A combination of all

14

Pick one of these random animal personas.

Squirrel

Unicorn

Panther

Fox

Dog

Cat

15

Final question: How old are you?

16 or younger

17-18

19-20

21-22

23-24

25 or older