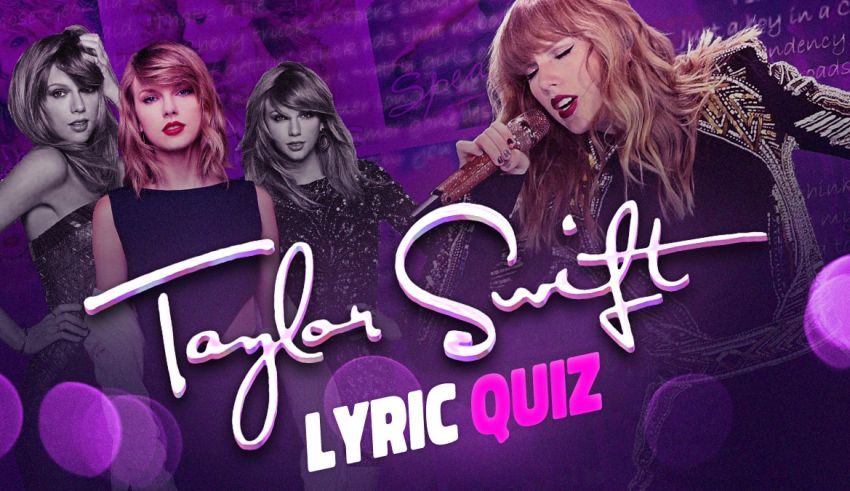 This Taylor Swift Lyric Quiz reveals how well you know T-Swizzle's songs and albums. Are you a true Swifty who can guess all these songs?
The Hardest Lyric Challenge for Swifties
The Taylor Swift Lyric Quiz is a guessing game for her fans. It asks Swifties to complete lyrics, name songs, or find features in Tay's discography based on tiny clues.
Although it's essentially a Taylor Swift Trivia Test, the quiz on this page examines fans' knowledge about her music in a karaoke-like fashion: You read the first part of the lyric and guess the rest.
If you like musical challenges, you can also play our other game called "Name Every One Direction Song," which has the same premise—but comes with 1D-oriented questions.
Guess the Taylor Swift Song with Lyric
You might be good at singing along with Tay's songs. But could you guess the rest of her lyrics if she stopped singing? If yes, take this ultimate quiz which puts you through a series of lyrical challenges that are all inspired by Taylor Swift's discography.
Match the Lyric to Its Era
With Taylor's The Eras Tour taking over the world of music, we decided to spice up our lyric quiz with a new task: match a specific Tay line to one of her musical eras! In this 2023 Taylor Swift Quiz, you must identify when she wrote a specific lyric—and even guess the song's name.
Name the Albums and Features
A fun aspect of taking the Taylor Swift Lyric Quiz is that it'll tease your brain with questions beyond her songs. For instance, the test will require you to name the features of a particular song after seeing a portion of its words. Or it might task you with identifying the song's album title, again, based on its lyrics.
Prove You're a True Swifty
How big of a Taylor Swift fan are you? Take our lyric quiz to find out. We're giving all Swifties an equal chance to prove their love for Tay's songs and get a badge of honor for their pure lyrical knowledge.
By the way, we think you'd also enjoy our other trending quiz called "Which Dua Lipa Song Are You?" While it's not a trivial test like the Taylor Swift Lyric Quiz, it can determine which of Dua's lyrics resembles your personality.
How Well Do You Taylor Swift's Discography?
Okay, the time has come; join other Swifties in testing your lyrical capabilities and see if you're a hardcore Tay fan. The following true-or-false questions can help determine participants' karaoke score for singing along to Swift's songs while exposing any possible fake fans! 🎶🎤
Disclaimer
QuizExpo does not own the images in the Taylor Swift Lyric Quiz and intends no copyright infringement.
How to Play?
A trivia quiz comes with right and wrong answers. You receive one point for each correct response—but no negatives for the incorrect ones. Take your time and read the questions carefully because some might be trick questions. Choose an option and lock it in by tapping "Next." Lucky for you, the trivia quizzes have instant results. You see if your response was correct immediately. (Green is good, red is bad.) Even better, you can learn more about the topics with the "answer reveals," the fun-fact snippets that appear after each question.
Questions of the quiz
1

"Your past and mine are parallel lines…" What's the next line?

Holdin' hands, just killin' time

Leave without sayin' goodbye

Stars all aligned and they intertwined

When you think of all the late nights

2

What song is the previous lyric from? (Your past and mine are parallel lines.)

All Of The Girls You Loved Before

'Tis the Damn Season

A Place in This World

All You Had To Do Was Stay

3

What's the line before this one: "Then on a Wednesday in a café I watched it begin again?"

I think it's strange that you think I'm funny 'cause he never did

What's past is past

'Cause you throw your head back laughing like a little kid

Is break and burn and end

4

Who is featured on a Tay's song that goes "All roads, they lead me here?"

Brendon Urie

Gary Lightbody

Paula Fernandes

None of them

5

"Did some bird flap its wings over in Asia?" Guess the next line.

Goodbye, goodbye, goodbye

Did some force take you because I didn't pray?

Every single thing to come has turned into ashes

You were bigger than the whole sky

6

In which song does Taylor sing "Lost in the gray and I try to grab at the fray?"

Carolina (2022)

Dorothea (2020)

Bye Bye Baby (2021)

How You Get the Girl (2014)

7

"I guess you really did it this time…" What's the next line?

Left yourself in your war path

Lost your balance on a tightrope

Time turns flames to embers

Thirty-two and still growing up now

8

Which Taylor song was the previous lyric from? (I guess you really did it this time.)

Innocent

Back to December

Better Than Revenge

None of them

9

What does Taylor say before this line: I can still make the whole place shimmer?

Best believe I'm still bejeweled

When I walk in the room

I can still say, "I don't remember"

Baby boy, I think I've been too good of a girl

10

Which line belongs to "Look What You Made Me Do?"

What if I told you none of it was accidental

But I will never bore you, baby

And all you're ever gonna be is mean

I don't like your kingdom keys

11

Which line is from Taylor's song featuring Ed Sheeran?

And I know you could fall for a thousand kings

I don't like your kingdom keys

'Cause you took everything from me

None of them

12

Which artist has NOT been featured in any Taylor Swift songs?

The Civil Wars

John Mayer

Doja Cat

Future

13

Guess the album name by this line "And she is yelling at a bridesmaid."

1989

Red

Speak Now

Fearless

14

Which of the following lines is from Taylor's Evermore album?

Karma is a relaxing thought

You could call me 'Babe' for the weekend

And make fun of our exes

They strike to kill and you know I will

15

Guess the release date of the song by this line: "My castle crumbled overnight"