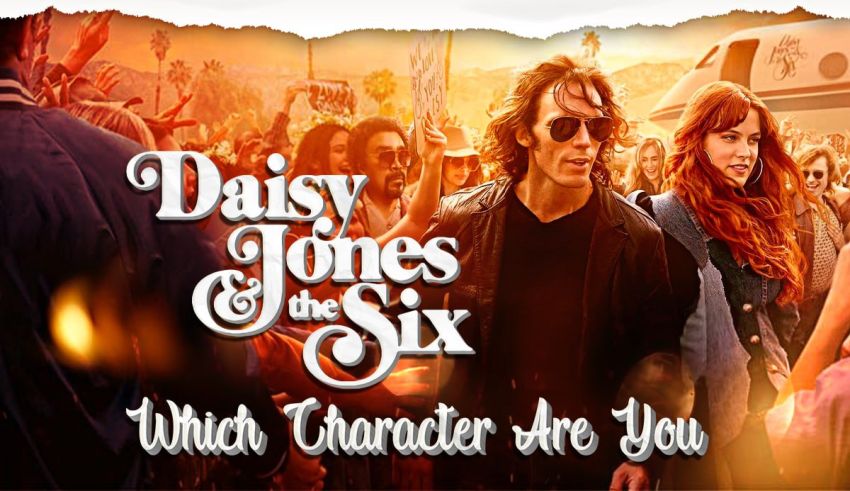 The Daisy Jones & the Six Quiz reveals your personality character. Are you Daisy Jones, Billy Dunne, or any of The Six members?
Daisy Jones & the Six Character Quiz Explained
Made up of fifteen 70s-inspired questions, the Daisy Jones & the Six Quiz is a personality test. It determines which of the titular show's characters you are.
Daisy Jones & the Six is an Amazon Prime adaptation of Taylor Jenkins Reid's best-seller novel. It tells the story of the rise and fall of a 70s rock band and their struggles on the road to fame.
With the current test, you find out which of the musicians in the show shares the same personality as you: Daisy, Billy, Graham, Warren, Pete, Eddie, or Karen?
By the way, if you're into rock & roll, check out Which Beatles Are You next. It reveals the rockstar in you.
Which Daisy Jones & the Six Character Are You?
One way to find your matching character in Daisy Jones & the Six is by MBTI comparison. If you already know your type, use the following table to find your doppelganger.
| | |
| --- | --- |
| Character | MBTI Type |
| Daisy Jones | ESFP |
| Billy Dunne | ESTJ |
| Graham Dunne | ESFJ |
| Warren Rojas (Rhodes) | ESTP |
| Eddie Roundtree | ISFP |
| Karen Sirko | ISTP |
Daisy Jones
As an ESFP, Daisy Jones is charming and bold. But she's confused about her life decisions and feels lost. She believes in dreaming big and is not afraid to express her emotions.
Billy Dunne
Despite his bad decisions, Billy remains a good person at heart. He's a righteous man with a strong sense of right and wrong. But Billy often finds himself stranded between logic and emotion.
Camila Dunne
A faithful wife and a caring mom, Camila is patient and understanding. She's always there for her family, even when they hurt her. And she never gives up on her loved ones, no matter how messy their lives become.
Simone Jackson
As an ENFJ, Simone is a strong extroverted woman who enjoys spending quality time with her close ones. She's also a protective friend who'd go the extra mile to ensure everyone's doing okay.
Ready to Meet Your 70s Rock Star Self?
Still, wondering which Daisy Jones & the Six character you are? If yes, don't hesitate to take the test. The Hello Sunshine Daisy Jones Quiz reveals which bandmate you are with accuracy.
Ride the time machine back to the 70s and meet your rockstar self. Let's see if you're Daisy, Billy, Graham, Eddie, Warren, Pete, Karen, or else.
Disclaimer
QuizExpo does not own the images in Daisy Jones Quiz and intends no copyright infringement. Amazon Prime owns the said pictures.
How to Play?
Playing personality quizzes is straightforward: Choose the option that's true about you—or you relate to—and select "Next." Unlike trivia quizzes, personality tests have no right or wrong answers. But the questions are in forced-choice format. The point is to push you to choose an option that makes the most sense, not the one that's 100% true. For the most accurate results, don't overthink your responses. Go with options that you "feel" are the best.
Questions of the quiz
Question 1

What do you like about Daisy Jones & the Six?

Drama

Friendships

Music

Plot twists

Emotional complexities

None of the above

Question 2

What kind of musician would you be?

Calm and private

Influential and inspiring

Loud and crazy

Old and wise

Sexy and unpredictable

Rich and super-famous

Question 3

What would it be if you had to name a rock band?

The Angels

The God & the Goddess

Loudistica

The Dead Duo

The Good Gone Bad

The Rulers

Question 4

What does your favorite playlist make you feel?

Calm

Inspired

Excited

Nostalgic

Sad

Ruthless

Question 5

What if you fell in love with your best friend?

I keep it to myself

I confess my emotions

I ask for a friend's help

I try to forget it

I ask them on a date right away

I try to make them fall in love with me

Question 6

How'd you react if your lover cheated on you?

I'd forgive them

I'd leave them (no drama)

I'd flip out and do crazy stuff

It depends on other factors

I don't know, but I'd feel broken

I'd give my ex a memorable lesson

Question 7

Which word describes the type of lyrics you relate you?

Positive or cheering

Empowering and inspiring

Catchy and memorable

Meaningful and deep

Complex and artistic

Energizing and ambitious

Question 8

What makes a rock band iconic?

Their styles

Their friendship

Their live performances

Their lyrics

Their album covers

Their controversies

Question 9

What if your bandmate left the group and started their own band?

It's fine

It sucks. But they're still my friend

They're not my friend anymore

I don't care

I might join them

That sounds like something I would do

Question 10

How do you define true love in one word?

Faith

Support

Companionship

Loyalty

Nonsense

Lie

Question 11

What would you do if your best friend abused drugs?

I'd cut ties with them

I'd help them quit

I'd join them

I'd be there for them no matter what

I don't know. It depends

I'd mind my own business

Question 12

Should bandmates date? Why?

Yes, love is love

Yes, that makes a lot of sense

No, it'd cause unnecessary drama

I'm not sure. But I think they shouldn't

No, artists are too sensitive for each other

I don't care. They can do whatever they want

Question 13

Pick a rock band.

The Beatles

Fleetwood Mac

The Rolling Stone

Pink Floyd

Led Zeppelin

Metallica

Question 14

What's your style like?

Cute

Chic

Casual

Formal

Sexy

Creative

Question 15

Final question: How old are you?

18 or younger

24-29

22-23

30 or older

19-21

I'd rather not say