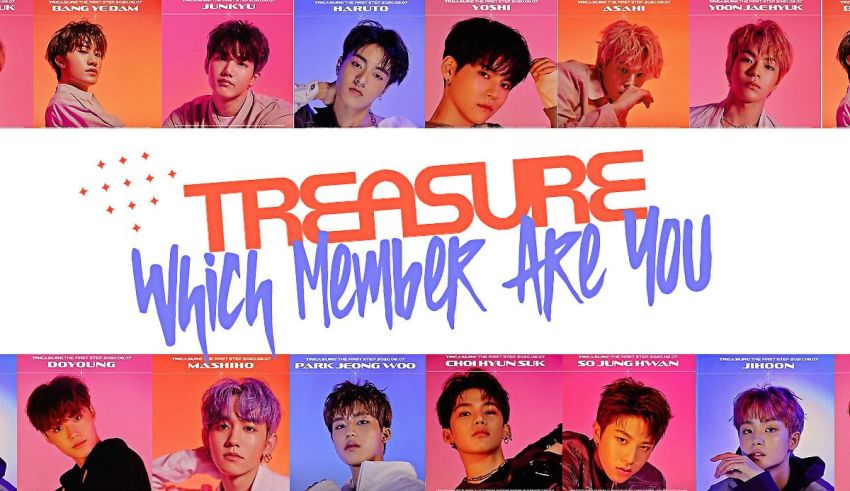 Hey, which Treasure member are you? This K-Pop personality quiz reveals if you're Choi Hyun, Jihoon, Asahi, or else.
This Quiz Reveals the Treasure Member You Are
Inspired by Treasure members' personalities, the quiz identifies which boy you resemble in real life. In other words, it's a 20-question test to answer, "which Treasure member are you?"
Similar to the Enhypen members' quiz, the assessment is based on your MBTI type. So, you match the boy with the most comparable traits and interests.
Formed by YG Entertainment, Treasure is a South Korean boyband comprised of 10 members—formerly 12.
How to Know Which Treasure Boy You Are
Unlike finding your bias, discovering your counterpart in Treasure is challenging. There are ten boys with colorful personalities and unique talents that you must pick from.
However, the following introduction to the boys' characters might help decide your match.
#1. Choi Hyun-Suk
Also known as the Rich Mom, Choi is a talented fashionista who watches over other boys in the band. Despite being a baby inside, Choi fills in the role of a motherly figure, caring for everyone in the group. As an ENFJ, his personality is warm, affectionate, and supportive.
#2. Jihoon
Mr. Muscle Man, Jihoon, is a shy but rather funny boy. He's pretty in touch with his feminine side and gives off seducer vibes. As an ESTJ, Jihoon is orderly, rule-abiding, and conscientious. And that has helped him thrive in sports—as well as dancing and singing.
#3. Yoshi
A genius mathematician, Yoshi is a protective prince. He watches over other members—especially the younger ones—and soothes them when in sorrow. As an INFP, Yoshi is loyal and devoted, sensitive to feelings, caring, and interested in others.
#4. Junkyu
Sometimes called the Fake Maknae, Junkyu is a big baby. He is a lazy boy doing his best to keep up with others. As an INFP, he works well alone, values close relationships, and is good at seeing the big picture.
#5. Jaehyuk
Yoon, the selfie king, is a popular, charismatic, and silver-tongued young man. He enjoys giving motivational speeches and influencing other Treasure members with his wit. But as an ESFJ, he's also outgoing, loyal, organized, and tender-hearted.
#6. Asahi
Robosahi, one of the band's visuals, is an artistic talent. But he has an unbothered, chill, and sensible personality. As one of the band's three INFPs, Asahi is also quite introverted, intuitive, and imaginative.
#7. Doyoung
With his distinctive taste in fashion, Doyoung, the Bias-Wrecker, is a romantic self-love promoter. As an ENTJ, his personality can be described as competitive, focused, and highly motivated. (Though, he's not as athletic as some other Treasure members).
#8. Haruto
Known for his bluntness, Haruto is a fan favorite. As an ISFP character, he's a gentle caretaker, living in the present moment and enjoying his surroundings enthusiastically.
#9. Jeaongwoo
The Crying Meme, Jeaongwoo, is one of the most relatable boys. Treasure Makers love his spontaneous reactions and cute noises while appreciating his heavenly voice. As an ESFP, he's spontaneous, energetic, and fun-loving and enjoys simple things like food and nature.
#10. So Jung-Hwan
The true Maknae of Treasure, So Jung is a hyperactive foodie. His love for taekwondo impresses fans, giving his personality a masculine undertone. But as an INFJ, So Jung is compassionate, conscientious, and hardworking.
The First MBTI-Based Treasure Quiz Is Here
Fun fact, 30% of the boys in Treasure have an INFP MBTI type. But what about the other 70%? Well, for the good news, the Treasure member quiz has a database of all—and is ready to compare them with yours.
If you don't have time for a fun, amusing, and adorable quiz, use the following table to discover your MBTI match.
| | |
| --- | --- |
| Treasure Member | MBTI Type |
| Choi Hyunsuk | ENFJ |
| Jihoon | ESTJ |
| Yoshi | INFP |
| Junkyu | INFP |
| Asahi | INFP |
| Yoon Jaehyuk | ESFJ |
| Haruto | ISFP |
| Doyoung | ENTJ |
| Park Jeong-woo | ESFP |
| So Junghwan | INFJ |
Ready to Meet Your Counterpart and Bias?
Now you're ready to discover your Treasure soulmate—the member you resemble in real life.
The following questions are inspired by the boys' personalities and will amuse Treasure Makers.
Give it a try to find out which member you are. ❤✌
Disclaimer
QuizExpo does not own the images in the Treasure member quiz and intends no copyright infringement.
How to Play?
Playing personality quizzes is straightforward: Choose the option that's true about you—or you relate to—and select "Next." Unlike trivia quizzes, personality tests have no right or wrong answers. But the questions are in forced-choice format. The point is to push you to choose an option that makes the most sense, not the one that's 100% true. For the most accurate results, don't overthink your responses. Go with options that you "feel" are the best.
Questions of the quiz
1

What do you do when your mood is down?

I talk to my mom or dad—or a family member.

I often pretend I'm fine and spend time alone.

I keep myself busy with work.

I just lay in my bed and do nothing.

I hang out with friends and have fun.

I write, draw, or do something creative.

I remind myself that it's going to be fine and smile.

I play video games or drink a beer.

I work out or party.

I listen to sad music and cry alone.

2

Why do you think Treasure is a unique band?

It's because of the boys' friendships.

It's because they work hard.

It's because they're an intelligent band.

It's because they are funny.

It's because they're charismatic.

It's because they're original.

It's because they give off positive vibes.

It's because they're unconventional.

It's because they're young, wild, and free.

It's because they're inspiring.

3

How do you feel about Bang Ye Dam and Mashiho, who left the group?

I wish they hadn't left the band.

I miss them so much.

I think they made the right decision.

I wish them the best of luck.

I'm waiting for their solo albums.

I feel like the band needed their talent.

I love them. And I hope they return to the band someday.

I think Treasure is better off without them.

I can't believe they did that. It wasn't fair.

It makes me sad. I want them back.

4

What kind of activities do you often enjoy?

Cooking

Cleaning

Reading

Sleeping

Partying

Writing, drawing, or playing music

Shopping

Drinking or smoking

Working out or extreme activities

I enjoy doing nothing.

5

What do Treasure songs make you feel?

Happy

Inspired

Motivated

Cuddly

Confident

Imaginative

Romantic

Nostalgic

Energized

Sad

6

What's your favorite Treasure song out of the following options?

HELLO

BOY

ORANGE

COME TO ME

BEAUTIFUL

MMM

I LOVE YOU

HOLD IT IN

CLAP!

U

7

What's your birth month?

April

March

May

September

July

August

December

June

February or January

October or November

8

Imagine you can pick the new Treasure member. What kind of person would you choose?

Polite

Orderly

Smart

Cute

Confident

Talented

Good-looking

Honest

Funny

Unique

9

How do you feel about dating and romance?

I'm ready for it

I'm not ready for it

I'm not in a hurry.

I need love so badly.

Romance slows me down. I don't want it.

It depends. I'm looking for the right person.

I LOVE dating and romance. I'm all for it.

I don't like dating, TBH.

I think dating is fun. I might give it a try.

I hate dating because it's awkward.

10

What's your prominent mood like?

Calm

Nervous

Focused

Tired

Cool

Distracted

Needy

Bothered

Energetic

I'm often moody

11

How do you spend your free time?

I check in on or hang out with my bestie.

I do my homework or take care of other tasks.

I often work.

I sleep.

I do something productive or learn a new skill.

I do creative stuff like DIY projects.

I relax and reward myself with a nice meal or snack.

I don't do much. It depends on my mood.

I play games, watch movies, and eat fast food.

I listen to music and dance alone in my room.

12

When do you usually listen to Treasure?

While commuting to work or school.

While feeling lonely or sad.

During my lunch or other breaks.

After I come home.

Before starting the day.

While working.

When I need to feel better about myself.

Before going to sleep.

When partying with other friends.

All the time. I can't get enough of them.

13

Pick a word that describes your bestie.

Dumb

Supportive

Intelligent

Fluffy

Handsome or beautiful

Exceptional

Inspiring

Irritating

Hilarious

I don't have a bestie.

14

What word describes Treasure's music best?

Soothing

Breathtaking

Clever

Catchy

Dramatic

Innovative

Dreamy

Average

Empowering

Heartfelt

15

What role would you like to have in a K-Pop band?

Leader

Dancer

Sound engineer

Lyricist

Visual

Choreographer

Maknae

Producer

Rapper

None of them

16

What kind of Maknae would you be if you were one?

Supportive

Polite or cute

Protective

Weird

Popular

Unconventional

Sassy

Irritating

Crazy

I would never want to be a Maknae

17

How happy are you in the mornings? (10 means you're highly energetic).

18

K-Pop aside, what kind of other music genres do you like?

J-Pop

Latin or Funk

Classical or instrumental

R&B, Blues, or Jazz

USA Pop

Indie or alternative

Dance, electronic, or techno

Metal or rock

House or Hip Hop

Emo rap or generally sad music

19

How would your best friend describe you?

Compassionate

Quiet

Loyal

Dumb

Supportive

Chill

Playful

Honest

Loud

Strange

20

Final question: How old are you?

25 or older

24

23

22

21

20

19

18

17

16 or younger