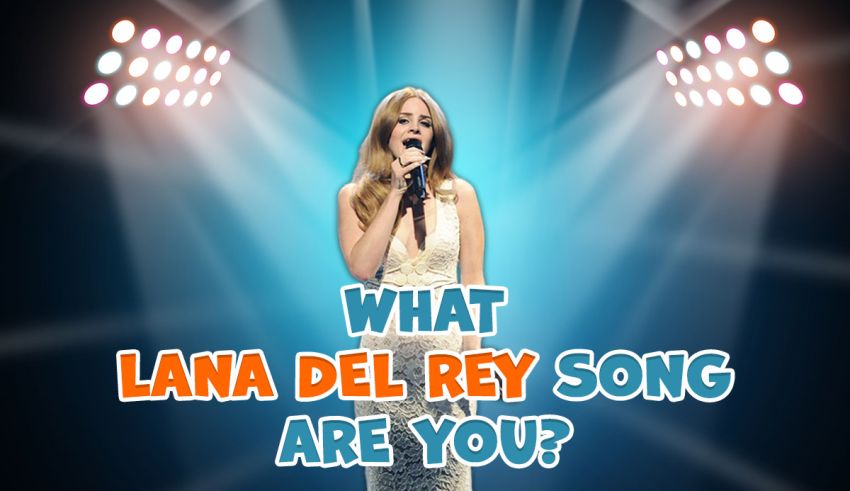 Do you want to know what Lana Del Rey song you are? This melancholic, dark, but feminine quiz reveals if you are Summertime Sadness, West Coast, Love, or else.
Your Personality Is Matched with a Lana Del Rey Song
The quiz is a set of twenty questions inspired by Lana's lyrics, personality, and albums. The goal is to discover which of her famous tracks is similar to you.
The test's premise is like our other trending questionnaire, "Which Harry Styles Song Are You?" But here, the questions are more sensual, feminine, and gloomy.
What Lizzy Grant Song Are You?
We have created a database of Lana (aka Lizzy) songs, categorizing them based on personality features. The list is based on a lyrical analysis of her records and their meanings. By taking the test, you have the opportunity to see what Lana Del Rey's hit song includes traits and stories that match your characteristics.
How the Quiz Works
With over 113 songs, Lana Del Rey has one of the fascinating discographies. But having so many excellent records makes it exponentially challenging to create a personality match quiz like this page. However, our editors created a three-phased questionnaire that excludes any unmatching options, leaving you with the one Lana song that genuinely describes your persona.
Analyzing your personality.
The first stage of the quiz is about getting to know you better. You'll answer questions based on Lana's lyrical universe and mood. But at the same time, your responses will enable us to determine what type of person you are. The data we extract during this phase later helps us match you with the right song and finetune the results.
Inspecting your views on love, Jesus, and money.
Many critics believe that Lana's boldness and unconventional songs made the path for other artists like Billie Eilish or Lord to shine. Her lyrics include personal opinions on relationships, guns, drinks, parties, adulthood, etc. So, we need to know where you stand on such topics to deliver more accurate results.
The second phase of the test offers questions that allow you to express your ideas, thoughts, and emotions.
Finding the song that describes your story.
The final part of the Lana Del Rey song matching quiz is about figuring out the best results. Our algorithms will create an accurate profile and reveal what record fits you. Don't worry, though. The whole process takes less than a few seconds. So, you'll see the results immediately.
Lana Del Rey Songs Reflect Her Personality
Lizzy is an ISFP person. She is creative, unconventional, and empathetic. But at the same time, she loves expressing her emotions through fantasies and stories. Her music reflects her feelings and ideas on various aspects of life—usually those related to femininity and passion.
That makes it even more interesting when it comes to questions like, "What Lana Del Rey song are you?" Almost every record of her puts you in a character's shoes and takes you on a ride. And we tried to transfer the same vibe to our quiz to make sure the Lana Cult enjoyed it.
Why do Fans want to Know Which Lana Song They Are?
It's a thing among the Team Lana to ask members, "Which song are you?" It helps them get to know each other faster and break the ice. But it also gives each fan the chance to compare her persona to Lana Del Rey's characters in her lyrics—which is a unique experience. It could uncover why you love a particular song and why you relate to specific lines.
Top Lana Del Rey Songs That Describe Complicated Characters
Some specific tracks introduce multi-layered storylines and fictional characters of all her records. Fans enjoy it when Lana uses her lyrical skills to paint a picture and tell untold stories. Here are some of her songs that most critics and fans believe have deeper meanings.
Summertime Sadness
In Summertime Sadness, Lana paints a detailed picture of how one might feel when in love. Invincible, fearless, and ready to jump. But she also talks about how fleeting such emotions might be by comparing it to summertime sadness. So, we are introduced to a character drunk in love and satisfied but also depressed.
One of her best-selling songs, Summertime Sadness, matches gloomy and romantic personalities. It's a relatable track for those who see the beauty in love regardless of its fragility and untrustworthiness.
West Coast
The song is about confusion and decision-making. The character can't choose between love and ambition, and that's the central conflict of the story. Lana has mentioned that that track is inspired by being in California. But it also reflects her relationship with New York and how she feels being there.
It is a perfect match for people who constantly overthink their decisions and emotions. Those who find it hard to prioritize one aspect of life over others find the lyrics relatable and somewhat comforting.
Tulsa Jesus Freak
Tulsa Jesus Freak is one of the best hits in the Chemtrails over the Country Club. It tells the story of a woman in love with an overly religious man—who also happens to be an alcoholic. Again, the character she creates is rebellious and drunken in love. But also finds it challenging to be with a Jesus freak.
The song is an excellent match for those who believe in unconditional and even taboo love stories. It reflects the untamable nature of passion and emotions.
Is the Lana Del Rey Song Quiz Designed for Girls?
Not at all. Lizzy has fans of all genders, and all of them might ask questions like, "What Lana Del Rey song are you?" So, our quiz is designed for everyone who loves her music and wants to relate to her world even more. Yes, the questions dig into feminine aspects of your character. But that doesn't make it a female-exclusive quiz because femininity and masculinity are found in all personalities.
Disclaimer
QuizExpo does not own any of the images used in the 'What Lana Del Rey Song Are You Quiz.' No copyright infringement is intended. Please contact us if you own any of the said pictures and want them to be removed.
How to Play?
Playing personality quizzes is straightforward: Choose the option that's true about you—or you relate to—and select "Next." Unlike trivia quizzes, personality tests have no right or wrong answers. But the questions are in forced-choice format. The point is to push you to choose an option that makes the most sense, not the one that's 100% true. For the most accurate results, don't overthink your responses. Go with options that you "feel" are the best.
Questions of the quiz
1

What word describes Lana Del Rey's songs better?

Calming

Fascinating

Deep

Encouraging

Complicated

Cool

2

Are you in love? If yes, which one describes your feelings better?

Yes, I'm happily in love and grateful

Yes, I'm madly in love and drunken in affection

No, I don't believe in love anymore

No, but I'm searching for true love

Yes, but I don't think it's true love

No, I think love restricts your freedom

3

What is a characteristic that turns you on?

Kindness

Being romantic

I don't really know

Being optimistic and fun

Being bold and confident

Risk-taking and braveness

4

What is your definition of quality time with your lover?

Cuddling and Netflixing

Date nights and romantic dinners

Eating ice cream and playing video games

I'm not sure about the answer

Going on a walk or having a deep convo

Doing some naughty stuff

5

How do you think most love stories in real life end?

Happily

Romantically

Tragically

I don't really know

With lots of regrets

With lots of hatred and grudge

6

If your life happened in one of Lana Del Ray's songs, what would it look like?

I'd be a stripper who falls in love with a priest.

I'd be living in a small town with my hardworking spouse

I'd be a sad girl/boy who forgot what happiness looked like

I'd be a journalist who falls in love with a criminal

I'd be an angel who loves a demon and can't confess it

I'd be an anarchist living with my friends in an abandoned town

7

What makes Lana's songs unique, in your opinion?

The love stories she talks about

The way she describes femininity and love

Her deep lyrics

Her playfulness and confidence

The way she talks about unpleasant feelings

Her badass persona hidden behind femininity

8

What is the most complicated feeling that you usually struggle with?

Feeling inadequate

Jealousy

Feeling lonely

Feeling lost

Guilt

None of them. I'm at ease with my emotions.

9

Why do you think it's hard to love some people?

They don't want to be loved

They have no idea what love is

They are broken inside

They might not be ready for love

They are scared of commitment

They probably don't need love

10

What would you do if you loved someone who's not a good person and you know it?

I'd move on and forget them

I'd still love them platonically

I don't know

I would try to help them change

I might turn into a bad person to be with them

I don't mind. Love doesn't care about labels.

11

Read these fictional scenarios and decide which one would fit a Lana Del Rey song.

A princess falls in love with her maid

A gangster falls in love with a police officer

A depressed teen loves to become a cheerleader

A young man who loves his town famous stripper

A young couple in a forbidden relationship

A couple who decides to fake their death and run away

12

How would you describe your first love?

Nostalgic

Platonic

Stupid

I've never had one

Shameful

Adventurous

13

Imagine you're an angel. Would you ever leave heaven if you fell in love with a mortal human?

Yes, but I'd feel sad

No, but I'd still love that human

I'm not sure about the answer

No, I wouldn't be willing to take the risk

Yes, but I'd feel guilty all the time

Yes, fu** heaven

14

What type of stories attracts your attention?

Emotional ones

Romantic ones

Sad ones

Adventurous ones

Complicated ones

Exciting ones

15

What type of movies do you enjoy watching?

Comedy

Drama

Triller

Sci-fi

Documentaries

Horror

16

Describe your friend group in a couple of words.

Supportive and kind

Hopeless lovers

I don't have a friend group

Wild, young, and crazy

Old, calm, and nostalgic

Stupid, careless, and hyped

17

What is the key ingredient of an ideal relationship?

Respect

Communication

Mental health

Lust

Honesty

Courage

18

What's the scariest part of falling in love?

Responsibilities

Fear of losing your lover

Feeling lonely despite being in love

Choosing the wrong person

Feeling guilty because of your past

Feeling trapped and restricted

19

What would you do if someone you trusted and loved betrayed you?

Cut ties with them and move on

Cry and feel broken

I'd feel numb because I'm used to that

I'd look for better people/friends

I'd self-reflect to see what did I do to deserve this

I'd make them regret betraying me

20

Final question; how old were you when you first listened to Lana Del Rey's songs?

34 or older

29-33

22-28

18-21

15-17

14 or younger