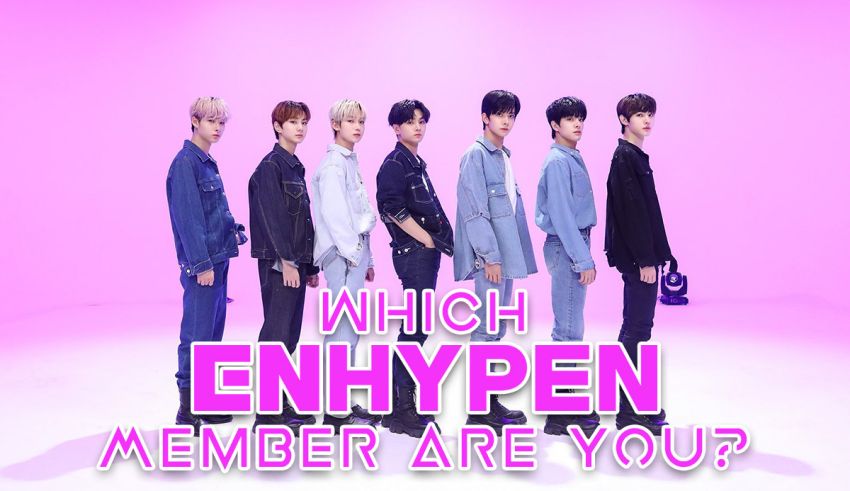 If you want to know Which Enhypen member are you, this K-pop-inspired ENGENE quiz reveals if you are Heeseung, Jay, Sunoo, Jake, Sunghoon, Jungwon, or Ni-Ki.
The Most Accurate Enhypen Personality Quiz Ever!
ENGENEs want to know which Enhypen boy they resemble in real life. That's why we created the world's most precise character match using the updated profiles of the members.
We have already created a quiz to reveal which BTS member you are. But this one is a bit different. We included some fantasy questions inspired by the Enhypen universe and Drunk-Dazed and Given-Taken storylines.
Find out which Enhypen member you are.
The premise of the test is to expose the 엔하이픈 boy that shares the same personality with you. We created a database of all the seven members' profiles to finetune the results. And this is the only online personality quiz that works based on the MBTI characteristics of the boys.
Discover your theme song.
As a bonus feature, the results include the name of your theme song out of the band's discography. Our editors analyzed the lyrics to all the pieces to match your characteristics to one of them. This has never been done before, and it's the ENGENEs' only chance to find their personality song.
Meet your Enhypen best friend.
The boys always hang out like seven besties. And everyone loves each other. But have you ever wondered which one could be your best friend if you were an actual ENHYPEN member? If yes, don't hesitate to take the test. We have the only online match-maker that predicts your K-Pop BFF based on your behaviors and traits.
Get a FREE comprehensive personality analysis.
Besides all the fantastic information the Enhypen quiz offers, you receive a detailed character breakdown. It helps you determine why you matched a particular member and its meaning. The test includes twenty psychological questions that enable us to analyze your true personality, delivering precise results.
How to Know Which Enhypen Member You Are?
Every ENGENE would like to know which ENHYPEN member they are. But not all of them would like to take a quiz for that. If that's the case, use one of the following alternative methods to discover your counterpart.
Note: None of the suggested methods are as accurate as taking the quiz. So, don't expect to achieve a reliable match using them.
The most common method is character description. Below you see a brief profile of each Enhypen member and their primary characteristics. You can use them to decide which one you resemble in real life.
#1. Heeseung
Despite being young, Heeseung is a natural leader. All other Enhypen members count on him when things go wrong. And he keeps the whole team together—like an invisible glue. Heeseung also loves teasing others when he gets a chance.
Heeseung leaves little to no room for mistakes in his performance. So, usually, people who match him in the Enhypen Quiz are perfectionists.
#2. Jay
If you ask ENGENEs, "Which Enhypen member you are?" many would say, "I'm Jay." He's a competitive, cool, and tough guy with a heart of gold. Despite his cold appearance, Jay is one of the softest boys in the band. Other guys refer to him as the mood maker of the group. And makes everyone laugh when they're not feeling so good. Another thing about Jay is that he's pretty confident, and fans just love it.
#3. Sunoo
The selfie king is also the sassiest boy in the band. If your personality is similar to Sunoo, you're a fashionista who lifts everyone's mood no matter what. Sunoo's friends think he's a lighthearted, chill-vibe, and amusing character. But he's also known to be the biggest happy-go-lucky ever.
#4. Jake
Ask fangirls, "Which Enhypen member are you?" and you'd be surprised by how many of them pick Jake as their counterpart. That's because he's the cutest, sweetest, and softest boy in the band. Jake is also highly caring, kind, and shy. He might not be as confident as some other guys. But he knows how to steal the ENGENEs' hearts.
#5. Sunghoon
Sunghoon is the most reserved person in the band. He's usually quiet, cold, and mysterious. But that's how he looks on the outside. Deep down, he's a lovely, loyal, protective friend to all the other members. But it's a fact that Sunghoon is slightly timid and doesn't enjoy being in the spotlight as much as others.
#6. Jungwon
Being the second-youngest boy in the group has nothing to do with Jungwon's maturity level. He has the most assertive mentality among all the guys. And his personality is more like the younger brother that his older siblings constantly adore.
#7. Ni-Ki
Ambitious, competitive, and loud. Ni-Ki is the Maknae of the Enhypen, and other boys always protect him. Matching with him in the member match quiz means you're a lively, determined, and imaginative person chasing dreams no matter what.
Other Ways to Find Your Enhypen Match
Character description might not be the ultimate method to discover your K-Pop counterpart. But there're three other ways you can find out which Enhypen member you are in no time. (See below).
Zodiac Sign Match
Many believe that people sharing the same zodiac sign have similar personalities. So, you might be able to meet your ENHYPEN twin by checking out the members' star signs. It's the easiest and fastest method. But the downside is that there are only seven boys in the band—while there're twelve-star signs out there.
| | |
| --- | --- |
| Member | Star Sign |
| Heeseung | Libra |
| Jay | Taurus |
| Sunoo | Cancer |
| Jake | Scorpio |
| Sunghoon | Sagittarius |
| Jungwon | Aquarius |
| Ni-Ki | Sagittarius |
Birthdate Match
Being born on the same day as a person is a sign, right? We think a birthdate match is one of the coolest ways to discover your Enhypen member match because it's so rare. There're few ENGENEs who share the exact same birthdate with the boys. But it always makes them feel special and blessed.
Use the following table to see if your birthdate matched any of the boys.
| | |
| --- | --- |
| Members | Birthdate |
| Heeseung | October 15th, 2001 |
| Jay | April 20th, 2002 |
| Sunoo | June 24th, 2003 |
| Jake | November 15th, 2002 |
| Sunghoon | December 8th, 2002 |
| Jungwon | February 9th, 2004 |
| Ni-Ki | December 9th, 2005 |
MBTI Personality Match
MBTI is one of the most popular personality tests in the world. Our editors worked hard to identify each Enhypen member's type to finetune the results. But you can use their findings to see if you match any of the boys before even taking the test.
Use the following table to see which Enhypen boy shares the same MBTI type with you.
| | |
| --- | --- |
| Members | MBTI Type |
| Heeseung | INFJ |
| Jay | ENTP |
| Sunoo | ENFP |
| Jake | ISTJ |
| Sunghoon | ISTJ |
| Jungwon | ESTJ |
| Ni-Ki | ENFJ |
Take the Online Test Instead
Finding your match by yourself can be challenging and confusing. And let's face it; you're most likely biased towards a particular member, which reduces the accuracy of the results. But you can always trust the outcome of our Enhypen quiz because it's 100% subjective.
Plus, you can share the test results with the ENGENE community and ask for their opinion, too.
Disclaimer
QuizExpo does not own any of the images used in the Which ENHYPEN Member Are You Quiz. Please, contact us if you own any and want them removed.
How to Play?
Playing personality quizzes is straightforward: Choose the option that's true about you—or you relate to—and select "Next." Unlike trivia quizzes, personality tests have no right or wrong answers. But the questions are in forced-choice format. The point is to push you to choose an option that makes the most sense, not the one that's 100% true. For the most accurate results, don't overthink your responses. Go with options that you "feel" are the best.
Questions of the quiz
1

What type of music do you listen to aside from K-pop?

Pop

Hip-hop

R&B

J-pop

Classical

Instrumental

Rock

2

Which one describes your energy better?

I want to be productive all day long

Sometimes, I feel like I have extra energy

I'm usually tired

I get energized around certain people

I have enough energy to finish daily tasks

My energy has never been consistent

I am super-energetic all the time

3

Which word describes your personality?

Calm

Tough

Polite

Kind

Quiet

Wise

Silly

4

What's your goal in life?

To succeed in my career

To fight for my dreams

To make my enemies jealous of me

To help as many people as people

To achieve peace of mind

To learn something new every day

To have fun and enjoy life

5

Which Enhypen member could be your best friend?

Jungwon

Sunghoon

Ni-Ki

All of them

Heeseung

Jay

Sunoo

6

What types of movies do you often watch?

Documentaries

Action

Drama

Romance

Triller

Sci-fi

Comedy

7

Everyone has a rather childish side. How active is yours? (10 means you are very childish).

8

What do you think about romance and relationships?

I'm shy around romantic people

I'm not a romantic person

I like romantic people

I am a super-romantic person

I don't like romantic people

I'd like to have romance in my life

I think romantic people are sexy!

9

What do you love about Enhypen?

Their lyrics

Their lore

Their styles

Their personalities

Their hard work

Their music

Their dance moves

10

Which description is similar to you at a party?

Calm and friendly

Protective and sober

Dancing like a crazy

Making sure everyone's having fun

Private and reserved

Trying to meet new people

Looking to hook up

11

How sociable and friendly are you?

I try to be sociable

I struggle with being a sociable person

I'm pretty sociable

I'm good at making new friends

I cannot make new friends

I can be sociable when I want to

I super-sociable!

12

Describe your friends in one word.

Reliable

Strong

Sassy

Sweet

Cool

Smart

Silly

13

What's your style like? What type of clothes do you often wear?

Formal

Casual

Classy

Arty

Grunge

Chic

Sexy

14

Of the following options, which one is your favorite color?

Red

Blue

Orange

Pink

Black

Green

Yellow

15

If you were an actual K-pop band member, what role would you like to have?

Lead vocalist

Lead rapper

Choreographer

Lead dancer

Producer

Lyricist

Maknae

16

Enhypen aside, which one is your favorite K-pop boy band?

BTS

EXO

Wanna One

NCT

Got7

SEVENTEEN

Monsta X

17

What kind of personality attracts you the most?

Responsible

Determined

Confident

Sweet

Secretive

Smart

Funny

18

How do you feel when you listen to your favorite Enhypen song?

Calm

Motivated

Hyped

Emotional

Playful

Nostalgic

All of them

19

What do you usually do when listening to Enhypen songs?

Nothing

Work out

Walk

Do my homework

Work

Study

Dance

20

Final question; what makes a song great?

Lyrics

Catchy choruses

Cool music video

Good vocalist(s)

Catchy rap verses

It's a combination of all

I don't know