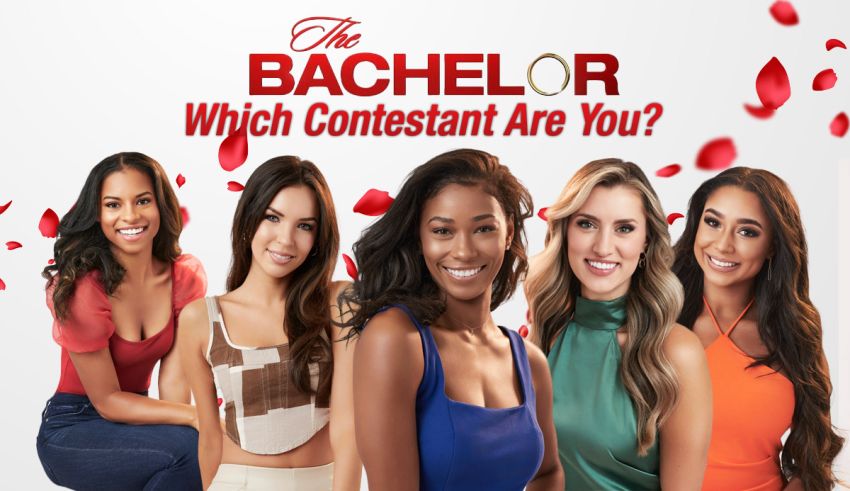 Hey, which The Bachelor contestant are you? Take this personality test to find your doppelganger in The Bachelor.
The Bachelor Contestant Quiz Explained
Made up of 20 romance questions, The Bachelor Quiz is a dating simulator that reveals which contestant you resemble in real life.
The Bachelor is an American reality show about a man dating several women (contestants) in the hope of finding true love.
The current test compares your dating personality with the actual contestants of the show, exposing which one is actually similar to you.
The First MBTI-Based Bachelor Test
To fine-tune the results, The Bachelor Personality Test utilizes your MBTI type. In other words, the questions help determine your MBTI and compare it with the girls.
If you already know your MBTI type, use the following table to find your match. But for a more accurate result, take the test.
| | |
| --- | --- |
| Contestant | MBTI |
| Victoria Fuller | INFP |
| Katie Thurston | ENFP |
| Clare Crawley | ESFP |
| Michelle Young | ENFJ |
| Hanna Godwin | ISFJ |
Which Contestant of the Bachelor Are You?
With the show's 27 seasons and over 270 episodes, deciding which contestant you are is as challenging as giving the rose to the right person. (Not if you take a personality test, though.)
In The Bachelor, some contestants are just playing a game. They don't want love. What they want is money and clout, which makes it even more difficult to find your perfect match. It's almost like looking for your doppelganger in The Mole.
This Is the All-Star Version! (Season 1 to Season 27)
While every quiz tells you which The Bachelor contestant of this season you are, we do it differently. The test you're about to take reveals which of the most popular contestant of all the 27 seasons of the show you resemble.
We call it the All-Star Bachelor Contestant Quiz. But you could say it's inspired by The Bachelor in Paradise.
How to Play?
Playing personality quizzes is straightforward: Choose the option that's true about you—or you relate to—and select "Next." Unlike trivia quizzes, personality tests have no right or wrong answers. But the questions are in forced-choice format. The point is to push you to choose an option that makes the most sense, not the one that's 100% true. For the most accurate results, don't overthink your responses. Go with options that you "feel" are the best.
Questions of the quiz
Question 1

What's the right chemistry on the first date?

A bit of tension and nervousness.

A bit of fun and playfulness.

Mutual respect and empathy.

Peacefulness and calmness.

Honesty and vulnerability.

Sexual tension.

Question 2

Which one is a real-deal turn-on?

Deep voice

Politeness and respectfulness

Kindness and protectiveness

Calmness and confidence

Honesty and charisma

Money, fame, success

Question 3

What type of person deserve to receive the rose?

Positive (Cheery)

Genuine

Nice

Quiet

Trustworthy

Sexy

Question 4

What would you do if The Bachelor kissed another contestant?

I'd leave the show

I'd talk to them about it

I'd try not to make a big deal about it

I'd be fine with it. That's a part of dating.

I'd tell the bachelor that I didn't like it.

I'd plan my revenge.

Question 5

What if The Bachelor ignored you during the Cocktail Party?

It'd break my heart.

It'd disappoint me. But it's not a big deal.

I'd make the first move and talk to them.

I'd wait for them to approach me.

I'd confront them about it.

I'd ignore them as well.

Question 6

What do you think of the 2-on-1 dates?

I don't like them.

I can't relate to them.

I think they're fine.

I kind of like them.

I don't know. It depends.

I love the competition.

Question 7

What if the bachelor wore the "Fantasy Suite" with another contestant?

I'd leave the competition.

I'd feel bad but not broken.

I'd try not to think about it.

I'd just deal with it. It happens.

I'd let the bachelor know that it pissed me off.

I'd seduce the bachelor into doing it with me, too.

Question 8

You didn't receive the First Impression Rose. How does that make you feel?

Inadequate

Ugly

Intimidating

Insecure

Angry

Vengeful

Question 9

What do you think of Group Dates?

I can't say I like them.

They're kind of funny.

I could enjoy them.

I may like the idea. Why not.

It depends on who's in the "group"

I love Group Dates because of the competition.

Question 10

The bachelor thinks that you are "Here For the Wrong Reasons." What's your response?

I'd leave the room. That's disrespectful.

I'd defend myself, but I'd probably cry.

I'd listen to their reasons and talk it out.

I'd be patient with them and give them some time.

I'd not let them talk to me like that.

I'd let them know that they're a jerk

Question 11

How would you feel during the Rose Ceremonies?

Excited

Curious

Impatient

Calm

Nervous

Numb

Question 12

What's your go-to technique to charm someone?

Beautiful words

Smiling or making them laugh

Hugs and kisses

Being a good listener

Being an honest friend

Sex

Question 13

Which one sounds like a red flag on the first date?

Dullness

Dry sense of humor

Rudeness

Signs and anger issues

Tiny, little lies

None of them

Question 14

What kind of gifts are your favorite?

Thoughtful (wholesome gifts)

Edible (sweets, snacks, etc.)

Nostalgic (gifts with backstories)

DIY (handmade gifts)

Random (no-occasion gifts)

Expensive (luxurious stuff)

Question 15

What do you like about The Bachelor?

I like the romance

I like the drama

I like the tragic ends

I like the tension

I like the unpredictable decisions

I like the hot contestants

Question 16

Which word best describes your personality?

Considerate

Friendly

Compassionate

Shy

Lazy

Energetic

Question 17

Do you believe in love at first sight?

Yes, absolutely.

Well, maybe.

I'm not sure.

No, love takes time.

It depends. Some people experience it.

No, I don't believe in love.

Question 18

Which statement about The Bachelor do you agree with?

It's a romantic show.

It used to be more fun.

It's fun to watch.

It's an educational show—especially if you're dating.

It's somewhat scripted but still fun to watch.

It used to be a genuine show. Now it's just a fake reality show.

Question 19

Which red line you'd never cross no matter what?

I'd never lie about loving someone.

I'd never hide my flaws.

I'd never become a selfish person in my relationship.

I'd never ignore my partner's feelings.

I'd never pretend I'm happy in my relationship.

I'd never let my partner see my flaws.

Question 20

Final questions: How many The Bachelor seasons have you watched?

I'd say almost all of them.

At least 10

6-9 seasons

4-5 seasons

2-3 seasons

Only 1 season (or not at all)