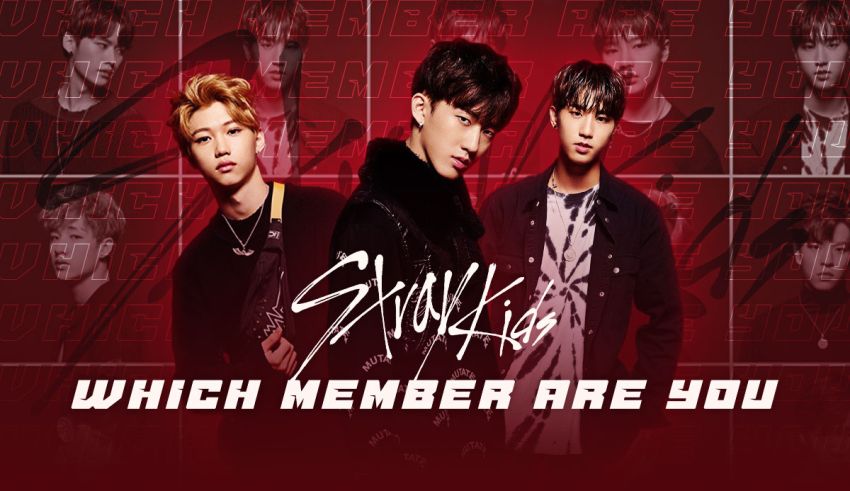 As a true Stay, you should know which Stray Kids member you are. This quiz compares your personality to all the 8 SKZ boys, revealing your perfect match.
The Stray Kids Quiz Discovers Your Matching Member
The SKZ personality quiz has 20 questions that expose which band boy is similar to you. It works based on your MBTI type and is not a basic interest-match test.
Unlike the Stray Kids Trivia Quiz, there are no right or wrong answers. So, you are supposed to choose the options that make the most sense.
Suggestion: If you're into K-pop quizzes, consider taking our NCT member test as well.
Which member's personality is similar to you?
The test's goal is to answer one of the biggest questions of Stays: which SKZ member am I? To do so, it analyzes every detail of your persona, creating your accurate profile. It then compares your characteristics to that of the boys to reveal your match.
Which member could be your best friend?
Meeting your SKZ bestie is another perk of taking the quiz. Your behavior is also matched with members who may not be similar to you but would enjoy your company.
It's not like shipping you and your biases. The results only suggest a few boys that could become your best friend because of your personality.
This SKZ Quiz Is Based on the Boys' MBTI Type
The problem with other quizzes is that they work based on shallow information. They ask you questions like, "What is your favorite food?" And that's why their results are inaccurate. However, we created the first MBTI quiz for Stray Kids members that is highly reliable.
Here's a preview of each boy's personality type.
| | | |
| --- | --- | --- |
| SKZ member | MBTI Type | Star Sign |
| Chan Bang | ENFJ | Libra |
| Lee Know | INTP | Scorpio |
| Changbin | ESTP | Leo |
| Hyunjin | ISFP | Pisces |
| Jisung | ENFP | Virgo |
|  Felix | ENFP | Virgo |
| Seungmin | ISFJ | Virgo |
| Jeongin | ISFP | Aquarius |
A Simple Guide to Stray Kids Members' Personality
One way to discover which SKZ you are is by comparing your behaviors to them. It might be a bit challenging because all of the boys seem to be sweet, lovely people.
But you can use the following guide to see if you can find your match without a quiz.
#1. Chan Bang
Stays known him as a natural therapist. Personality-wise, Chan Bang is a fatherly figure who's also quite supportive. As an ENFJ, Chang Bang is warm, outgoing, loyal, and sensitive. He loves hugging his fans and friends and is incredibly generous.
#2. Lee Know
You can describe Lee Know's personality with three words: Sassy, soft, and playful. But as an INTP, he also has a thinking and analytical side, which Stays often don't see. Despite being introverted, Lee Know is good at expressing his emotions and showing affection for the other members.
#3. Changbin
Changbin's star sign is Leo, giving his personality a fair amount of duality. His character is split into two halves: one is overly cute, and the other is rather intimidating. As an ESTP, he is spontaneous and flexible, energizing other members with his extroverted attitude.
#4. Hyunjin
Ask Stays, "which Stray Kids member are you?" and watch them go on about their love for Hyunjin. As the band's visual, he's a good-looking, well-groomed, and stylish person. His personality can be described as dramatic, naughty, and impulsive. However, as an ISFP, he's also a natural caretaker who enjoys life as it is and lives the moment.
#5. Jisung
He is a funny squirrel in the eyes of Stays. But personality-wise, Jisung is an ENFP: He's Energetic, warm, and passionate. Jisung cheers other boys and uses his humor to encourage them to explore their creativity.
#6. Felix
Felix's personality is similar to that of Jisung's. He is an ENFP who's known as the band's sunshine. Energetic, fun-loving, and compassionate, Felix spices up the boys' friendship and helps them enjoy their time together.
Based on our data, most fans want to match Felix in the Stray Kids member quiz.
#7. Seungmin
Some say Seungmin is a bit insecure. But he's just a humble ISFJ. You can describe his personality as kind, reliable, and trustworthy. However, he doesn't like to brag about his achievements, making him one of the modest SKZ boys.
#8. Jeongin
He started as a rather childish character. But he's now a more mature and responsible boy. Jeongin's personality type is ISFP, and you could describe him as kind, friendly, sensitive, and quiet.
Which one are you?
Finding your Stray Kids counterpart is not easy. So, consider taking the quiz if you haven't found it yet. It's the easiest, fastest, and most reliable tool you have.
Meet Your Match in 2 Minutes
Your bias is not necessarily the most similar person to you. So, what are you going to say the next time a Stay asks you, "Which Stray Kids member are you?" Are you going to give a random answer, or are you willing to know who your true match is?
You are twenty questions away from meeting your SKZ twin or soulmate. All it takes is two minutes of your time and a couple of honest responses.
Disclaimer
QuizExpo does not own any of the images in the Stray Kids Member Quiz, and no copyright infringement is intended. Please, contact us for a removal request if you own any.
Questions of the quiz
Question 1

What position would you like to have if you were a Stray Kids member?

Maknae

Leader

Visual

Dancer

Rapper

Vocal

None of them

All of them

Question 2

How would you feel if you had to perform in front of thousands of people?

Nervous

Calm

Proud

Ready

Lucky

Excited

Insecure

Indifferent

Question 3

Fill in the blank. Your SKZ bias is a __________ person.

Cute

Supportive

Good-looking

Unique

Optimistic

Energetic

Well-mannered

Complicated

Question 4

Which is the type of best friend you'd wish to have?

A funny friend

A helpful friend

A sassy friend

A confident friend

An easygoing friend

A party animal type of friend

A giving and kind friend.

An adventurous friend.

Question 5

What skill would you focus on if you were a K-pop band member?

Dancing

Producing

Public speech

Singing

Rapping

Rapping and dancing

Lyrical skills

None of them

Question 6

How do you react, or what do you do when your friend is sad?

I do silly, random things

I listen to their problems

I buy them gifts

I take them shopping

I remind them of their loveliness

I invite them to a party and help them have fun

I give them some pieces of advice

I ask them to be strong and help them move on

Question 7

Of the following options, which one sounds like an activity you'd enjoy?

Playing video games

Reading

Shopping

Doing makeup

Working out

Partying

Listening to music

Watching anime

Question 8

What makes Stray Kids special?

Their silliness

Their friendship

Their style

Their attractiveness

Their rapping skills

Their dancing skills

Their lyrics

Their voice

Question 9

How do you feel when listening to SKZ songs?

Energized

Peaceful

Confident

Sassy

Happy

Freaky

Inspired

It depends

Question 10

What is your birth month?

January or February

March or April

May or June

July or August

September

October

November

December

Question 11

How old are you?

14 or younger

15-17

18-20

21-22

23-25

26-27

28-29

30 or older

Question 12

What do you do when you're irritated?

I do crazy stuff

I remain calm

I talk to a friend

I cry

I go shopping or something like that

I hang out with others and try to forget it

I keep myself busy with work

I usually overreact

Question 13

Which song would you listen to if you were feeling down?

MANIAC

DOMINO

My Pace

Victory Song

Charmer

SLUMP

God's Menu

Thunderous

Question 14

What kind of birthday gift would you get for your best friend?

A funny gift

A thoughtful gift

An expensive gift

A rare gift

A practical gift

A creative gift

A handmade gift

It depends. IDK

Question 15

What is your prominent mood?

Bored

Peaceful

Hyped

Sad

Happy

Energetic

Nervous

My mood is unpredictable

Question 16

Which one would cheer you up after a rough day?

Playing video games with friends

A hug

A gift

Doing something naughty

Going out and hanging out with friends

Dancing and doing silly stuff

Sleeping or spending some quality time alone

Hitting the gym and working out

Question 17

What would be the best thing about being a Stray Kids member?

Having so many fans all over the world

Having so many reliable friends

Performing in front of lots of people

Making lots of money

Having people to cheer you up when you're done

Spending lots of time with your besties

Inspiring so many people around the world

Being accepted as you are and having people who truly love you

Question 18

What do you think of fashion and style? Would you consider yourself a fashionista?

I don't understand the trends

I need some help when it comes to fashion

I am a pro stylist

I love fashion and design

I don't like fashion and design

I don't spend much time on my style

I don't like showy and exaggerated styles

I don't have any comments

Question 19

What is your go-to style?

Cute

Formal

Sassy

Sexy

Casual

Street style

Feminine style

Masculine style

Question 20

Final question; which word describes your best friend(s)?

Hilarious

Loyal

Cute

Special

Weird

Cool

Inspiring

Intimidating