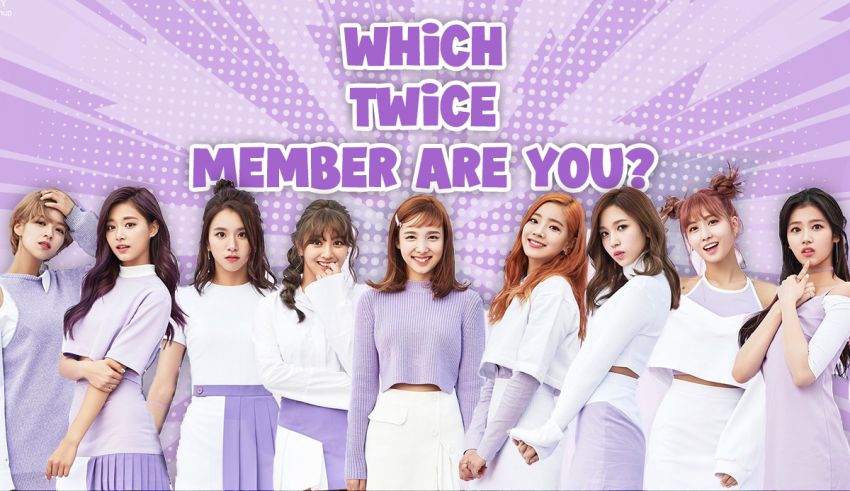 Real ONCE know their TWICE bias for sure. But our question is bigger, "Which TWICE member are you?" This quiz reveals which of the 9 K-Pop princesses you are.
The Twice Quiz You Should Take More Than Once
We have a set of 20 questions that reveals your counterpart or soulmate in the beloved Korean girl band, TWICE (트와이스). The test is based on the nine members' updated profiles to return the most accurate results.
Responding to our entertaining questions allows us to match your personality with one of the singers, dancers, or rappers in no time.
The whole process is similar to our popular quiz called, 'Which BLACKPINK Member Are You?' So, you already know what is expecting you if you took that one.
Things You Learn by Taking the Test
The quiz aims to answer one question in particular, "Which TWICE member are you?" However, participating in the questionary means, you will receive much more information. Here are some of the things you learn about yourself and your bias or counterpart.
· Personality
We used the most detailed profiles of the nine members to create this K-Pop quiz. And that enables us to provide you with a personality analysis compared to your counterpart in the band.
· Position
Do you want to know what position you would have in a K-Pop girls' band? Taking the test grants the answer to that question. We inspect your character to see where do you belong in a group.
· Interests / Hobbies
Matching one of the nine girls also means you have some interests in common. So, we will give you a list of activities that you and your TWICE pair might both enjoy doing.
· Fun Facts
Knowing which TWICE member you are is fun. But don't you want to know some interesting things about your K-pop artist twin? We have some fun-fact cookies to share at the end of the questionary.
The Twice Members Profiles
The goal of the K-pop quiz on this page is to answer, "Which TWICE member are you?" We used in-depth character and lifestyle descriptions of all the members to come up with a realistic test. Below is a sneak peek of our database.
Note: Read the following descriptions and find the one you relate to the most. That would probably be your K-Pop counterpart. But you can always take the actual quiz for a comprehensive analysis and result.
Jihyo's Profile
A few people would say, "I am Jihyo," when asked, "Which TWICE member are you?" That is because she is the most caring and responsible girl in the group. Her real name is Park Ji Hyo. And she was born in 1997. Jihyo wanted to become an actress but changed her career after the reality show called Sixteen. She likes listening to classical music, browsing the internet, going for walks, and reading webtoons, or doing karaoke.
Nayeon's Profile
She is the second most popular girl in the band in South Korea. That is why many people would love to match her. Her real off-stage name is Im Na Yeon, and she was born in 1995—making her the oldest member. Nayeon is the face of TWICE as she is the most beautiful girl in the band. But her dancing skills have made her the lead dancer of the team as well. She likes sweets and bubble tea. And she usually binge-watches TV shows or K-Drama. Her friends believe that Nayeon is a forgetful person as she often loses her phone!
Sana's Profile
Minatozaki Sana is one of the youngest members of the group. She is the one most fans want to match when asked, "Which TWICE member are you?" That is because Sana is cute, clumsy, and slightly weird. Sana is one of the three Japanese girls in the team—and that is why she is beloved in Japan as well as South Korea. According to her friends, she loves spicy foods and watches lots of horror movies.
Mina's Profile
Introverted fans often match Mina when taking a quiz or asked, "Which TWICE member are you?" She is the least extroverted girl in the band. And that might be because of her anxiety problems. Mina loves online shopping, going out to eat, and browsing on her phone when she cannot sleep.
Tzuyu's Profile
Being the youngest TWICE member automatically turns her into the Maknae of the band. But Tzuyu, whose real name is Chou Tzuyu) is known as the Evil Maknae! Her friends believe that she is not like any other cutesy K-pop singer you might meet. She wakes up very early in the morning, signs Disney songs out of nowhere, and enjoys eating delicious food.
Momo's Profile
According to recent polls, Hirai Momo is the sixth most popular TWICE member. She is the main dancer, vocalist, and rapper. She is the sleepiest one around—being able to sleep almost anywhere, at any time.
Dahyun's Profile
Kim Da Hyun was born in 1998. And she is currently one of the leading rappers and dancers of the team. Dahyun is scared of animals, and she often buys stuffed teddies to grow her collection.
Chaeyoung's Profile
If you love healthy foods, lipsticks, and art, you can say, "I am Chaeyoung," when asked, "Which TWICE member are you?" She is a rapper and vocalist who draws and listens to her Spotify playlist as a relaxation method.
Jeongyeon's Profile
Yoo Jeong Yeo is the lead vocalist who loves action films, cleaning, and showering. She was born in 1996 in Korea. Her friends say she is a stress eater, meaning she might being-eat while she is nervous.
Now, Which TWICE Member Are You?
It is not easy to discover your lookalike in a Korean pop band with nine members. However, taking our quiz grants you a reliable and authentic answer. We analyze your character and compare it to that of the girls, finding the most similar one. And it only takes a few seconds for us to do so. So, what are you waiting for?
Disclaimer
QuizExpo does not own any of the images used in the 'Which TWICE Member Are You?' quiz. Please, contact us if you own any and you want them to be removed.
How to Play?
Playing personality quizzes is straightforward: Choose the option that's true about you—or you relate to—and select "Next." Unlike trivia quizzes, personality tests have no right or wrong answers. But the questions are in forced-choice format. The point is to push you to choose an option that makes the most sense, not the one that's 100% true. For the most accurate results, don't overthink your responses. Go with options that you "feel" are the best.
Questions of the quiz
1

As a K-pop singer, what would you like to be known for?

Voice

Face

Personality

Body

Rap

Dance

2

Which one sounds like a fun plan?

Walking your pet

Doing something unexpected

Watching movies

Listening to music

Disco and drinking

Ordering food

3

What is your favorite movie genre?

Classic

Comedy-romantic

Horror

Drama

Action

Sci-fi

4

Fill in the blank. In a K-pop band, I would like to be the ________.

Leader

Lead vocalist

Maknae

Lead dancer

Lead rapper

Choreographer

5

What type of boys/girls attract you the most?

Confident

Good-looking

Funny

Successful

Baddie

Nice

6

Which of the following words describes you better?

Ambitious

Outgoing

Clumsy

Anxious

Outlaw

Vivid

7

Complete the following sentence. Dancing is my _________.

Job

Talent

Fear

Relaxation method

Way of having fun

Passion

8

How hard is it for you to deliver a public speech?

Easy

Slightly hard

Very hard

Impossible

I don't know

It depends

9

How often do you forget something important?

Rarely

Always

Sometimes

Most of the time

Once in a while

I don't know

10

What part of being a K-pop star is difficult?

Practicing

Diet

Live performance

Public speeches

Dancing

World tours

11

Imagine you have an extra $100. What do you do with it?

Save it

Buy makeup stuff

Buy food

Buy clothes

Buy drinks

Buy books

12

What is your go-to activity to cheer yourself up?

Reading

Going out

Netflixing

Shopping

Eating

Dancing

13

Choose a nickname for yourself.

Golden Oldie

Crazy

Naughty

Silent

Wicked

Sleepy

14

People love you because you are __________.

Caring

Cool

Funny

Elegant

Brave

Unique

15

Which one describes your relationship with food?

Meh

I love sweets only

I can live without it

It's okay

It's my life

I don't really like it

16

Choose a drink that you would start your day with.

Coffee

Tea

Soda

Juice

Water

None

17

What type of TV shows would you like to binge-watch?

Documentary

Reality shows

Horror or crime shows

Late-night shows

Morning talk shows

K-drama

18

What kind of dress would you like to fill your garderobe with?

Suits

Cute

Colorful

Black

Short and sexy

Trendy

19

How often do you shy away from doing something challenging?

Rarely

Often

Most of the time

Always

It depends

I don't know

20

Final question, what is your favorite music genre?

Classical

Pop

Rock

Rap

R&B

K-pop