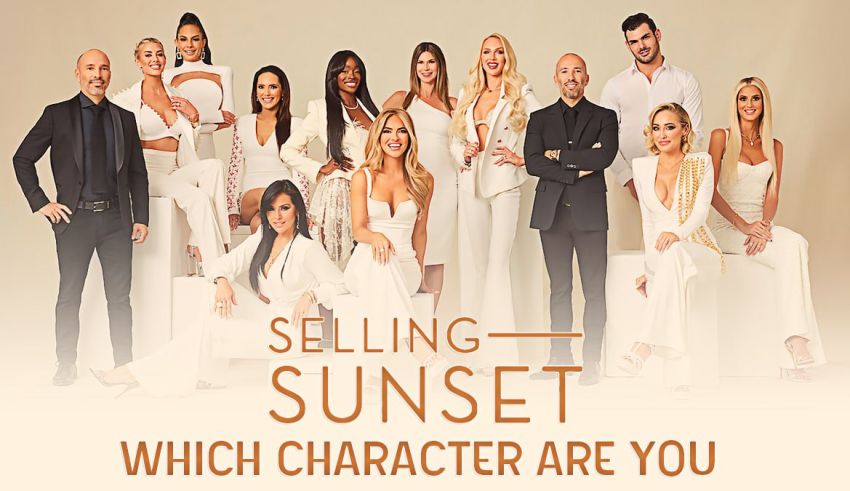 Hey, reality show fans, which Selling Sunset character are you? Take this realtor personality quiz to find out. Are you Christine, Bre, Nicole, or else?
This Realtor Quiz Reveals Your Selling Sunset Character
Comprised of 20 personality questions, the Selling Sunset Character Quiz exposes the agent in the show that gives off the same vibes as you. It determines if you are one of the iconic realtors, such as Chrishell Stause and Christine Quinn, or one of the show's newcomers, like Bre Tiesi and Nicole Young.
Selling Sunset is a Netflix reality show about a team of agents at the Oppenheim Group who sell luxurious houses in LA. But the show also sheds light on the drama between these realtors in a similar fashion to The Bachelor and The Real Housewives.
With the current test, we analyze your MBTI and compare it with that of the Selling Sunset characters to find your perfect match. But if you already know your type, use the following table to discover your lookalike.
| | |
| --- | --- |
| Selling Sunset Character | MBTI |
| Nicole Young | ESTJ |
| Bre Tiesi | ESFP |
| Chelsea Lazkani | ENFJ |
| Mary Fitzgerald | ESFJ |
| Christine Quinn | ESTP |
| Chrishell Stause | ESFJ |
| Emma Hernan | ESTJ |
| Maya Vander | ISTJ |
| Romain Bonnet | ISFP |
| Brett Oppenheim | ISTP |
| Jason Oppenheim | ESTJ |
What Types of Personalities Are in Selling Sunset?
You want to know which Selling Sunset agent you are. But that brings out another question: What kind of people are in the show? Well, we've analyzed the most iconic personalities to come up with the following list.
Chrishell Stause
As an ESFJ, Chrishell is a bubbly, outgoing, and positive real estate agent. She tries her best to remain empathetic and listens to everyone's complaints despite being a sensitive person.
Christine Quinn
The show's OG face, Christine, is a bold, assertive, and sassy realtor. She is not afraid of speaking up for herself and is ambitious enough to fight for the biggest contracts in Los Angles. Christine is also a fashionista who can't get enough of shopping for new designer pieces.
Heather Rae Young
When it comes to professionalism, Heather tops the list of Selling Sunset agents. She's a hardworking, dedicated, and passionate realtor who values every chance of bettering her skills.
Bre Tiesi
Despite her villain-ish vibes, Bre is a supportive and free-spirited person. But she's also confident and competitive, which is why her Season 6 appearance caused drama and chaos in Selling Sunset.
Are You an OG or Newbie Realtor of the Oppenheim Group?
The good thing about the Selling Sunset Quiz is that it includes both the new and old cast members. So, you have the opportunity to match one of the beloved characters from the original gang or find yourself relating to a newbie Season 6 realtor.
By the way, if you like Netflix reality shows, you should try our other fun quiz for The Mole. It exposes the shady side of you with a bunch of entertaining—and intense—questions.
Can You Sell the $75 Million House?
Okay, it's time to answer the big question: Which Selling Sunset character are you? Hit the start button now, and let us unveil the real estate freak in you. 🏠💸
Not only will we discover your matching agent, but we will also explain the reasons why you got them on your results. So, it's going to be a surprisingly informative test. (Promise.)
Disclaimer
QuizExpo does not own the images in the Selling Sunset Character Quiz and intends no copyright infringement. Netflix owns the said pictures.
How to Play?
Playing personality quizzes is straightforward: Choose the option that's true about you—or you relate to—and select "Next." Unlike trivia quizzes, personality tests have no right or wrong answers. But the questions are in forced-choice format. The point is to push you to choose an option that makes the most sense, not the one that's 100% true. For the most accurate results, don't overthink your responses. Go with options that you "feel" are the best.
Questions of the quiz
1

How would you sell a haunted house?

Emphasize potential for renovation

Emphasize the history and backstory

Emphasize unique experience potentials

Emphasize the market value

Downplay the haunted aspect

2

What makes a realtor the greatest of all time?

Personality, positivity, and connections

Confidence, assertiveness, and strong branding

Dedication, work ethic, and market knowledge

Putting clients first and communication skills

Trustworthiness, professionalism, and reputation

3

Which one is the most important step/factor in buying a house?

Agent

Negotiation process

Market research

Experience and connections

Patience and luck

4

What percentage should the client pay you for selling their house?

Standard commission

It's negotiable

It should be agreed upon

I want a fair commission

It depends on the market conditions

5

What's your love life like?

Private and not discussed

Single and looking

Married

Engaged

Dating

6

What about your social life? What's it like?

Active social life with friends and colleagues

Mostly active on social media

Filled with successful people

Full of quality time with family and friends

Lots of international friends

7

What type of people are you likelier to date?

Positive, emotional, and romantic

Ambitious, successful, and stylish

Kind and genuine with a good sense of humor

Supportive and respectful

I'm happily married and not looking to date

8

What makes Selling Sunset a fun reality show?

High-end luxury properties and drama

Glamorous lifestyle and fashion inspiration

Unique properties and personal stories of realtors

Behind-the-scenes look at the real estate industry

Tips and tricks of the real estate industry

9

How would you deal with an aggressive buyer?

Stay calm, listen, and find a solution that benefits all parties

Be assertive and stand your ground

Give them more options

Give them a complaint form

Assure them that you're on their side

10

What's the best way to lower a house's price?

Be willing to negotiate and remain empathetic

Be assertive and bold

Be creative. Offer several different options

Use recent market data

Be patient and ask for professional help

11

What kind of interior design should your dream house have?

Timeless and elegant

Bold and luxurious

Comfortable and inviting

Classic

Modern and minimalistic

12

Which lifestyle sounds intriguing?

Romantic and drama-filled

Glamorous and luxurious

Travel-orientated and adventurous

Family-orientated and balanced

The lifestyle of billionaires

13

How do you react to pressure and stress?

I stay positive

I remain in charge

I ask for help

I focus on my mental health

I focus on solving the problem ASAP

14

Why do you think you'd be a good realtor?

I put clients first and have communication skills

I'm confident and have strong branding skills

I'm Dedicated and passionate

I'm experienced and genuine

I have a successful track record

15

What kind of colleagues are the worst?

Negative

Insecure

Lazy

Amateur

Impatient

16

Which California city/area has the best houses?

Los Angeles

Beverly Hills and Hollywood Hills

Orange County

Malibu

San Diego

17

Which one is a romantic location for a proposal?

Private location with a stunning view

Fancy restaurant

Mountaintop

Vineyard or rooftop

On a Yacht

18

Would you date a realtor?

Why not

Not sure

Probably yes

Not at all

That'd be a dream come true

19

Which open house theme sounds cool?

Tea party

Met Gala

Live music

Exotic foods and drinks

Meet and greet

20

Final question: what's money to you?

A tool for helping me and my family

A tool for building a successful brand and lifestyle

A means of achieving freedom

A means of achieving professional goals

A tool to measure my success