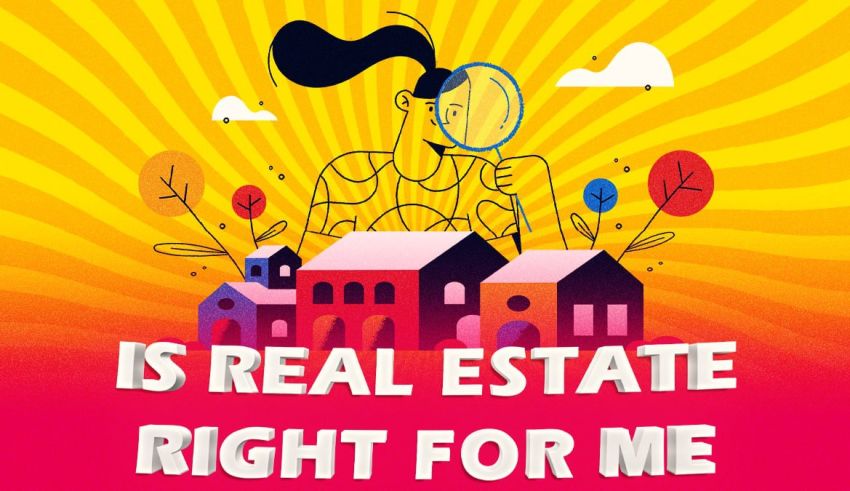 Is real estate right for you? This career quiz determines if you can be a real estate agent based on 15 professional factors.
How to Know if Real Estate is Right for You
Real estate is a proper career choice if you have strong interpersonal skills, have prior experience, are open to learning more about the housing market, and can handle income fluctuations. Although it is known for its lucrative potential, it is a demanding profession, particularly for those with average communication abilities.
Other factors that determine whether you should choose it as a career:
Academic background. A degree in marketing, finance, accounting, business, and even psychology can secure better jobs.
Related licenses. If you already have a real-estate-related license, you're already on the path to making it your career—and you're one step ahead of the competition.
Income expectations. Real estate might be a good choice if you don't mind a changing salary. This career has a high-risk-high-reward path that might frustrate those seeking financial security.
Schedule flexibility. Some jobs in this field require you to work at irregular times. So, it's only a good career choice if you can adapt to that.
Communication style. Soft skills are a must for agents, which is why sociable people are likelier to excel in this career.
Choose Your Career Path with an Expert Quiz
You might be confused about which career to choose in real estate—and we get it. To lend a hand in making a well-informed decision, we have created this Career Quiz, a self-assessment that determines the most suitable job within the field (and even suggests where to find job opportunities).
Should You Become an Agent in 2023
With an average salary of $97,480 per year, a real estate agent is considered a decent career. As for the good news, the Bureau of Labor claims "51,600 openings for brokers and sales agents are projected annually," meaning you're highly likely to find a job in less than a year.
Alternative Careers for Agents
There are more career paths available than just becoming an agent or realtor. As of 2023, the industry has witnessed a rise in the popularity of other specialized roles, including real estate portfolio management, development, and consultancy.
Agent/Realtor: $97,480 (per year)
Portfolio Manager: $128,700 (per year)
Developer: $115,000 (per year)
Investor: $100,000 (per year)
Property Manager: $109,328 (per year)
This Quiz Reveals if You Should Pursue Real Estate
Do you want to ensure that a career in this field is good for you? Then, take this professional real estate agency quiz to find the answer.
If you're really into real estate, take our Selling Sunset Character Quiz, too. It's inspired by the titular reality show that follows the everyday lives of top property realtors in the US.
With that out of the way, let's start the test to see if you should pursue a career in the intriguing sector.
How to Play?
Playing personality quizzes is straightforward: Choose the option that's true about you—or you relate to—and select "Next." Unlike trivia quizzes, personality tests have no right or wrong answers. But the questions are in forced-choice format. The point is to push you to choose an option that makes the most sense, not the one that's 100% true. For the most accurate results, don't overthink your responses. Go with options that you "feel" are the best.
Questions of the quiz
1

What type of business specialization is your jam?

I don't have a favorite specialization

Sales

Analytics

Management

2

Do you have any experience in the real estate industry?

No, no experience at all

Yes, I am certified in a specific field

Yes, I have a degree in a related field

Yes, I have years of experience (but no academic background)

3

What's your definition of a dream career?

One that gives me financial security

An exciting and adventurous career

A complex and nerdy job that requires expertise

A high-risk, high-reward profession

4

What's the most difficult thing about working in the real estate sector?

I don't know

Communication or networking

Decision-making and risk management

Investments and financial management

5

What makes you passionate about the housing market?

I can't say I'm that passionate about it

There's always room for earning more or getting better

It's like an intense (but fun) strategic game

You can build your empire and never work again

6

Which of these soft skills do you have?

Consistency

Negotiation

Concentration

Leadership

7

How much will you invest in entering the real estate market?

I'd rather spend no money on that

$1,000 to $10,000

$20,000 to $70,000

$80,000 or more

8

What kind of jobs do you excel in?

Slow-paced and solo

Fast-paced and teamwork-oriented

Analytical and creative

Risky and confidence-demanding

9

Is your academic background related to the real estate industry?

No, not at all

No, but I'm trying to fix it

Yes, I have a related degree

No, but I have years of field experience

10

Do you own a house? How many?

No, I don't own a house

I'm planning to get my first house

Yes, only one

Yes, two or more

11

Have you ever sealed a real estate deal?

No, I have no idea how that works

Yes, only once or twice

No, but I know how it works

Yes, I do that all the time

12

How familiar are you with real estate laws in your state?

Not familiar at all

Very familiar

Moderately familiar

I have street knowledge

13

What's your salary expectation like?

I don't know yet

About $7,000 a month

About $10,000 to $15,000 a month

$20,000 or higher

14

What's your dream work-life balance like?

Working from home

I'm quite flexible with my time

I want a regular 9-to-5 job

I want full autonomy over my time (I should be my own boss)

15

Final question: How much money have you saved up?

Less than $20,000

$30,000 to $50,000

$60,000 to $90,000

$100,000 or more