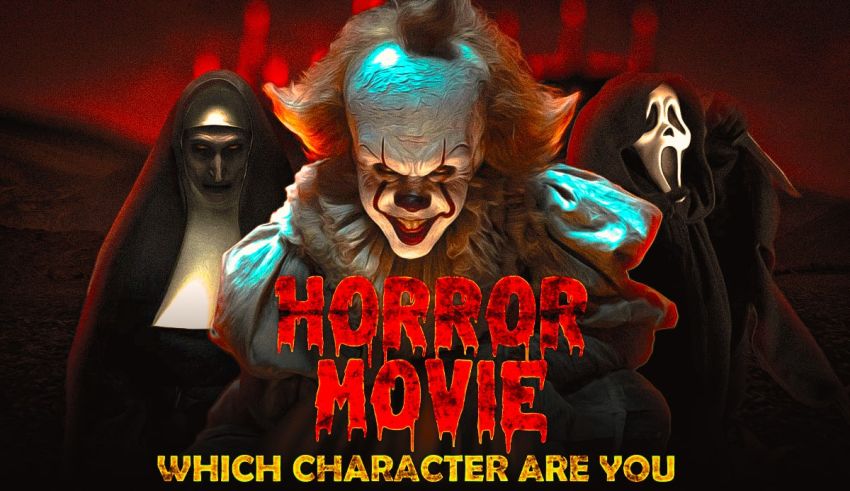 Do you wonder which horror movie character you are? This 2022 eerie quiz exposes you as a scary film villain.
This Spooky Quiz Reveals Your Horror Movie Persona
A 20-question psychological test, the 'horror movie character quiz' uncovers the scariest villain that looks like you.
It compares your persona to that of murderers, demons, and creatures in slasher, paranormal, and witchcraft films.
To add to the fun, try Which Serial Killer Are You next.
It Is Based on the Scary Characters' MBTI Type
For the first time in the history of chilling quizzes, you can find your menacing MBTI match.
The current test—powered by a database of personality types—compares your Myers-Briggs indicator with that of the world's most notorious horror characters.
If you, for whatever reason, don't have time for a ghostly quiz, use the following table to find your match.
| | |
| --- | --- |
| Character | MBTI Type |
| Hannibal Lecter | INTJ |
| Pennywise | ESTP |
| Candyman | INFP |
| Leatherface | ISFJ |
| Chucky | ISTJ |
| Freddy Krueger | ENTP |
| Pazuzu | ENTP |
| The Grabber | INFP |
Find Your Creepy Counterpart in the Scariest Films Ever
With the help of the Science of Scare Project—a group of researchers looking for the scariest movies—we now have the list of ultimate horror characters in 2022. (And you're about to match one).
The list includes the villains of movies that increase your heartbeat (BPM) to above 100 per minute.
Based on recent data, The Demon from Host (2020), Bagul from Sinister (2012/2015), and Sixtass from Insidious (2010) are the most bloodcurdling monsters in contemporary films.
But the quiz includes even more evil spirits.
Get a Halloween Movie List That Matches Your Character
October encourages you to face your biggest fear, whether it's confessing your love to your crush, jumping out of a plane, or facing forosophobia, the fear of taxes, and the creepy agents of the IRS.
But you also need to watch some spine-chilling movies. It's a Halloween must, right?
The good news for lovers—and secretly haters—of scary films is that the quiz suggests the best playlist based on your matching character.
In other words, your results include a list of horror movies that you'd enjoy this spooky season. So, no more endless scrolling on Netflix to find perplexing thrillers, disgusting slashers, or even funny com-rom-zoms.
Choose a Halloween Costume Based on the Character You Are
Don't you wonder what you should be this Halloween? Of course, you do. But look no further for creative ideas because you can be the horror movie character you match in this quiz.
Ditch the generic witch, fairy, rabbit thing. Pick a costume representing your actual dark core, the uncanny side of your persona.
By the way, the FNAF character quiz that went viral on TikTok is also a good inspiration source. Maybe you should be one of Freddy's frightening animatronics.
Here's How to Decide Which Horror Movie Character You Are
You know there's no better way to find your scary villain counterpart than a personality test. But that's not the only alternative.
Knowing the demonic characters of horror films might help you find your dark soulmate. (Use the following guides if that's how you want to meet him).
#1. Hannibal Lecter
Preferring rude victims over the well-mannered, Hannibal is probably the most intelligent horror movie character. He is a sadist, a psychopath to be exact, who slaughters the innocent and eats them. Yes, he's a cannibal.
#2. Chucky
While most horror movie characters are eerily silent, Chucky is talkative. He loves being in the spotlight, retaining his sinister sense of humor while slashing the poor prey.
#3. Leatherface
No Halloween passes by without them MFs dressed up as Leatherface. He's a bloody murderer letting his chainsaw dance on the frightened bodies of his targets. Personality-wise, Leatherface is a violent sociopath who's also nonverbal and mentally ill.
Other Terrifying Creatures.
The list of terrifying horror movie villains can get as long as a Taylor Swift album tracklist. So, take the quiz to increase the chance of discovering your perfect match. It's pretty challenging to find it on your own—just saying.
Ready for a Fearful Journey to Your Dark Side?
"20 questions" is all standing between you and your freaky horror character.
Put on your spooky mask, grab a kitchen knife, say Bloody Mary three times in the mirror, and tap "Start" to meet your scary twin.
Let's go. 🎃🔪
Disclaimer
QuizExpo does not own any images in the horror movie character quiz and intends no copyright infringement.
Due to the scary imagery and language of the test, user discretion is advised.
How to Play?
Playing personality quizzes is straightforward: Choose the option that's true about you—or you relate to—and select "Next." Unlike trivia quizzes, personality tests have no right or wrong answers. But the questions are in forced-choice format. The point is to push you to choose an option that makes the most sense, not the one that's 100% true. For the most accurate results, don't overthink your responses. Go with options that you "feel" are the best.
Questions of the quiz
1

What makes a random person scary?

Madness

Style

Body language

Silence

Freaky body

Creepy looks or voice

None of them

I don't know

2

Which one sounds more irritating?

A rude person

A humorless friend

An uneducated partner

An insecure partner

A coward-ish coworker

A super-polite and annoyingly nice stranger.

All of them.

I'm not sure.

3

Your creepiest trait has something to do with ____________.

The way you talk.

The way you make jokes.

The way you walk or move.

The way you laugh.

The way you sleep or wake up.

The way you eat.

All of them.

None of them.

4

Which description is closer to your nightmares?

Vivid and detailed.

Funny and bizarre.

Insightful and expressive.

Random and messy.

Erotic or repetitive.

Disgusting and unexplainable.

Brutal and bloody.

Mysterious and confusing.

5

How do you often express your anger?

I put it in words and explain my emotion.

I pretend I'm fine and hide my anger.

I talk to my therapist about it.

I yell and do unpredictable things.

I usually wait for the right moment to bring it up.

I use a lot of swear words and ask everyone to go away.

I might become a bit violent and do unforgivable things.

I don't know. It depends.

6

Which one are you scary good at?

Teaching or coaching.

Making people laugh or feel better.

Public speech, writing, or drawing.

Dancing, singing, or sports.

Meditating or mind activities.

Watching TV or playing video games.

None of them.

IDK. Probably most of them.

7

Pick a mask that you'd wear on Halloween.

Plague doctor mask

Clown mask

Domino mask (masquerade)

Alien mask.

Skull mask.

Devil mask.

Zombie mask.

Balaclava (ski mask).

8

Pick a weapon you'd use to protect yourself.

Poisonous dagger

Hammer

Sharp hook

Kitchen knife

Pocket knife

Matchet

Chainsaw

I don't need any of them.

9

Which of the following mythical creatures is cooler?

Unicorn

Mermaid

Dragon

Gnome

Werewolf

Ghoul

None of them

All of them

10

How do you react to most jump scares?

I say things like, "Oh my God."

I scream

I don't react at all.

I hug someone

I laugh or scare others

I get excited

I don't know what a jump scare is.

It depends. I might do any of the above.

11

Which of these places is spookier?

An empty library or museum at night

An abandoned circus.

A dark cave

A creepy orphanage

An abandoned mental hospital

An empty church at night

None of them

All or most of them

12

Which could send chills down your spine?

Hallucinations

Creepy noises

Scary animals

Gigantic insects

Frightening nightmares

Darkness

None of them

I'm not sure. It depends.

13

Fill in the blank. Most horror movies are __________.

Pointless

Hilarious

Boring

Predictable

Stupid

Scary AF

Exciting

Entertaining

14

Which of these characters could be your ally in a scary film?

Pinhead (Hellraiser)

Jack Torrance (The Shining)

Jigsaw (Saw)

Frankenstein

Ghostface (Scream)

Satan or some demon

Jason Voorhees (Friday the 13th)

I don't want to have allies.

15

How do you feel when watching slasher movies? (Movies with gruesome murder scenes).

Disgusted

Amused

Bored

Scared

Excited

Inspired

Numb

I'd rather not say

16

It's raining. Your room's dark. And no one's home. How do you feel?

Peaceful

Bored

Sad

Lonely

Excited

Happy

Indifferent

I'd rather not say.

17

What type of horror movie characters scare you?

Mysterious

Crazy

Cold-blooded

Gigantic or super-strong

Invisible or ghost-like

Demonic

None of them

It depends

18

What's the most generic thing about scary movies?

Jump scares

Creepy laughter

Tragic backstories

Stupid characters

Brutal murders

Demonic noises in the background

None of them

All of them

19

Which situation is more stressful?

Divorce.

Increase in financial obligations.

Loss of a job.

The death of a loved one.

Moving to a new home.

Getting married.

None of them

All or most of them

20

Final question: Which one is an awful Halloween costume?

Dinosaur

Witch

Spider-Man

Stranger Things

Fairy

Pirate

Rabbit

Cheerleader