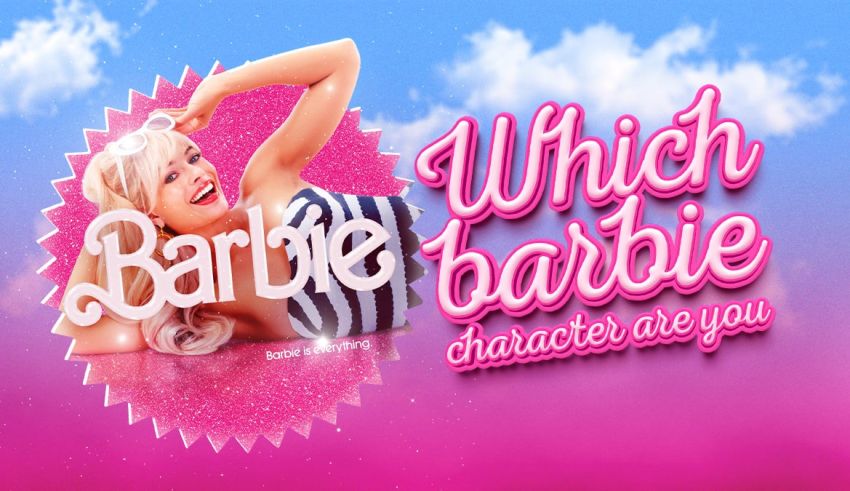 If you wonder which Barbie character you are, take this movie version quiz to find out. Are you Barbie, Ken, Allan, Gloria, or else?
Which
Barbie

Movie Character Are You?

This Quiz is a set of 15 fun questions inspired by the Mattel Universe in Greta Gerwig's 2023 Barbie movie adaptation. The goal of the test is to determine which of the film's dolls or humans share the same personality traits as you.

In the movie, Barbies, Kens, and other Mattel toys are living in a secret parallel universe. But mysterious events lead them to discover the outside world and face a harsh reality check.

With the character quiz on this page, you find out which of the lovely ladies and handsome boys in the movie you resemble in real life. But you also get a free personality breakdown explaining why you matched a particular doll.
Find the
Barbie

in You with an MBTI Match!

Our Character Quiz is the first on the internet to discover your doppelganger per your MBTI. By taking the test, you let us analyze your behavior, identify your toxic traits, and compare your characteristics to that of the Barbies and Kens.

If you can't wait to see the quiz results, though, use the following table to match your MBTI with a movie character personality.
| (2023) Character | MBTI |
| --- | --- |
| Barbie | ESFJ |
| Weird | ENTP |
| Ken | ESFP |
| Allan | ISFP |
| Mattel CEO | ESTJ |
| Midge | ISFJ |
| Mermaid | INFJ |
Main Characters and Their Personalities
In the new movie adaptation, the characters are much more relatable than their toy forms. Margot Robbie's character, for example, starts off as a basic American Doll but develops into a strong woman with realistic goals and motivations.
Here's a rundown of some of the main characters' personalities.
Barbie
Margot Robbie as Barbie portrays a cheerful, kindhearted, and rather naïve character. She is all about being nice to others and spending quality time with friends. However, her personality goes through significant changes as she learns about the real-world issues that women are struggling with.
Ken
As an ESFP, Ken in the movie is a spontaneous, outgoing, and energetic character. However, just like Barbie herself, he experiences personality development after visiting LA. The catch, though, is that his transformation takes a dark turn…
Weird
Barbie
This character is eccentric, nonconforming, and unpredictable. Due to the hardships that she's been through, she's rather antisocial and has a hard time bonding with other toys in Mattel City.
Allan
Also known as Just Allan, Allan is a normie doll. He's trying his best to be a nice person and a good citizen. But he's doomed to live in Ken's shadow and live the life of a wingman.
Gloria
A Mattel executive, Gloria is a depressed, hopeless, and nervous woman who's experiencing a mid-life crisis. In the movie, she yearns to restore her relationship with her daughter and relive the nostalgia of them playing with Barbies.
What Makes
Barbie

Movie Characters Special?

Unlike most Barbie adaptations, the new movie touches on deep and dark concepts. The film's characters undergo difficult experiences and face relatable emotions as they grow up. What makes them unique, however, is the pain they endure as they realize their life has been a lie.
So, Which One Matches You?
Did you ask yourself, "Which character am I?" after watching the 2023 Barbie movie? If yes, you're not alone! We had the same thought and wanted to find our perfect matches so badly. And hey, that's why we created this accurate, MBTI-based Movie Quiz.
Answer the following Mattel Universe-inspired questions to see if you're a Barbie, a Ken, or a Human.
How to Play?
Playing personality quizzes is straightforward: Choose the option that's true about you—or you relate to—and select "Next." Unlike trivia quizzes, personality tests have no right or wrong answers. But the questions are in forced-choice format. The point is to push you to choose an option that makes the most sense, not the one that's 100% true. For the most accurate results, don't overthink your responses. Go with options that you "feel" are the best.
Questions of the quiz
1

What color are your dreams?

Black & white (basic)

Pink (Cute)

Red (Naughty)

Colorful (Unusual)

Grey (Realistic)

Black (Dark)

2

What type of party person are you?

Shy

Extroverted (friendly)

The dancing drunk

Introverted (avoidant)

Loud

Quiet

3

How many dolls do you own?

Just 1

More than 5

About 3

2

None

I threw all of them away

4

What type of dolls are your favorite?

Realistic

Cute

Attractive

Unique

Popular

Nostalgic

5

What do you think of the 2023 movie?

It was a good movie

It was awesome!

It was meh

I didn't get it

Could be better (or haven't watched it yet)

It was kind of sad

6

How'd you describe your mood in the morning?

Normal

Peaceful

Naughty (in the mood for fun stuff)

Irritable

Energetic

Sad or tired

7

What archetype describes you in a relationship?

Giver

Pleaser

Seducer

Entertainer

Protector

Learner

8

What type of doll would you marry?

Kindhearted

Fun and attractive

Confident and popular

Mysterious and non-conforming

Sexy and submissive

I don't want to marry anyone

9

Can you describe living in the Barbie land in a word?

Cool

Fantastic

Meh

Familiar

Difficult

Depressing

10

What type of romance is your favorite?

Realistic and relatable

Adorable and innocent

Firey and sensual

Strange and fantasy-driven

Adventurous and adrenalin-boosting

I don't even know anymore

11

What's your style like?

Casual

Trendy or feminine

Sexy

Creative

Masculine

Meh, I don't have a specific style

12

What is your favorite season?

I love all of them

Spring

Summer

Autumn

Winter

I don't like any of them

13

What kind of food would energize you?

Snacks

Sweet and sugary stuff

Fast foods

Vegetables or fruits

Meets and drinks

None of the above

14

How do you cheer yourself up when you're down?

Game

Shop/Food

S-E-X

Drinks

Sports

Sleep

15

What kind of mythical creature would you want to be?

Gnome

Fairy

Unicorn

Werewolf

Dragon

Loch Ness Monster