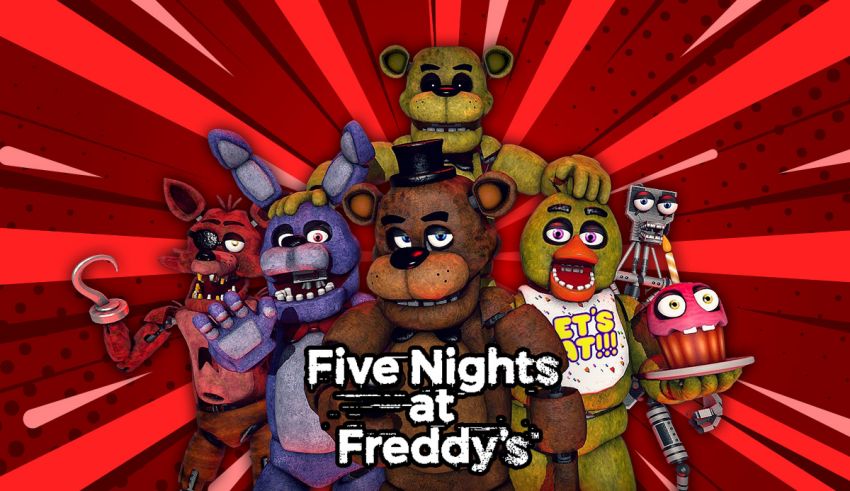 This quiz has the answer to "Which FNAF character are you?" Find out which of the Five Nights at Freddy's animatronics or personalities match you.
A Quiz to Discover Which FNAF Character You Are
The Five Nights at Freddy's quiz on this page is the most accurate personality test based on Scott Cawthon's beloved video game franchise. It has 20 challenging personality-related and psychology-related questions to discover the murderer animatronic living within you. Back in 2015, it was pretty common to ask your friend, "which FNAF character are you?" But here we are in 2021, and people still have the same question. That is why we created the most accurate and 100% creepy quiz to expose who you really are.
A Brief History of FNAF and Its Creepy Quizzes
Five Nights at Freddy's is a horror video game created by an independent developer, Scott Cawthon. It follows the scary stories about some robotic dolls that turn into murderers due to some supernatural events. Throughout the game, you have to survive the fatal attacks of the said living dolls, finding a way out of the locations you are locked in.
The game was first announced in 2015. But it soon created an enormous fanbase all over the internet. That is why many critiques compare it to Undertale—another indie horror game hit from the same era.
However, it was not long after the game's popularity that the creepy FNAF quizzes started to pop up. Fans and experts created hundreds of questionaries about the soundtracks, customs, characters, and trivia of the franchise quickly. And as Scott launched more entries in the series, the number of quizzes kept growing.
Which FNAF Character Are You has always been one the trendiest titles of the online tests since 2015. That is because fans want to relate to the game's personalities even further. Plus, it is always fun to know what kind of a monster is living inside you.
Now that everyone is waiting for the latest version of the game (i.e., Security Bridge), we decided to introduce the most accurate FNAF quiz of our own. And here is everything you need to know about it.
How Does the Five Nights at Freddy's Character Test Work?
We analyzed all the animatronics in the franchise, trying to categorize their personas. Then, we created a set of 20 psychological and horror-themed questions to expose and match your personality with that of the monsters. The quiz on this page focuses on four primary elements, your personality, phobias, playstyle, and dark core. More on the said elements below.
Personality Match
The big question is, "which FNFA character are you?" To answer that, we have to inspect your persona in advance. The goal is to find out what is similar between you and the murdering animatronics' personality. That is why most of the test questions employ psychological tricks to analyze your soul before matching it with a creepy Teddy Bear or other types of monsters.
Type of Phobias
Scott Cawthon uses your phobias against you in an intelligent way. The franchise includes all sorts of triggering material, such as clowns, moving dolls, baby cries, darkness, etc. But not that your fears have so much to reveal about your character. And that is why our quiz has many phobia-related questions.
Playstyle
You do not have to play Five Nights at Freddy's before taking the quiz. However, we have several playstyle-concerning questions to extract more data before telling you which FNAF animatronic you are. Again, it is okay if you have not played any of the franchise's games. All you have to do is choose an option that makes more sense to you.
Dark Core
We already have a Dark Core Test on our website. But when it comes to Freddy's animatronics, you need to go through a real-deal gothic questionary. So, here, you will end up dealing with some gloomy and obscure questions to find out which FNAF character you are.
FNaF Characters Included in the Quiz
You face more than 50 electro-mechanically animated robots in the franchise. So, it is not an easy task to match your persona with one of them. Our team inspected the scariest and gloomiest robots to create this Which FNAF Character Are You quiz.
Animatronics
The Five Nights at Freddy's quiz includes all the Classic Animatronics from the original game. You might end up being soulmates with Freddy Fazebear, Bonnie, Chica, Foxy, Withered Freddy, Withered Bonnie, Withered Foxy, and Withered Chica.
Humans
You do not meet many human characters while playing the FNaF games. However, several people influence the whole story significantly. That is why we added some human personalities to the test to see if you end up matching them or not. Of course, the series's biggest monster is a human called William Afton—or the Purple Guy. So, matching a human at the end of the Which FNAF Character Are You quiz might not be a piece of good news after all.
Disclaimer
QuizExpo does not own any of the images used in the Five Nights at Freddy's quiz. Scott Cawthon owns the right to all the images used in this test.
How to Play?
Playing personality quizzes is straightforward: Choose the option that's true about you—or you relate to—and select "Next." Unlike trivia quizzes, personality tests have no right or wrong answers. But the questions are in forced-choice format. The point is to push you to choose an option that makes the most sense, not the one that's 100% true. For the most accurate results, don't overthink your responses. Go with options that you "feel" are the best.
Questions of the quiz
1

Your enemy deserves to _________.

Cry

Get betrayed

Live a miserable life

Suffer

Die

Get killed by me

2

What is your favorite way to kill your nemesis?

Headshot

Poisoning

Suffocating

Torturing

Assassinating

Executing

3

Do you think killing is fun?

No

Not really

It depends

It could be

Yes

Killing is the most fun thing ever!

4

What would make you kill another person?

Nothing

Anger

Hatred

Memories

Irritation

Anything

5

Which of the following phobias seems like the most relatable one to you?

Darkness

Fear of tight places

Fear of clowns

Fear of blood

Fear of invisible creatures

Fear of knives

6

Which of the following tools would you use to kill someone?

Gun

Bomb

Rope

Knives

Hammer

Hands

7

Which of the following words makes you feel good?

Come back

Outsmarting

Friendship

Revenge

Power

Helplessness

8

Which Animatronic do you hate the most?

Golden Freddy

Freddy

Curious Baby

Vanny

The Puppet

All of them

9

Which of the following nicknames would suit you in the FNAF universe?

Holly Murderer Nurse

Killer Fox

That Old Friend

Mr. Nobody

The Nightmare

Papa

10

You wake up in a dark room. Suddenly, you hear a baby crying outside. What do you do?

Find a safe place and hide

Nothing

Run towards the noise

Shouting, "SHUT UP!"

I don't know

I hate babies

11

I enjoy seeing others____________________.

Runaway from me

Fall for me

Want to be friends with me

Fear me

Respect me

Beg me

12

The most beautiful part about being animatronic is_______.

Being free to do whatever you want

Having not rules

Living a peaceful life

Messing with others

Living forever

Killing others

13

Which word describes you better?

Cute

Sassy

Casual

Smart

Quiet

Chosen!

14

Choose a quote that you relate to the most.

Life is misery. Happiness is an illusion.

You don't deserve me. None of you do.

I just wanted to be friends.

I'll always be stuck in your mind.

Nope. You don't know me.

I need blood. More.

15

Which of the following FNAF games is your favorite?

FNAF 1

FNAF 2

FNAF 3

FNAF 4

Sister Location

Pizzeria Simulator

16

As an animatronic, I would never want to _______________.

Kill

Have human friends

Live a lonely life

Forgive

Show my real face to others

Stop murdering

17

Which of the following items is vital while playing FNAF?

Lights

Batteries

Masks

Maps

Cameras

F-ed up animatronics

18

Which of the following scenarios sounds interesting to you?

Resurrecting a dead child

Becoming a millionaire by playing poker

Becoming a TV show host

Making your worst enemy cry like a baby

Changing identity and starting a new life

Getting away with lots of crimes

19

Choose the noise that you like to hear in the background when sleeping.

Piano

Radio

TV

Rain

Nothing (Silence)

Crying/Screaming

20

What is the easiest way to get rid of someone you don't like?

Blocking them

Lying to their face

Asking them to go away

Humiliating them

Punching them in the face

Killing them