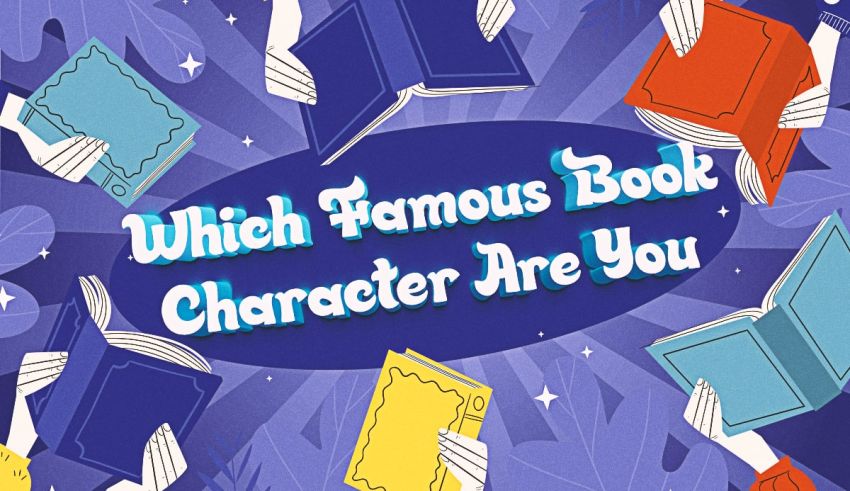 Don't you wonder which famous book character you are? This bookworm-exclusive quiz reveals your book persona in minutes.
Meet The Book Character You Resemble in Real Life
With the Famous Book Character Quiz, you find out which literary characters are similar to you.
This is a personality test that compares your characteristics with that of world-known fictional characters to find the perfect match.
For a more extensive analysis, try our 5000 Characters Quiz. (It includes famous personalities from movies, songs, and books.)
How the Quiz Finds Your Book Character
Powered by an MBTI analysis, the Famous Book Character Test creates your profile via twenty personality questions. And it then matches your profile to literary personalities, discovering comparable ones.
If you already know your MBTI type, use the following table to find your book character doppelganger.
| | |
| --- | --- |
| Book Character | MBTI Type |
| Hermione Granger | ISTJ |
| Jay Gatsby | INFJ |
| The Little Prince | INFP |
| Lolita | ESFP |
| Harry Potter | ISFP |
Some of the Famous Book Characters That You Might Be
In literature, there are iconic characters that everyone would feel flattered to match. Jay Gatsby, for example, is one of them. He is loyal, successful, and—most importantly—charming.
But what are some other famous literary characters that bookworms love to resemble? (Here's a list.)
Jay Gatsby
Despite his mysterious façade, Jay Gatsby is just an introvert with idealistic views on life. But The Great Gatsby fans admire him for his undying love and patience.
Holly Golightly
Afraid of being trapped in the cage of love, Holly Golightly of Breakfast at Tiffany's is an adventurer who values freedom above all. She doesn't want to exchange her free spirit for romance and is willing to better her life on her own.
Brienne of Tarth
Unlike the Game of Thrones series, Brienne, in the books, is not a perfect warrior. But she is a kind-hearted, righteous, and optimistic young lady willing to put her power to good use.
Harry Potter
Out of all the Harry Potter characters, Harry is the most popular one. He is a fighter, one with a strong sense of right and wrong. In the books and movies, Harry is portrayed as a young man who's competitive but not cruel. He prefers to be a man of actions—rather than words.
BookTok and BookTWT Characters Included
The good news for TikTok and Twitter bookworms is that the Famous Book Character Quiz has a database of all BookTok- and BookTWT-loved personalities.
In other words, you are likely to match your comfort character, who's an internet sensation as well.
You can also take the Soldier Poet King Quiz, which recently went viral among BookTokers.
See Which Famous Character in Literature You Are
Still wondering which literary character you represent in real life? Say less. (We've got you.) The following questions accurately reveal which famous book character you are in only a few minutes.
Hit the start button to meet your fictional counterpart in the land of classic novels.
How to Play?
Playing personality quizzes is straightforward: Choose the option that's true about you—or you relate to—and select "Next." Unlike trivia quizzes, personality tests have no right or wrong answers. But the questions are in forced-choice format. The point is to push you to choose an option that makes the most sense, not the one that's 100% true. For the most accurate results, don't overthink your responses. Go with options that you "feel" are the best.
Questions of the quiz
1

What would its genre be if your life was a novel?

Romance

Drama

Sci-fi or fantasy

Tragedy

Erotica or comedy

Thriller

2

What kind of books is your favorite?

Books with good vibes.

I like sad love stories.

Unpredictable books are my jam.

I like nostalgic stories.

I prefer books with playful, bold styles.

I like stories with relatable morals.

3

What kind of book characters intimidate you?

Rude.

Cruel.

Stupid.

Dishonest.

Pushy.

Biased.

4

Choose a quote and make it about romance.

"And she believed his lies—intentionally."

"She gave him her most precious thing, her life."

"He predicted her sentences but never finished them for her."

"They kissed for the one last time as passionately as their first kiss."

"He was addicted to her body, and she liked it."

"At the end of the day, they both knew that love is merely a lie."

5

What makes an author great?

Passion

Will

Wit

Personal life experiences

Creativity

Writing experience

6

What do you think of children's books?

I love reading them.

I like most of them.

I can't relate to them.

I find them to be nostalgic.

I dislike most of them.

Boring. I've never read any children's books.

7

What makes a book character charming?

Kindheartedness

Bravery

Intelligence

Honesty

Style

Morals

8

Fill in the blank. Reading is my _______.

Passion

Meditation.

Job (I take it seriously)

Coping mechanism.

Hobby.

Tool to keep my brain sharp.

9

Which one is an iconic feature of your personality?

Friendliness

Empathy

Independence

Calmness

Playfulness

Seriousness

10

How much do you read per day?

50 pages or more

About 40 pages

About 30 pages

About 20 pages

About 15 pages

10 pages or less

11

What do you think of famous books' movie adaptations?

I love them

I like most of them

I dislike most of them

I think they usually ruin the original story.

Meh, I don't have a specific opinion.

I hate all of them. Movie adaptations should be canceled.

12

What kind of endings in classic novels are your favorite?

Romantic and happy

Dramatic and climactic

Unpredictable and surprising

Sad and thought-evoking.

Funny and lighthearted.

Tragic or mysterious.

13

Out of the following options, which one makes a book memorable?

The main character's love interest

The main character's motives.

The sidekicks.

The main character's backstory.

The main character's look.

The moral of the story.

14

How do you feel after finishing reading a book?

Sad

Calm

Excited

Lonely

Bored

Numb

15

Which one do you value above the others?

Love

Loyalty

Knowledge

Honesty

Fun

Justice

16

Which book theme intrigues you?

Romantic

Dramatic

Avant-garde

Tragic

Erotic

Mysterious

17

What's the ideal novel length?

1000 pages or more

700-900 pages

500-600 pages

400 pages

300 pages

200 pages is fine. I don't like overly long books.

18

Choose a nickname for your book character persona.

Angle

Guardian

Sorcerer

Adventurer

Rioter

Vindicator

19

Which one is an interesting book title?

Love After 5 AM

She Was the One

The Train of No Thoughts

The Last, The Lonely, and The Liar

Your Touch

And It's Time to Pay

20

Should you be a fictional character, how old would you like to be?

16 or younger

25-29

23-24

20-22

17-18

30 or older