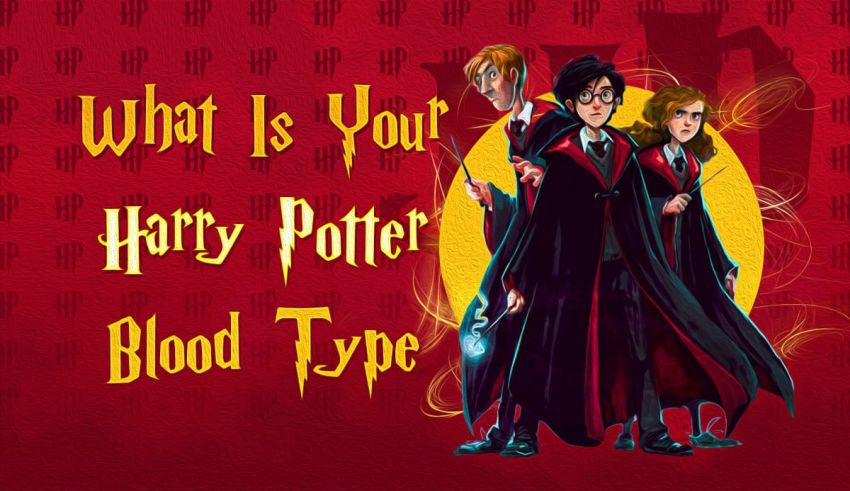 Hey, Potterheads, what is your Harry Potter blood type? Pure-Blood, half-blood, Muggle-born, or else? This Purity of Blood quiz reveals your status.
What Are Blood Types in Harry Potter?
Also known as purity of blood, Blood Type is a typology based on mages' and muggles' bloodlines.
In Harry Potter, the five blood statuses are pure-blood (two magical parents), half-blood (only one magical parent), muggle-born (two no-Maj parents), Squib (born with no magical abilities), and half-breed (at least one non-human parent).
The blood supremacy concept is similar to human races in that it's unscientific and discriminating.
What Is the Purity of Blood Quiz?
With the Blood Type Quiz, you determine who your Harry Potter parents are and how they've affected your blood. In other words, you review your HP family tree to see if your blood is pure.
How to Discover Your Harry Potter Blood Status?
Blood type—or gene, to be more accurate—affects neither a witch or wizard's powers nor their personality. So, it's challenging to identify your bloodline without knowing your mage or muggle ancestors.
However, if you already know which Harry Potter character you are, the following descriptions (and table) could help assess your blood purity.
Pure-Blood
In the Harry Potter series, a Pure-Blood is the descendant of at least three generations of magical parents. Any Muggle-blood association would contaminate a wizard's blood and take the Pure-Blood status away.
The Sacred 28 are a group of families believed to be the initial lines of all Pure-Bloods. But that's debatable.
Half-Blood
A Half-Blood is an offspring with one non-Pure-Blood parent (Muggle-Born, half-breed, squib, or no-Maj.).
Harry Potter is the best example of a Half-Blood. Despite his father being a Pure-Blood, Harry is considered a Half-Blood because his mom's bloodline is impure.
Muggle-Born
A Muggle-Born is the Magical child of two non-Magical parents.
Hermione is a Muggle-Born because her parents are Muggles.
Squib
A Squib is a no-Maj born to a Magical family.
Argus Filch, for example, is a Muggle with wizard parents, which makes him a Squib.
The main difference between Muggles and Squibs is that the latter is allowed to remain in touch with the wizarding world—while the former is often unaware of such a world's existence.
Half-Breed
A rare Blood Type, Half-Breed is a magical being with one human and one non-human parent.
Half-Breeds often inherit the magical abilities of their non-human parent while retaining human features.
How Does the Blood Supremacy Work in Harry Potter?
As a discriminatory ideology, Blood Types or Purity of Blood in Harry Potter works with the same principles as racism. Mages with non-pure bloodlines are considered weak and foul.
The derogatory term "Mudblood" results from discrimination against Muggle-Blood and other so-called impure wizards. Mudblood refers to them being blood traitors despite blood having nothing to do with their capabilities.
However, the ideology has faded as prejudiced wizards are no longer in power.
Ready for the Ultimate Harry Potter Family Tree Quiz?
Still asking, "What's my Harry Potter Blood Type?" If yes, don't hesitate to take this blood purity test. We analyze your personality to determine your family and trace your bloodline for an accurate answer.
The following questions determine if you are Pure-Blood, Half-Blood, Muggle-Born, Half-Breed, or Squib.
Grab your Harry Potter Wand, hop on your broomstick, and let's uncover your bloodline.
Disclaimer  
QuizExpo does not own the images in Harry Potter Blood Type Quiz and intends no copyright infringement. Warner Bros. Entertainment Inc. and J.K. ROWLING'S WIZARDING WORLD own the pictures.
How to Play?
Playing personality quizzes is straightforward: Choose the option that's true about you—or you relate to—and select "Next." Unlike trivia quizzes, personality tests have no right or wrong answers. But the questions are in forced-choice format. The point is to push you to choose an option that makes the most sense, not the one that's 100% true. For the most accurate results, don't overthink your responses. Go with options that you "feel" are the best.
Questions of the quiz
1

How do you think Blood Type affects a witch or wizard's power?

I don't know.

I don't think it has any effect.

It's more of a psychological effect than anything physical.

It depends on how you interpret your blood type.

It depends on what blood type you have.

Impure blood weakens the witch or wizard.

2

How would you feel if you realized your bloodline was not pure?

I don't know. It depends on so many other things.

I'd feel sad but not broken.

I'd feel fine. It's not a big deal.

I'd feel curious about my ancestors.

I'd feel furious.

I'd feel disappointed and broken.

3

What kind of Hogwarts student could you be?

Lazy

Hardworking

Polite

Nerdy

Weird

Popular

4

Which ideology should be unacceptable in the wizarding world?

Anti-Muggle ideologies.

Blood superiority.

Labelism

Sexism

I have no idea.

All of them sound normal.

5

How would you describe Voldemort?

Scary

Stupid

Disgusting

Weak

Freaky

Respectable

6

What kind of spells is your favorite?

Funny

Practical

Ancient

Mysterious

Aggressive

Lethal

7

What if you fell in love with a no-Maj? What would you do?

It depends. I'm not sure of my reaction.

I can't imagine falling in love with any other type.

Love is love. I'd marry them.

I'd still love them but would not have babies.

I'd not marry them, but I'd have babies with them.

I'd never love a no-Maj. That's stupid.

8

Do you believe in the Blood Supremacy theory in Harry Potter? Why?

I'm not sure what it is.

No, it's an outdated, discriminating ideology.

No, it's a baseless, unscientific idea.

No, only corrupted people would support such an idea.

Yes, but I'm not a fan of discrimination.

Yes, I truly believe in Blood Supremacy.

9

What makes a witch or wizard great?

I'm not sure what it is.

No, it's an outdated, discriminating ideology.

No, it's a baseless, unscientific idea.

No, only corrupted people would support such an idea.

Yes, but I'm not a fan of discrimination.

Yes, I truly believe in Blood Supremacy.

10

Which one is in your top criteria when dating?

Looks

Career

Personality

Wisdom

Uniqueness

Money

11

How would you respond to someone who calls you a blood traitor?

I'd ignore them.

I'd explain to them that I'm not a traitor.

I'd make them apologize.

I'd report them to the authorities.

I'd fight them.

I'd curse them in the most horrific way possible.

12

How would you feel, or what would you do if you were born to Muggle parents?

I'd love it.

I'd be okay with it.

I'd try to love them as they are.

I'd probably hide my magical abilities from them.

I'd hide my Muggle parents from my friends.

I'd cut them out of my life.

13

Should magical lineage affect the sorting hat's decision? Why?

I don't know.

I don't think so.

No. Magical lineage doesn't affect one's capabilities.

No. Magical lineage leads to discrimination.

Yes, I think it'd make sense.

Yes, magical lineage determines the superior kind.

14

How would you feel if you had no magical abilities despite your parents having them?

I'm not sure. It depends on my parents.

I'd get over it.

I'd feel disappointed and ashamed of myself.

I'd feel motivated to learn magic somehow.

I'd be furious.

I'd try to learn dark magic to cope with that.

15

How does the term "mudblood" make you feel?

I don't know what it means. So…

Sad

Disgusted

Curious.

Nothing. I'm indifferent.

It irritates me.

16

What are your thoughts on dark or black magic?

I don't know what it is.

I wouldn't say I like it.

I think it's a horrible practice.

I'm curious to know about it.

I like it. But I'd never use it.

I'd love to learn dark magic.

17

Which one describes your dream Harry Potter family?

Normal

Supportive

Respected

Smart

Unique

Noble

18

Should Squibs be allowed to use magical devices? Why?

I don't know.

Yes, it's their right.

I think so. But it depends.

Yes, they can be quite helpful.

No, it'd be like torturing them.

No, they're troublemakers that must be kept away.

19

Choose your favorite wand wood.

Acacia

Cherry

Dogwood

Elder

Black Walnut

Blackthorn

20

Final question: How old are you?

30 or older

25-29

20-24

18-19

17 or younger

I'd rather not say