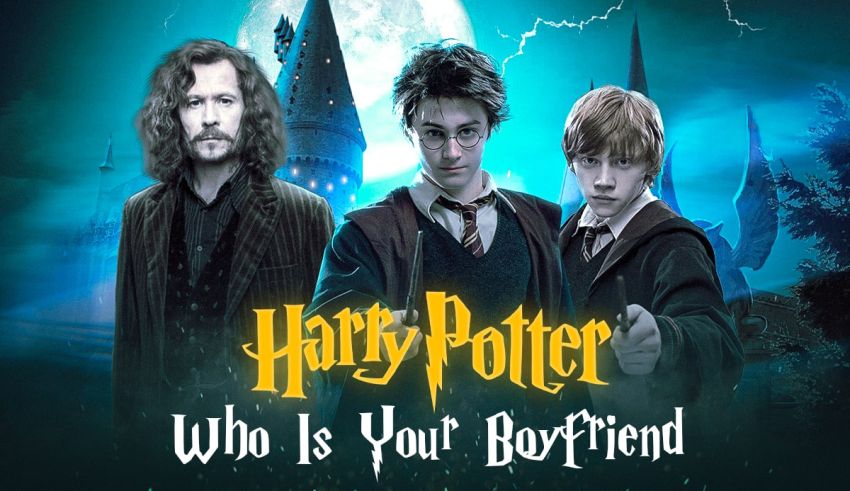 Take this fun quiz and find out who your Harry Potter boyfriend is. Are you in love with Harry Potter, Ron Weasley, Draco Malfoy, or else?
Gather around Potterheads! It's time for another Harry Potter quiz, and this time, we will tell you who your boyfriend is among the characters of the multi-million franchise, whether it is the book or the movie. So stick around, and let's talk about Harry Potter.
Creation
Harry Potter is the name of a fictional character who is the main protagonist of HP books. British author J. K. Rowling writes the story, and it's about a fictional school that is a little different from the other schools you may think of.
In this school, students learn the art of magic witchcraft, and HP is one of these students who get into some challenges ey has never seen before. But It's not Harry alone, he has some friends and enemies during his journey, and they have their challenges.
J.K Rowling was a waitress and a single mother, but she decided to go in a different direction, and she had the idea of writing the HP books for a long time. She finally wrote the first book, and it blew up worldwide.
Currently, HP books and movies are considered to be a series of a masterpiece in the fantasy genre; in some places, they are teaching the art of literature in this book. It influenced a lot of writers in this genre.
It's one of the most essential and prominent names in the industry and entertainment world and is still making stories about this franchise in the form of movies, comic books, and video games.
Releasing the books
The first book of HP gets published in the market, and very soon, it became a best-selling book the rapid selling of the book impressed a lot of people, and a lot of publications tried to reach the new-born fame of J.K Rowling.
Rowling made a wealthy life out of the Harry Potter franchise, but she didn't spend all of it. So she donates most of her earnings to the charities of her choice. After the death of her husband, she was living a hard life, and she knew that many people were going through what she had been through.
Here come the movies
It was not so long after the birth of the books that the attention of Warner Bros. company brought to the Harry Potter books, and they asked Rowling if they could make some movies based on this book and make this franchise a cinematic world.
As you know the rest, the movie of Harry Potter was also a success like never before. Right now, it's become a cult in the world, and it has a big fandom like Star Wars, and it's growing daily.
Choose a Harry Potter Boyfriend!
Harry Potter characters can't be counted easily, but they are all memorable. They have their gimmicks and wand; if you are a franchise fan, you may know their names. There are several boys in the Harry Potter series that girls may have a crush on. Some of the most popular ones are Harry Potter, Ron Weasley, Draco Malfoy, Neville Longbottom, and Cedric Diggory. Let's get to know them more.
Harry Potter:

Harry

is

brave

,

determined

,

loyal

,

and

courageous

,

and

is

willing

to

put

his

own

life

in

danger

for

the

greater

good

.

Ron Weasley:

Ron

is

funny

,

loyal

,

and

a

bit

clumsy

,

but

he also

has

a

strong

sense

of

right

and

wrong

and

is

willing

to

put

his

life

on

the

line

for

his

friends

.

Draco Malfoy:

Draco

is

arrogant

,

ambitious

,

and

sometimes

cruel

,

but

he

also

has

a

good

heart

hidden

beneath

his

hard

exterior

.

Neville Longbottom:

Neville

is

kind

,

brave

,

and

loyal

and

is

willing

to

stand

up

to

his

friends

and

teachers

when

he

knows

something

is

wrong

.

Cedric Diggory:

Ced

ric

is

handsome

,

kind

,

and

brave

and

is

always

willing

to

help

those

in

need

.
Although some boys in the series are not good, and they are villains, they create danger for everyone in different houses of Hogwarts. Today we will tell you which of these characters could be your potential boyfriend. So stick around
Harry Potter Boyfriend Quiz
If you are here, then it's time for the questions! There will be 20 questions in this quiz; after answering them, we will tell you who is more likely to be your boyfriend. Are you ready? It's time for the Harry Potter boyfriend quiz.
Alright, have fun with the quiz, and good luck.
How to Play?
Playing personality quizzes is straightforward: Choose the option that's true about you—or you relate to—and select "Next." Unlike trivia quizzes, personality tests have no right or wrong answers. But the questions are in forced-choice format. The point is to push you to choose an option that makes the most sense, not the one that's 100% true. For the most accurate results, don't overthink your responses. Go with options that you "feel" are the best.
Questions of the quiz
1

How do you like your boyfriend to be?

Geeky and Smart

Funny and Smart

Wise and Father-Figure!

A little Mischief

2

Which quality is more important to you?

Being brave

Being Kind

Being Knowledgeable

Being Adventurous

3

What is your favorite color?

4

What is more painful to you?

Death of someone dear

Betrayal

Thought of not being capable

Dark memories

5

Which house do you belong to?

Godric Gryffindor

Salazar Slytherin

Rowena Ravenclaw

Helga Hufflepuff

6

If you are invited to go to a trip in a far distance, would you?

It depends on the place

It depends on the people I'm with

I would go, I'm crazy for adventure

Not at all

7

If you're angry, you:

I will control myself always

Sometimes I control myself and sometimes I get angry

I get angry

I get furious and want to kill everybody

8

Do you like to have unlimited power?

Yes, I do

I could say

Not that much

Not at all

9

Were you always a good student?

Yes, I was the best

I was only good

I was somewhere in the middle

I was the worst

10

Do you like knowing too much?

I love to know everything

I think I know everything!

I really don't care

I hate knowing everything

11

Which one is your favourite?

Harry Potter

Ron Weasel

Dambledor

Sirius Black

12

Choose your best friend:

Hermoine Granger

Lord Voldemort

Luna Lovegood

Pansy Parkison

13

What job do you like more?

Teacher

Painter

Writer

Bodyguard

14

What is your birth sign?

15

Do you like dancing?

Yes, I do

I could say

Not that much

Not at all

16

What would your ideal first date would be?

Adventuring dungeons

Library

Drinking near beach

Dinner and movie

17

If you had to choose, will you join the good side or dark side?

Good side definitely

I think ... Good side?

I'm considering dark side

Definitely dark side

18

What is your favourite fairy tale ride?

Motorcycle

Broomstick

Teleporting

I just walk!

19

Are you good at keeping secret?

Yes, I'm very good at it

I could say that

I'm not best at it!

I suck at it!

20

Which animal you like more?