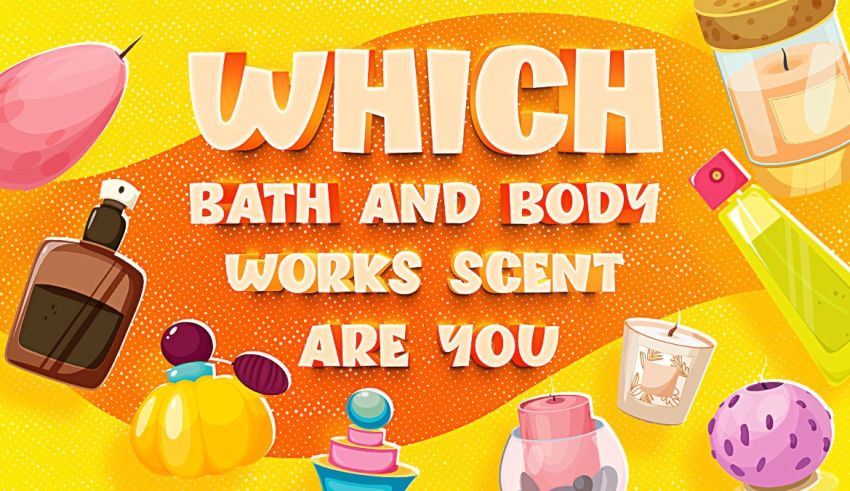 Which Bath & Body Works scent are you? This odor-based personality quiz is going to match you to one of the famous scents.
Which Bath & Body Works Scent Are You?
Ever wondered what Bath & Body Works scent would match your personality? As an odor maniac, I've tested most of the 230+ fragrances of this company only to find the ones that resonate with my soul. And now, here I am to help you do the same—without smelling any samples.
With the Bath & Body Works Scent Quiz, I help you discover which fragrances match your personality. In case you didn't know, yes, smells can be accurate representations of human traits: A woody scent signifies strength and resilience. Floral odor resembles grace and elegance. And citrus whiffs hark back vibrancy and zest for life.
| | |
| --- | --- |
| Scent | Characteristics |
| Vampire Blood | Passionate and Mysterious |
| Luminous | Luxurious and Classy |
| Pumpkin Pecan Waffles | Gentle and Sweet |
| Ocean | Cool and Friendly |
Although my goal is not to tell you what Bath & Body Work scent to wear, feel free to use the test results to renew your perfume drawer. (Scents with a sense of your "self" are a style must.)
Are You a Seasonal Scent?
If your moods sway like the seasons, you embody a Seasonal Bath & Body Works scent, ever-changing and diverse. Like winter's retreat to spring and spring's departure for summer and fall, your emotions mirror nature's dance, adapting to the world around you.
Do You Look Like a Signature Fragrance?
If you appreciate a hint of nostalgia, value traditions over modern chaos, and have a classic style, you're a signature Bath & Body Works perfume.
What If You're an Aromatherapy Aroma?
Those with a soothing presence are an Aromatherapy scent. They heal your wounds, remind you of the beauty of life, and leave you inspired—and motivated to face hardships. If you have such a relieving company, you already know your scent.
3 Personality Traits That Reveal Your Scent
Personifying fragrances has been a hobby of mine for so long. In my time playing around with smells, I figured that your sensual energy, level of intimacy, and overall vibe or energy can reveal the odor that matches your personality. Here's what I mean.
Sensuality
If you have a seductive energy, you have a warm, deep, and alluring scent. You're something like Vampire Blood, mysterious but charismatic. But if you shy away from your sensuality, you have a gentle, elegant, and floral smell. Something like Gingham.
Coolness
A laidback person smells differently than one with overwhelming nervous energy. If you're calm and cool, your scent is Ocean. But if you're bubbly and vibrant, your persona is closer to At the Beach—or maybe even Champagne Toast.
Presence
How do you affect the air in the room when you enter? Your presence can reveal your perfume. If you cheer people up, you are Into the Night; if you drop their jaws and make their necks bend, you're Japanese Cherry Blossom.
Let Your Persona Choose Your Bath & Body Works Perfume
For those of you still looking for their signature B&B Works smell, let me help you out. My 20-question quiz takes every aspect of your personality into account, compares them with personified versions of scents, and reveals the most matching options.
Too good to be true? Try it for yourself. 💅🏻🪔
How to Play?
Playing personality quizzes is straightforward: Choose the option that's true about you—or you relate to—and select "Next." Unlike trivia quizzes, personality tests have no right or wrong answers. But the questions are in forced-choice format. The point is to push you to choose an option that makes the most sense, not the one that's 100% true. For the most accurate results, don't overthink your responses. Go with options that you "feel" are the best.
Questions of the quiz
1

What's your daily style like?

2

What kind of scents intrigue you?

3

How do you feel in the morning?

Energetic

Peaceful

Tired

It depends

4

What's your prominent mood throughout the week?

Happy

Laidback

Focused

Melancholic (?)

5

Which one better describes your fantasies?

Normie

Romantic

Naughty

Wild

6

Think about your party personality. Can you describe it?

Shy (I'm in a corner watching)

Stunt (I'm loud, crazy, and drunk)

Star (Everyone's looking at me)

Stud (I'm in a bedroom with a hottie)

7

Imagine your dream vacation. What's it like?

Calm and relaxing (with family members)

Wild and adventurous (with best friends)

Exotic and luxurious (with my partner)

Inspiring and enlightening (alone)

8

Book yourself a hotel. Budget is not a concern.

A cozy room near the beach

A shared Air B&B with cool strangers

A super-expensive room at a 5-diamond hotel

A motel room somewhere quiet

9

Let's go shopping. What tops your shopping list?

Food!

Drinks

Shoes

Cigarette

10

Which word is closer to your "bedroom" persona?

Innocent

Funny

Seductive

Dominant

11

What's the most erotic thing about you?

Voice

Personality

Body

Hands

12

What would it be if your personality was a book title?

Sugar-Coated Hearts

Cool Breezes

Timeless Elegance

Enigmatic Shadows

13

What do you do for fun?

Read, write, or watch movies

Play games, go out for a drink, dance

Fine dining, shopping, and makeup

Pass on this one 'cause I be doing naughty stuff

14

What kind of physical touch are you craving right now?

Hug

Kiss

Someone kissing my hand

You know, um…

15

How do you make people do what you want?

I can't do that

I trade favors

I seduce them

I give orders (no isn't an option)

16

What's your season?

17

Are you a morning or night person?

Morning

Both of them

None of them

Night

18

Do you use emojis while texting?

Yes, a lot

Yes, but only laugh emojis

Only with specific people

No, I prefer emoticons or no emojis at all

19

Which word can you smell?

20

Final question: How old are you?

16 or younger

17-22

23-27

28 or older