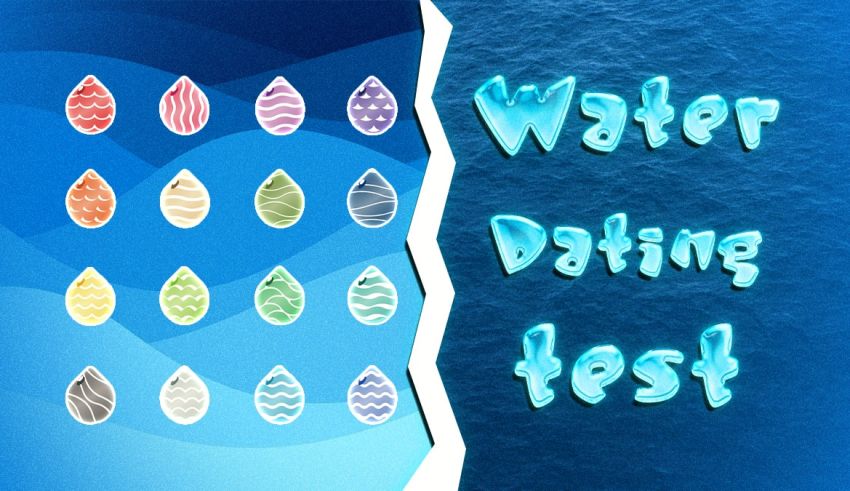 Want to know your dating type as a water drop? The Water Dating Test exposes your lover persona with watery questions!
Water Dating Test, Explained
With 20 romance questions, the Water Dating Test is a dating personality analyzer. It identifies the way you show affection and reveals how romantic you are using the primary essences of water: Fluidity, Transparency, Cleanness, Nurture, Life, and Harmony.
As a fondness typology quiz, the Water Dating Test uses your relationship experience, dating profile, and romanticism to assign a water type to your emotions.
For those seeking to find their Water Dating Type without a test, the following table lists prominent profiles and their respective features.
| | |
| --- | --- |
| Water Type | Romance Personality |
| Raindrop | Uplifting, Adaptive, Healing |
| Lake | Calming, Spiritual, Trustworthy |
| Ocean | Free-Spirited, Independent, Adventurous |
| Oliver | Creative, Nurturing, Modern |
| Sapphire | Wise, Loyal, Composed |
| Ruby | Passionate, Confident, Risk-Taking |
How Can Water Determine Your Dating Personality
Water has always been a symbol of different loves in romantic literature. In Shakespeare's work, for example, Juliet shows her affection for Romeo by comparing her love with a boundless and deep sea. But how can it expose your dating personality? The answer is in water's poetic properties.
Figuratively speaking, water is generous, as it gives life to the living; it is nurturing, as all the living need it; and it is innocent, as it cleans the dirt. But water is also quite dangerous, destroying everything in its way when in a rage. And that's similar to people in relationships: Some are generous lovers, others are refreshing comrades, and many are just toxic and destructive forces.
The Water Dating Test, however, utilizes six figurative features of water in literature and poetry to expose your romantic persona. These attributes are Fluidity, Transparency, Cleanness, Nurture, Life, and Harmony.
How Is the Water Dating Test Related to Smile Dating Test
The Water Dating Test is similar to the Smile Dating Test in that they both reveal the participants' lover archetype using subtle cues. One significant difference, however, is that the former is more considered with poetic aspects of dating, while the latter works based on physical and sexual preferences.
By the way, if you're already in a relationship, try the Moon Soulmate Quiz next. It spots how compatible you and your partner are based on your moon sign.
The Water Dating Test Results
In the Water Dating Quiz, you are matched with a water type that symbolizes the same qualities as your lover persona. For instance, one of the most common results is Ocean Water Type, which resembles a free-spirited, independent, and bold lover who's seeking adventure.
Here are other notable results of the Water Dating Test:
Raindrop Type
Lake Water Type
Ocean Water Type
Who Should Take the Water Dating Quiz
Do you want to know what kind of boyfriend or girlfriend you are? Then you should take the Water Dating Test—now! Despite its simple premise, this dating topology quiz offers profound insights into your love life and exposes the secret repeating pattern in your relationships. (Give it a try; you won't regret it.)
A fun quiz to try after the Water Dating Test would be Your Love Color. This entertaining self-assessment discovers your affection hue based on your intangible behaviors.
How to Play?
Playing personality quizzes is straightforward: Choose the option that's true about you—or you relate to—and select "Next." Unlike trivia quizzes, personality tests have no right or wrong answers. But the questions are in forced-choice format. The point is to push you to choose an option that makes the most sense, not the one that's 100% true. For the most accurate results, don't overthink your responses. Go with options that you "feel" are the best.
Questions of the quiz
1

Fill in the blank. Love is nothing but ________?

Compassion

Commitment

An adventure

Care

A decision

Passion

2

What type of love are you in pursuit of?

Refreshing

Divine

Relieving

Modern

Traditional

Playful

3

What's the most challenging aspect of dating?

Moving on from past relationships

Finding the right person

Adapting to a new person's vibe

Time management

Financial aspects

Committing to one person

4

Which one's a first-date red flag?

Microaggressions

Too much energy

Protectiveness

Dullness

Talkativeness

Poor style choices

5

What's a romantic plan for a rainy day?

Cuddling and kissing under blankets

Listening to music and having deep conversations

Going on a walk!

Playing games or watching movies

Drinking wine and chilling

Doing naughty stuff in the bedroom

6

How do you express your love?

Hugs and kisses

Words

I imply it

Art

Actions

Gifts

7

What lover archetype matches your personality?

Healer

Peacemaker

Leader

Protector

Provider

Seducer

8

How do you deal with heartbreaks?

Therapy

Meditation (self-improvement)

Travel (adventure)

Art or solo quality time

Talking to friends

Doing things that I shouldn't

9

In a word, what are you looking for in a romantic partner?

Vibes

Peace

Company

Support

Loyalty

Excitement

10

What's your communication style like in a relationship?

Positivity-oriented

Empathetic

Engaging

Expressive

Insightful

Persuasive

11

Which one makes a relationship time-proof?

Flexibility

Learning and growing

Emotional and financial independence

Couple therapy

Commitment

Good S.E.X

12

What would it be if you had to pick a color for your love?

White

Blue

Green

Yellow

Grey

Red

13

How can your lover cheer you up?

Nice words

Hugs and small favors

Small surprises

Care and compassion

Assistance or guidance

Gifts

14

What are you insecure about?

Look

Past

Financial status

Relationships

Career

Nothing

15

Final question: What feature of water is admirable?

Cleansing

Harmony

Life

Nurturing

Transparency

Fluidity