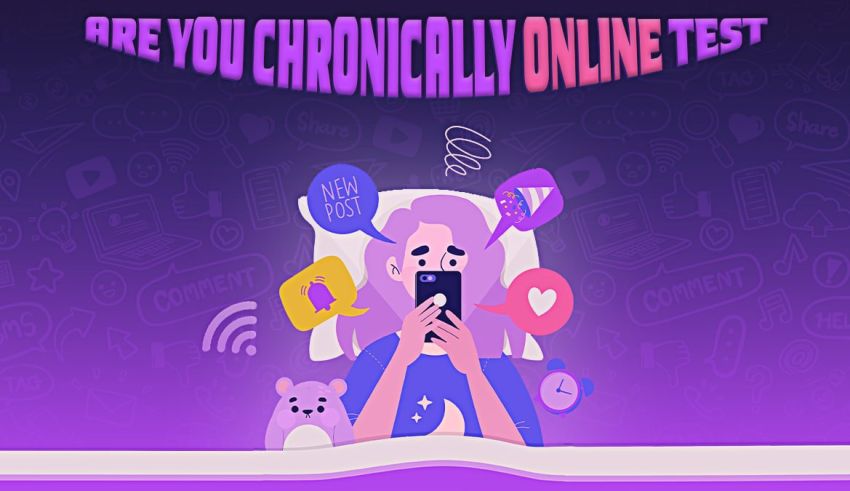 Let's be honest; are you chronically online? This internet addiction test reveals if and how badly you abuse virtual reality.
What Does 'Chronically Online' Mean?
Chronically online (also known as terminally or extremely online) refers to a digital-world addict who spends most of their time on the internet. The term was coined in 2014 but gained popularity after the global success of social media.
The opposite of being extremely online is being chronically outside. This phrase signifies an extroverted normie who disregards interaction with the online world and spends most of their time participating in real-life activities.
Signs You're Chronically Online
You're likely a chronically online person if your screen time is more than four hours per day outside of work periods. Other subtle signs of being extremely online include lacking real-life social interactions, being overly influenced by online debates, and dissociation.
Your daily screen time is +4 hours. (Outside work hours.)
Your main news sources are online outlets.
You prefer online interactions over IRL communication.
You're experiencing social anxiety.
Online debates affect you more than others.
You can't relate to people who don't use the Internet.
You struggle with expressing your online persona outside the digital world.
How to Test If You're Chronically Online
First, go to your phone settings and check your screen time. Next, see which apps you're using most frequently. If your screen time is above average, and your most-used applications are social media, you're probably a chronically online person.
Another way to test if you're a network citizen is by taking the Chronically Online Quiz on this page. We've put together a list of psychosocial questions that reveal how addicted you are to the internet.
The Effects of Being Terminally Online
While we all live in a global village that's heavily reliant on technology, the overuse of digital outlets can lead to negative side effects such as mental illnesses, social isolation, and productivity depletion.
Perhaps the most negative effect of being chronically online is dissociation. People who perceive reality through virtual means and interactions will likely lose touch with the outside world and lack the necessary real-life experiences to navigate their lives.
Irregulated and unsupervised use of social media can also lead to cyberbullying, which is currently one of the main struggles of Gen Z and Millennials.
What Are You If You're Not Chronically Online?
Not everyone who likes the internet is chronically online. You have to meet certain criteria and be an extreme user to earn that title. But luckily, online communities have already come up with other terms for different types of internet users.
·       Netizen
A portmanteau of "Network" and "Citizen," Netizen describes a pro-internet person. Despite their online presence, Netizens are aware of the possible harms of being chronically online. That's why they regulate their screen time and encourage a healthier way of using the internet without boycotting it.
·       Normie
Normie, in this sense, refers to a person with a trivial online presence. Such an individual is not overly affected by online debates or news and is mostly concerned with pop culture aspects of the internet. (To many, normies are just casual internet users.)
·       Chronically Outside
The term chronically outside signifies an anti-internet personality with no online presence. When you're chronically outside, your bond with life is solely through real-life interactions and activities, and you disregard the digital world for it lacks any tangible values.
Is It Bad to Be Chronically Online?
In a sense, anything could be bad at a "chronic" level. Spending too much time on the internet and replacing digital experiences with first-hand, real-life happenings could cause more harm than good. While technology as a tool benefits you, it can become problematic when it starts to dominate your life.
According to a study by the Pew Research Center, a whopping 31% of U.S. adults are almost constantly online! 🤯 So, if you feel like you're always scrolling through feeds and websites, you're definitely not alone. The Internet's become such a big part of our day-to-day that it's easy to spend more time online than off. So let's embrace this tech-obsessed era we're living in, huh?
See If the Internet Is Overtaking Your Life
The following psychosocial questions determine if and how badly you are chronically online. We've made sure to keep the test relevant, realistic, and reliable to ensure you receive an accurate diagnosis.
Let's figure out how addicted you are to the digital world. 👀 🤳🏻
How to Play?
Playing personality quizzes is straightforward: Choose the option that's true about you—or you relate to—and select "Next." Unlike trivia quizzes, personality tests have no right or wrong answers. But the questions are in forced-choice format. The point is to push you to choose an option that makes the most sense, not the one that's 100% true. For the most accurate results, don't overthink your responses. Go with options that you "feel" are the best.
Questions of the quiz
1

How many social media apps are on your phone?

2

Where do you usually meet new people?

At work

It's a blend of online and in-person interactions

I meet new people online

I strictly meet new people in-person

3

Can you spend the whole day without your phone?

I think so

Yes, but it'd be a challenge

No, that would be impossible

Sure, I don't need my phone anyway

4

How do online debates affect you?

I'm rarely engaged in any of them

It depends on the topic

They deeply affect my mood

I avoid them. So, not affected at all

5

What's your average screen time per day?

About 2 hours

About 3 to 4 hours

5 hours or more

Less than an hour

6

What do you think of people with no online presence?

I get that

It's not a big deal

I don't relate to them (it's weird)

I'm one of them

7

How often do you use internet meme references in your speech?

Rarely

It depends on who I'm talking to

All the time (non-stop)

Never (I don't like that)

8

Would you abandon the real world to live in a cool, sci-fi, movie-like virtual reality?

I don't think so

It depends on so many factors

Absolutely

I would never do that

9

What's your Snapchat score?

10 to 10,000

11,000 to 20,000

30,000 or more

It's 0 (I don't use Snapchat)

10

No Wi-Fi or no showers for a week? Choose one.

I can't decide

I need the internet for my job

I can't live without the internet

I'd say no Wi-Fi for a week because I need to shower

11

In a word, describe life without technology.

Quiet

Incomplete

Unbearable

Perfect

12

What's your go-to way of having fun?

Watching movies or TV shows

Playing games or weekend getaways

TikTok or other social media apps

Hanging out with friends (in real life)

13

What do you use the internet for?

14

How in touch are you with online trends?

I'd say I'm aware of them

It depends on the topic

I know everything about online trends

I don't know anything about them

15

What triggers your anxiety?

Financial stuff

Work-related pressure

Social interactions

Health or family problems

16

How do you communicate with your friends?

Mostly in-person

It's a blend of online and in-person interactions

Strictly online communication

Strictly in-person communication

17

Which statement about the internet do you agree with?

The internet is best when you use it for fun

The internet is the best educational tool we have

Life without the internet would suck

The internet is toxic and useless

18

How different is your online persona from your real-life personality?

Not that different

Slightly different

Extremely different

I don't have an online persona

19

Why do you think most people are addicted to their phones?

It entertains them

They need it for the most basic tasks

Because life without phones is unbearable

Because they're brainwashed

20

Final question: have you been exposed to cyberbullying?

Not really

A few times

I go through that all the time

No, never