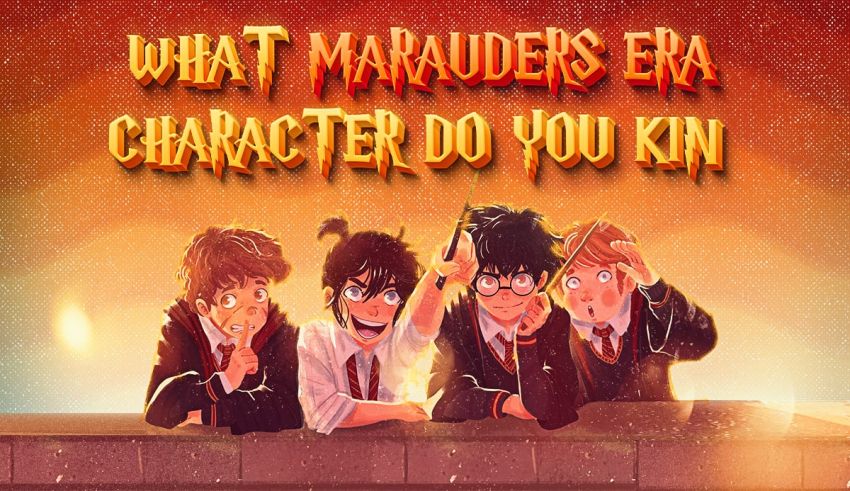 With the Marauders Era Kin Quiz, you find out which iconic character of Hogwarts you relate to. James, Lily, Remus, Sirius, or else?
The Marauders Era Kin Quiz
Comprised of twenty wizarding questions, the Marauders Era Kin Quiz is a Harry Potter personality test. It reveals which of the 1970s students of Hogwarts you'd relate to.
Marauders Era is a period in the Harry Potter timeline when Harry's parents went to wizarding school. Historically, it was from 1971 to 1978 and included the First Wizarding War.
With the current test, you find out which character of this era you kin. In other words, you see if any of the senior Hogwarts witches or wizards could be your comfort character.
How to Know Which Marauders Era Character You Kin
To kin a character means to vibe with them and relate to them. So, to find your kin in Marauders Era, familiarize yourself with the personalities of that period.
The following table and descriptions help discover your 70s Harry Potter crush or bestie.
| | |
| --- | --- |
| Marauders Era Character | MBTI |
| James Potter | ESTP |
| Lily Evans Potter | ENFJ |
| Remus Lupin | INFJ |
| Sirius Black | ENTP |
| Peter Pettigrew | ISFP |
| Severus Snape | INTJ |
| Regulus Black | INFP |
| Marlene McKinnon | ESFJ |
| Lucius Malfoy | ENTJ |
James Potter
Despite being a naughty Hogwarts student, James Potter was a caring and protective person. He was known as a confident, adventurous, and talented young man who's often causing trouble. But deep inside, he was a good friend and a loyal husband.
Lily Evans
Among all Marauders Era characters, Lily was the most levelheaded one. She was intelligent, compassionate, and courageous, which made her a reputable young girl.
Remus Lupin
As one of the prominent Marauders Era characters, Remus has a lot of Potterhead fans. His personality can be described as kindhearted, loyal, and honest, a true friend to all Marauders.
Sirius Black
Although a rebel at heart, Sirius Black was a charismatic, honorable pureblood wizard. He was also a prankster who'd not hesitate to mess with other Hogwarts students. But Sirius was known for his undeniable trustworthiness and unmatched wizarding skills.
Peter Pettigrew
Not many fans kin Peter Pettigrew. Personality-wise, Peter was timid, traitorous, and mischievous. He was a betrayer, a selfish coward who chose power or friendship.
Severus Snape
As an emotionally complicated character, Severus Snape was an iconic Marauders Era student. He was described as introverted, quiet, and depressed.
Ready to Find Your Comfort Character of Marauders Era?
James, Lily, Remus, Sirius, Peter, and Severus weren't the only important character of the Marauders Era. Other iconic personalities were Regulus Black, Marlene McKinnon, and Lucius Malfoy. But the question is, which one do you kin?
The following Harry Potter-inspired questions accurately reveal your Marauders Era kin and comfort character.
All you have to do is grab your wand and push the start button.
Disclaimer
QuizExpo does not own the images on the Marauders Era Kin Quiz and intends no copyright infringement. Warner Bros. Pictures. owns the said pictures.
How to Play?
Playing personality quizzes is straightforward: Choose the option that's true about you—or you relate to—and select "Next." Unlike trivia quizzes, personality tests have no right or wrong answers. But the questions are in forced-choice format. The point is to push you to choose an option that makes the most sense, not the one that's 100% true. For the most accurate results, don't overthink your responses. Go with options that you "feel" are the best.
Questions of the quiz
1

What makes the Marauders Era great?

Relationships

Hardships

High school drama

Jokes and pranks

Betrays and lies

Tragedies

2

What makes a witch or wizard an honorable person?

Honesty

Loyalty

Wit

Charisma

Ambition

Knowledge

3

What should be a Hogwarts student's priority?

Grades

Friends

Sports

Fun

Power

None of them really matter

4

What kind of spells do you like?

Wandless spells

Patronus spells

Practical and battle spells

Unpredictable and mysterious spells

Powerful and deadly spells

I'm more into potions and magical items

5

What would you like to study at Hogwarts?

History of Magic

Defense Against the Dark Arts

Transfiguration

Charms

Astronomy and Herbology

Potions

6

What would it be if you could choose your Patronus animal?

A bird

A fast animal

A guardian animal

A scary animal

A small or invisible animal

A lonely animal

7

What makes a witch or wizard sexually attractive?

Personality

Body language

Facial features or hair

Body or style

Power

None of them

8

Which Hogwarts House do you dislike? (You have to pick one.)

Gryffindor

Slytherin

Ravenclaw

Hufflepuff

All of them

Most of them

9

What are your thoughts on the Order of the Phoenix?

I like them

I can't say I'm a fan

I'm the biggest fan ever

I vibe with them, but meh

I hate them

I think they're selfish and hotheaded

10

Which word better describes the Marauders? (The friendship group.)

Lovely

Nostalgic

Strong

Funny

Stupid

Useless

11

What could encourage or force you to lie to a friend?

Nothing can make me do that

Making my friend happy

Helping them cope with something tragic

Pulling a prank on my friend

Making myself feel better about something

All of them. Sometimes, lying is a must

12

Which Marauders Era character would be likely to have a beef with you?

Sirius Black

Peter Pettigrew

Severus Snape

Lily Evans Potter

Ramus Lupin

James Potter

13

Choose a prank that you'd pull on other Hogwarts students.

Scaring them on the Halloween

Splashing water on them using magic

Making them levitate during the lunch

Lying them about a monster lurking on the campus

Stealing their precious items and hiding them

None of them. I hate all kinds of pranks.

14

What would it be if you could have a magical companion?

15

What would you do to Voldemort if he surrendered?

I'd ensure he has a fair trial

I'd exile him to a remote island

I'd kill him

I'd turn him into a frog

I'd free him

I'd lock him up in a dark room forever

16

Which word describes how you feel about Death Eaters?

Scared

Nervous

Irritated

Disgusted

Excited

Fascinated

17

What about Voldemort? How'd you describe him?

Heartless

Miserable

Stupid

Ugly

Powerful

Complicated

18

Would you use the Marauder's Map to sneak out of Hogwarts?

No, that'd be illegal

Maybe. I'm not sure

Yes, it's not a big deal

Sure! That sounds fun

Only if I'll gain something out of it

No, I'm not interested in adventures

19

Choose a word that describes your personality.

Passionate or extroverted

Friendly

Protective

Lazy

Sensitive

Introverted

20

Final question: how many Harry Potter books have you read?

All of them

5-6

3-4

2

Just 1

I've only watched the movies