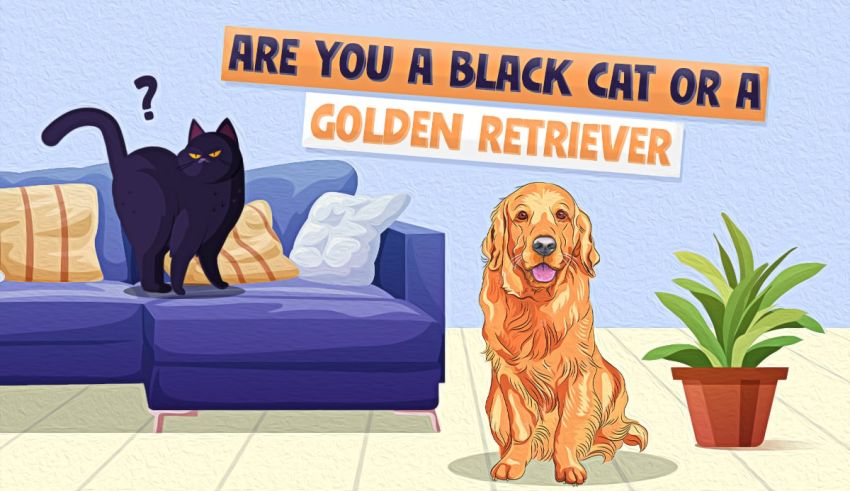 The Golden Retriever or Black Cat is a personality quiz to reveal the energy and the vibe you give off.
What Is the Golden Retriever or Black Cat Quiz?
The "Golden Retriever or Black Cat" is a personality test that identifies if you're an introvert or extrovert based on your responses to relationship and synergy questions.
In recent years, the Golden Retriever has been a symbol of extroversion, spontaneity, and positive vibes. Whereas the Black Cat has been known for the opposite, introversion, calmness, and gothic vibes.
With the current test, you get to find out what vibes you give off both in a relationship and in social situations.
How Does the Test Work?
Relying on QuizExpo's personality database, the Golden Retriever or Black Cat test analyzes your characteristic via an MBTI approach.
In the stereotypes, a Golden Retriever is always considered an ENFJ, while a Black Cat is assumed to be an INTJ. (But the test dives deeper to expose how stereotypically similar you are to these lovely creatures.)
By the way, pet parents should also take our other trending quizzes called "What Cat Breed Are You?" as well as the "What Dog Breed Are You?"
How to Know if You're Golden Retriever or Black Cat?
A star sign match is the easiest way to see if you're a Golden Retriever or Black Cat. Generally, Aquarius, Virgo, Scorpio, Libra, Taurus, and Capricorn are Black Cats. But Cancer, Aries, Pisces, Sagittarius, Gemini, and Leo are Golden Retrievers.
What Made the Golden Retrieve or Black Cat Quiz Viral?
TikTok has been home to a handful of weird personality quizzes lately. (Take "Breeding Difficulty"). But the Golden Retriever or Black Cat Quiz is the latest trend, thanks to its relatable results.
The test went viral after users realized it sums up their introverted or extroverted tendencies in romantic relationships and social interactions.
TT users are currently sharing their personality types as Goldens or Blacks, comparing their masculine or feminine energy with their partners—and even with their pets.
Ready to Find Your Black Cat or Golden Retriever Energy?
Okay, the time has come. Are you an energetic Golden Retriever or a gothic Black Cat? Take this fun personality test to find out.
The following questions identify your spirit animal and expose the extroverted Golden or Introverted Black in you (with some surprising results.)
How to Play?
Playing personality quizzes is straightforward: Choose the option that's true about you—or you relate to—and select "Next." Unlike trivia quizzes, personality tests have no right or wrong answers. But the questions are in forced-choice format. The point is to push you to choose an option that makes the most sense, not the one that's 100% true. For the most accurate results, don't overthink your responses. Go with options that you "feel" are the best.
Questions of the quiz
1

Which one sounds more fun?

A wild party

An unplanned trip

A paid vacation.

A solo trip to an exotic place.

I kind of like all of them.

2

What would it be if you could shapeshift into a mythical creature?

Dragon

Unicorn

Mermaid

Werewolf

Fairy

3

Choose a quote and make it about "bedroom stuff?"

"Don't stop."

"I'm always in the mood."

"I like you to lead me."

"I like it dirty."

"I'm addicted to you."

4

Which one describes your morning energy?

High

Moderate

It depends (unstable)

Low

Stable

5

Are you a day or night person?

Definitely a day person

Usually a day person. But it might change.

Usually a night person. But that's not always the case.

Definitely a night person. I hate mornings.

I like both. I'm a day and night person.

6

How do you feel when you're all alone?

Super-bored and sad

Slightly bored.

Calm and peaceful

Happy and comfortable

It depends. But I enjoy loneliness.

7

What types of activities are your jam?

Extreme activities.

Spontaneous activities.

Relaxing activities.

Solo activities.

I think there's something to enjoy in all of them.

8

Which one's a lame movie franchise? (You have to pick one.)

Twilight

Harry Potter

The Avengers

Fast & Furious

James Bond

9

What's your style like?

Creative (artsy)

Informal (casual)

Formal (chic)

Customized (trendy)

I enjoy trying different styles.

10

Are you the "ultra-secure" or "easy-to-guess" password person?

I use the same password for all my accounts.

I often use the suggested passwords.

I do my best to pick secure passwords.

My passwords are the hardest and weirdest combinations ever.

It depends on how valuable the account is.

11

Which one better describes your social media feed?

Random

Funny stuff

Friends and family posts

Personalized and cherry-picked stuff

I'm not sure. But I enjoy my feed.

12

Which one is "you" after hearing exciting news?

Loud AF

Clumsy and unpredictable

Calm but thankful

Numb and emotionless

It depends on the news. But I'm not the loudest person.

13

What do you usually watch on TikTok?

Dance videos

Memes and funny stuff

Calming videos

Dark and gloomy stuff

I'm not really a TikTok person.

14

What type of student are you?

A hyperactive one.

A good and hardworking one.

A bored and "I want to go home" one.

A bad one. I hate school.

An active, popular, and successful one.

15

How often do you feel depressed?

Rarely or never.

Occasionally.

Frequently.

I'm already depressed.

It's rare. But my depression phases are intense.

16

What do you think of rules, regulations, and limits?

I hate them.

I can't say I like them.

I'm fine with them.

I love them.

I think we need them to function.

17

What's your humor like?

Silly, loud, and random.

I'm into Gen-Z humor.

I'm more into inner-circle, classic humor.

My humor is dark and specific.

I enjoy all sorts of humor.

18

How do you react to people who don't match your energy?

I may have a beef with them.

I politely steer away from them.

I try to respect their energy and cope.

I straight-up ignore such people.

I try to understand their energy by taking an interest in them.

19

What makes someone sexually attractive?

Sense of humor.

Style.

Voice or body language.

Intelligence.

I think you need a good combination of all.

20

Final question: Which one could be your exotic pet in a parallel universe?

Chimpanzee

Fox

Tarantula

Snake

Owl