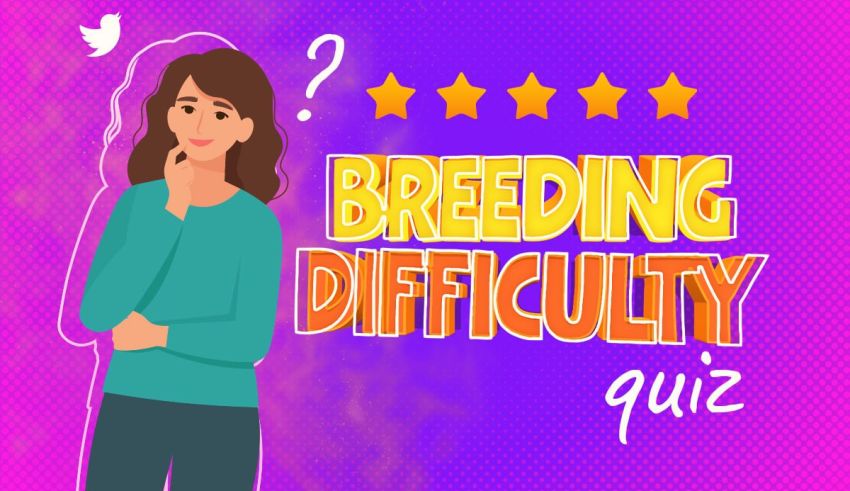 Do you want to know your breeding difficulty? This test reveals how difficult to breed you are based on your personality.
What Is the Breeding Difficulty Quiz?
The Breeding Difficulty Quiz is a 20-question personality test that exposes how hard to "reproduce" you could have been if you were a pet.
With this Test, you find out if you are "hard to get" or "easy to seduce."
Despite its sexual undertone, the test is a fun way to assess your personality. It breaks down your persona based on your actual responses to silly questions.
For more animal quizzes, try "What Dog Breed Are You?"
What Is the Origin of the Breeding Difficulty Test?
Trending on Twitter for a while, Breeding Difficulty was first introduced in a viral quiz called "I Sold You to a Pet Store." It referred to challenges one could have created for a breeder.
The original quiz analyzed participants as if they were a pet, offering insights into their possible price, food preferences, personality, and, of course, their difficulty.
But since Twitter users were more interested in the "breeding difficulty" section, dedicated tests popped up on the internet to expose that in detail.
However, the Breeding Difficulty Quiz is a controversial phenomenon. Some say it's as offensive as the Camel Worth Test. Others believe it's just entertainment. (But you be the judge.)
Suggested: If you're into Twitter-trending tests, check out the EDTWT Quiz next.
How to Interpret the Breeding Difficulties?
The results expose how open you are to the idea of sex—especially with a random stranger. In other words, they specify if you're sex-positive.
Here's how to interpret the results.
·       The No-Sweat.
You are easy to breed because not only do you love hooking up with strangers, but you also find that more tolerable than committing to a relationship.
·       The Breed-Friendly.
You give off the vibes of an easy-to-breed person. But you enjoy playing hard to get every now and then.
·       The Might-Bite.
Breeding you is a game of chance; you may easily let the other party have their dream night with you. Or you might bite them on the first attempt to get closer—like an annoyed wolf.
·       Hard to Breed.
It takes guts to breed you. The breeder must spend days and nights luring you to bed because your breeding difficulty is as high as the Empire State building.
·       Impossible to Breed.
You're so hard to breed that many assume you're asexual. In plain English, you'd never hook up with a stranger—unless they're the perfect being.
Is It Good to Have a Higher Breeding Difficulty?
Users on Twitter and TikTok are treating their scores like the Social Credit Test results: Many seem to be proud of their "hard to breed" status. But that shouldn't be the case.
Your breeding difficulty alone signifies nothing special. It's not like hard-to-breed is good or easy-to-breed is shocking. It's your overall personality and approaches to sex that matter.
It Takes Guts to Take This Brutal Test
Still asking yourself, "What's my breeding difficulty?" Take this brutally honest test to find the answer.
The following questions determine if you'd be an easygoing pet who likes hanging out with breeders or a naughty pet who bites.
Disclaimer
The Breeding Difficulty Quiz is an entertaining personality analyzer. We do not intend to offend you by any means. Please, take the results lightly, and let us know if any of the questions or results bother you.
How to Play?
Playing personality quizzes is straightforward: Choose the option that's true about you—or you relate to—and select "Next." Unlike trivia quizzes, personality tests have no right or wrong answers. But the questions are in forced-choice format. The point is to push you to choose an option that makes the most sense, not the one that's 100% true. For the most accurate results, don't overthink your responses. Go with options that you "feel" are the best.
How many questions does this quiz have?
20 questions
How long does it take to complete this quiz?
4 minutes
Questions of the quiz
Question 1

When you hear the word "Hookup," what comes to your mind?

Fun

Stress

Drunkenness

Guilt

Question 2

What kind of pet could you be in a fictional world?

Question 3

Which one sounds arousing?

Confidence

Dominance

Fame

None

Question 4

Which one is a turn-off?

Insecurity

Rudeness

Ignorance

All of them

Question 5

Choose the type of roleplaying that you might be into.

Age play

Playing fictional characters

Boss-secretary stuff

I hate roleplaying

Question 6

Pick a costume you'd wear to a Halloween party.

Naughty nurse or doctor

Bunny or fox

Cop or firefighter

I don't like any of these costumes

Question 7

Pick a nickname for your dream partner.

Daddy or Baby Momma

Hun-bun

Yo, Beeotch, or something like that

I don't like any of these nicknames

Question 8

What kind of celebrities do you usually have a crush on?

Good-looking

Likable

Funny and charismatic

I'm not into that celebrity crush BS

Question 9

What's your dream partner like?

Hot

Kind

Confident

Perfect (or at least nearly perfect)

Question 10

How shy are you around your crush?

Not shy at all

Extremely shy

It depends

I don't know

Question 11

Associate one of these words with "first kiss."

Firey

Romantic

Awkward

Overrated

Question 12

Which word sounds intriguing?

Master

Moralist

Mysterious

Monstrous

Question 13

What kind of person are you likely to hook up with?

Ambitious

Considerate

Charismatic

None

Question 14

Choose a sentence and make it about "sexual activities."

"Let me taste it."

"Hold it tight."

"Kiss it."

"Is that it?"

Question 15

Which one could unleash your sexy side?

Alcohol (having a couple of shots)

Trust (Believing in the other person)

Actions (Being treated in a specific way)

None. I'm almost impossible to arouse

Question 16

Which one could be your exotic pet in a fictional world?

Question 17

What's your element? (Choose the one you relate to.)

Question 18

How would you describe your anger?

Loud

Mild

Impulsive

Destructive

Question 19

What makes someone sexually attractive?

Smell or voice

Personality

Style

None of them (something else)

Question 20

Final question: what's your body count?

5 or above

0-1

2-4

I'd rather not say