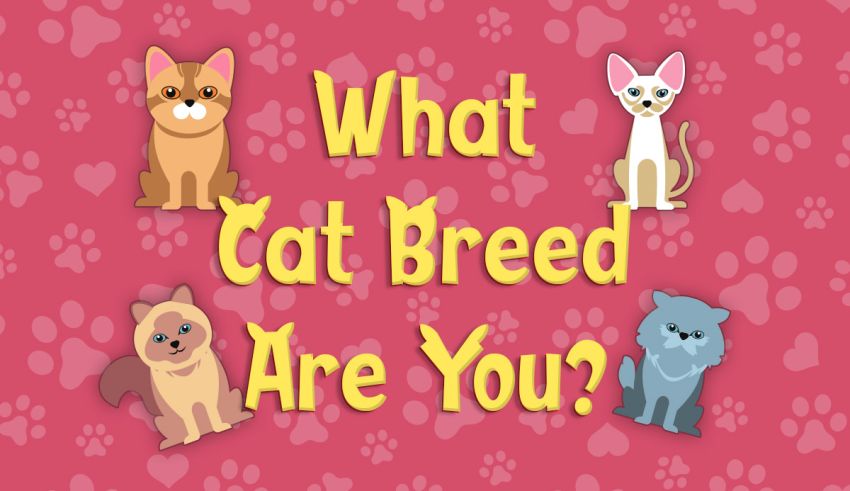 This quiz determines what cat breed you are, based on your personality and appearance. Just answer 20 simple questions to find out.
Cat and human relationships are as old as history. For example, you can find drawings of cats in prehistoric relics. Moreover, you can discover feline footprints even in ancient Egyptian hieroglyphs. So, let's see which type of cat matches your personality. By the way, even dog people have a feline side. Therefore, take the quiz, even though you hate cats!
Cat breed quiz intro: why cats matter
Perhaps you're wondering why you would look like a cat. In fact, humans and domestic cats share about 90 percent of their genes. Therefore, we're more feline than it seems from a biological point of view.
Furthermore, cats are the most popular domestic animals, only second to dogs—over 31 million households in the US host at least one kitty. Kittens are one of the most adorable living things, and many famous figures and movie characters show feline traits. If you own a cat you find out if they love you by this cat quiz.
Some interesting facts about kittens: What cat breed are you?
Moreover, cats have played many symbolic roles in different cultures. Therefore let's highlight some interesting superstitions, ideas, and facts about cats. We've gathered the following sayings from different cultures around the world:
Cats have nine lives:
Note that this saying is not valid, do not try to hurt poor animals! Nevertheless, cats are resilient indeed. For instance, when they fall from high heights, they instinctively spread out their body to slow down their fall. Furthermore, their flexible body helps them dodge or survive critical hits.
If a black cat crosses your path, it brings bad luck:
The statement goes back to ancient Egypt, where cats symbolized Bastet, a ferocious deity. Therefore, people thought of black cats as minions of the devil who would severe them from heaven.
If a cat starts grooming, you'll have unexpected guests!
This time let's travel to Japan, where folklore has it that a cat grooming its face and paws means you've got company. Unlike the ominous Egyptian kittens, the Japanese regard cats as a token of good luck. Plus, they believe that there is a lesson behind every superstition; in this case, always be ready to host unexpected guests. In other words, keep your house nice and tidy.
Here are some other superstitions and proverbs worth mentioning:
Curiosity killed the cat.
There is more than one way to skin a cat- Why so brutal!?
In a cat's eyes, all things belong to cats.
Happy is the home with at least one cat (Italian saying).
Beware of people who dislike cats. (Irish proverb)
The cat who frightens the mice away is as good as the cat who eats them. (German proverb)
I gave an order to a cat, and the cat gave it to its tail. (Chinese saying)
Cat breed quiz results: What Cat Breed do I look like?
We'll ask you 20 personality questions to determine which cat breed you belong to in this test. The main contenders on this quiz are four distinct breeds: Persian, Scottish, DSH, and Sphynx. Read on to find out about each species.
Persian cats
This type of cat is associated with aristocracy, glamour, royalty, and class. The long-hair cats are relatively sedentary compared to other breeds. Additionally, they are more sensitive and require proper care, especially regarding grooming. Their short jaw doesn't help them prey and compete with other cats. That's why they have a lower chance of survival than rival stray cats.
The Scottish Fold
This breed is a popular yet rear type of cat with distinctive folded ears and a chubby body. These cats were artificially bred for the first time in Scotland, hence the name. They might have either long or short hair. Their unique face makes them perfect for memes and troll photos.
Domestic Short-Haired (DSH)
This type of cat is dominant among stray cats due to its superior strength and adaptability. They're a mixture made by Mother Nature; that's why they are so diverse and resilient. On the other hand, these tiny tigers can become troublemakers when adopted and taken into the household. They are hyperactive and ruthless, so don't try to get in their hair!
The Sphynx
This breed might be produced as a result of a natural genetic mutation or artificial breeding. This cat has borrowed its name from the Egyptian cat statues with no hair, hence the name. Sphynx are pretty outgoing and friendly despite their mean looks. They are stunningly intelligent and curious.
QuizExpo does not own any of the images used in the What cat breed are you Quiz. All the photos were used from Pixabay, Unsplash, Envato, and Twenty20 websites, and we intend no copyright infringement.
How to Play?
Playing personality quizzes is straightforward: Choose the option that's true about you—or you relate to—and select "Next." Unlike trivia quizzes, personality tests have no right or wrong answers. But the questions are in forced-choice format. The point is to push you to choose an option that makes the most sense, not the one that's 100% true. For the most accurate results, don't overthink your responses. Go with options that you "feel" are the best.
Questions of the quiz
1

What do you like most about cats?

being magestic and clean

being utterly cute

being resilient and smart

having magic powers

2

What is the worst thing about cats?

they're too proud and selfish

they are a mess and break your stuff

they could be violent sometimes

I'm alergic to cats

3

If you could go back in time, which era would you choose?

Roman Empire

World War II

Civil Wars

Prehistoric times

4

Which statement do you think could be more accurate about cats?

In a cat's eyes, all things belong to cats.

Happy is the home with at least one cat.

Beware of people who dislike cats.

The cat who frightens the mice away is as good as the cat who eats them.

5

Pick a country where you would like to visit.

6

which statement is more accurate about how you sleep?

I find it difficult to sleep anywhere except for my bed.

I would like to sleep alone or keep some distance from my partner.

I can doze off almost anytime, anywhere.

I prefer to be cuddled.

7

How would you describe an ideal holiday?

popping champaign and partying

watching sports events with friends

netflix and chil

camping or hiking out in the woods

8

The best Christmas present you could ever get is ...

A Rolex

cosmetics

a ticket to your favorite game/sport

Harry Potter's broom

9

Select a Halloween costume.

I'm a mighty Pharoah

Hello Kitty with pink mittens

Baby Shark!

I'm batman

10

Select the group of words which describe you best.

Queen B/ King of kings/ fingerlinking hot!

Free thinker/ artistic/ a mess!

Savage/ rebelious/ lucky

hyperactive/ emotional/ weird!

11

What do you think of the color black?

It shows elegance and class.

It shows pain and sorrow.

It means nothing. It's not even a color!

It's magical and mystic.

12

What do you think of the one percent or the wealthiest people on the planet?

Who? you mean us?

They are so lucky!

It's time the fat cats had a heart attack ...

They are part of a cult or secret society.

13

What kind of movies do you like to watch when alone?

English dramas

Romance

Horror movies

Documentaries

14

What kind of music do you enjoy?

Classical/ Jazz

K-pop/ folklore

Hip Hop/ R&B

Rock/ Metal

15

If you were to adopt a dog, which one would you choose?

16

Which type of diet do you prefer?

Vegan/ vegetarian

junk food

bushmeat

traditional dishes

17

If you could visit someone famous, who would it be?

a wise king

a famous athlete

a brave hero

a powerful sorcerer

18

What are your favorite household items?

rugs and paintings

pocelain and crystals

sheets and mattresses

wooden objects

19

Someone accidentally steps on your foot. What would you do?

Give them a grim look and say nothing.

Say nothing, they didn't mean it.

Insult them and start a fight!

Make them apologize, then step on their foot!

20

Select a hobby from the options below:

bowling

swimming

gaming

Netflix and chill