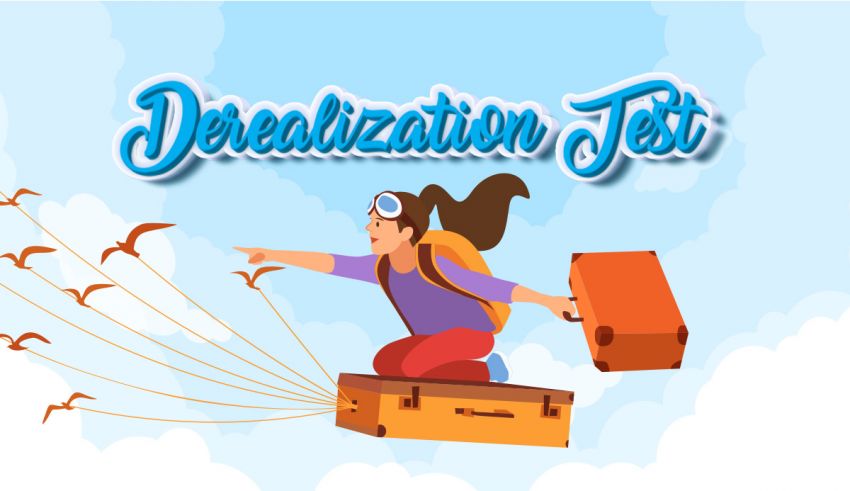 The Derealization Test examines the probability of having a DPDR disorder. Find out if you are detached from reality by self-reporting the symptoms.
What Is Derealization and How to Test It?
According to the DSM-5, "Derealization is experiences of unreality or detachment concerning surroundings." One way to test is by examining the patient's Reality Testing capabilities.
People with DPDR often know what they feel is unusual. But they cannot do anything to stop it. But in other comparable conditions, the patient might be unaware of the bizarreness of their situation.
Note that derealization is different from maladaptive daydreaming. While the two conditions have some symptoms in common, the latter requires a different testing process.
A 3-in-1 Complete Derealization Test
The DPDR test is based on the latest DSM-5 guidelines. So, it is 100% scientific and accurate. The results include other possibilities such as identity disorder and dissociative amnesia. The said conditions are in the same category with derealization-depersonalization. However, they have different symptoms.
Our questionary distinguishes the three disorders. And it can diagnose you with the most probable one. (More on this below).
Things the Test Tells You
Most online quizzes provide you with a "Yes or No" type of answer. But the Derealization Test on this page is comprehensive and detailed. Here is everything it reveals about your possible personality disorder(s).
Possibility of Having DDD
The primary goal of the test is to answer questions like, "Do I have derealization-depersonalization disorder?" So, that is the first thing you learn about yourself.
Probability of Other Dissociative Disorders
DPDR is not the only reason one might feel detached from reality. So, the test explores other options to make sure you do not have any other dissociative conditions.
The Severity of Your Condition
According to the DSM-5, DDD is the least severe mental illness compared to multiple personality disorder or dissociative amnesia. Using the same categorization, the test exposes the difficulty level of your situation.
Crucial Terms to Know Before Taking the Quiz
The Derealization Test includes words that refer to various mental conditions. You have to be at ease with said terminology for a better understanding of the results.
#1: How is derealization any different from depersonalization?
DR is when someone feels the environment around them is unreal. Some describe it as being trapped in a glass cage, unable to interact with the outside world. Whereas DP is when the person finds their feelings, thoughts, experiences, and even body dreamlike or illusive.
#2: What do you mean by dissociative disorders?
A mental state of severe and constant disconnection from what is going on is called a dissociative disorder.
#3: What is dissociative amnesia?
It is the state of forgetting important information about your life or your personality. It has four different types, localized, generalized, systematized, continuous.
#4: What is a dissociative personality disorder?
Previously known as multiple personality disorder, this condition refers to a sudden and dramatic change in one's thoughts, behaviors, and perceptions. In more severe cases, the person develops two distinctive characters.
Common Symptoms of DDD
Some of the depersonalization-derealization indicators we used in the test are explained below.
Depending on the type of your condition, the primary sign is feeling like your personality or the surrounding world is elusive. Emotional or physical numbness
You may be unable to recognize, react, or perceive your emotions or physical responses.
Others might find your speech emotionless or neutral—and irrelevant to what is happening.
Brain fog, dizziness, and unsteadiness are other symptoms of derealization.
Not recognizing familiar places or persons
Oblivion and amnesia might occur in DRDP patients.
The person may lose the sense of time, believing it is passing too fast or slow—or maybe stopped.
What Might Cause DPDR
The reason behind this condition is not clear yet. However, psychologists suggest that trauma, emotional abuse, or severe stress can cause or worsen it.
Trauma: your brain might use the detachment from reality as a defense mechanism to protect you against traumatic events of life.
Stress: It is wise to take an Anxiety Test after the Derealization Test to see if the two are connected. In many cases, DR is a byproduct of going through extreme fear or worry.
Drugs and psychedelics: substances like marijuana can worsen DPDR and other dissociative conditions. However, no evidence has suggested that it can cause it.
Other: Derealization-depersonalization can also be a byproduct of other mental illnesses such as major depression.
What if the Test Said I Have Derealization Disorder?
You do not need to worry about the DPDR test results. While it is a challenging mental state, it is treatable. Methods such as CBT (Cognitive Behavioral Therapy), rTMS, and anti-anxiety medications are used in the treatment processes. And they have been proved to be effective.
All you need to do is find a professional therapist or consult a psychologist to start your treatment. But whatever you do, please, avoid any self-prescribed medications. Such approaches easily worsen your mental state.
Caution
The Derealization Test is based on the DSM-5 guidelines. However, as with all other mental conditions, only a trained medic can diagnose it. So, please, do not take the results for granted. And consult a psychologist afterward.
How to Play?
Playing personality quizzes is straightforward: Choose the option that's true about you—or you relate to—and select "Next." Unlike trivia quizzes, personality tests have no right or wrong answers. But the questions are in forced-choice format. The point is to push you to choose an option that makes the most sense, not the one that's 100% true. For the most accurate results, don't overthink your responses. Go with options that you "feel" are the best.
Questions of the quiz
1

We all might feel disconnected from the world. But which of the following situations sounds familiar to you?

I start daydreaming and fantasizing about different things

I sometimes feel like the world is unreal, and I'm lost

I sometimes feel like I am out of my body watching myself

I usually snap back to reality and have no idea what I was doing

I feel like I'm someone else

2

Which of the following thinking patterns seems like yours?

Casual and variant

Stressful and nightmare-like

Confusing and terrorizing

I lost track of my thoughts all the time

Vague and faded

3

What type of things do you usually forget?

Small details

Where I am

What I was thinking about

What I did and what I said

Who I am

4

How often do you happen to forget something significant? (Like your mother's name).

Never

Rarely

Sometimes

Constantly

I'm not sure

5

On a scale of 0 to 10, how anxious are you? (In general).

6

Have you ever faced issues with keeping track of time?

Maybe (or no)

A couple of times

Often

Always

I'm not sure (I might have)

7

What is your predominant emotion?

Relaxed

Stressed

Feared

Confused

Lost

8

Fill in the blank. Most of my problems are because of my ________.

Personality (or life)

Traumatic past

Confusing thoughts/feelings

Obliviousness

Other personality

9

Do you use drugs or self-prescribed medicines?

No

Yes

I used to

I don't remember

I might have used them

10

Which of the following traumatic events sounds relatable to you?

Anxiousness

Being left alone

Being verbally abused

I don't know

None of the above

11

I usually feel like I cannot recognize __________.

Some faces

My surroundings

My feelings and thoughts

My family or friends

Myself

12

If I had to summarize my problem, it would be something like _______.

Money

Stress

Emotions

Forgetfulness

Living two lives

13

Sometimes, the world seems to be ___________.

Cruel

Unfamiliar

Unreal

Faded

Changed

14

Do people often think your speech is emotionless or irrelevant to the topic?

No

Yes

Sometimes

I don't remember

They might

15

Which one describes your FEARS better?

I'm afraid of losing someone

I'm afraid of losing my mind

I'm afraid of schizophrenia

I don't remember what I'm afraid of

I'm confused about my fears

16

Have you ever been diagnosed with depression or other mental illnesses?

No

Yes, major depression

Yes, depression

I don't remember

Yes, but it was an identity disorder

17

Does any of the triggers below affect your detachment from the world or strange feelings?

No

Stress

Threats

Pressure

Depression or sadness

18

When feeling confused about your thoughts, are you still capable of distinguishing between real and not?

I don't get confused about my thoughts

Yes

Most of the time

I don't know

No

19

Choose a description that matches your personality changes over time better.

I change gradually

I might suddenly change

I feel like my surrounding world suddenly changes—NOT me

I don't know

I always change suddenly and drastically

20

One more question; how often do you think you might be going insane?

Never

Rarely

Sometimes

I don't know

Always