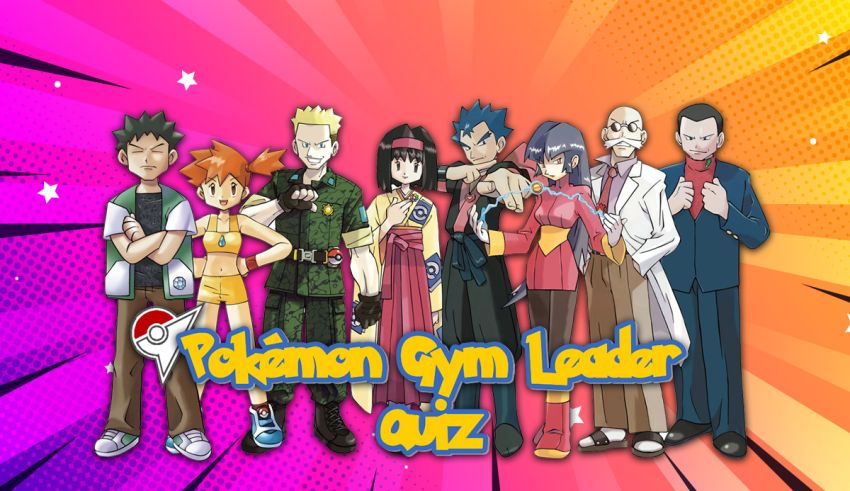 This fun Pokemon quiz will reveal which type of Pokemon Gym Leader you'd be! Are you Normal, Fire, Dark, or else?
Pokemon Gym Leader Type Quiz, Explained
Have you ever wondered which type of Pokemon master you would be? The Pokemon Gym Leader Test is a personality assessment that can help you find out. With 18 different types of trainers to match with, the test can identify which creatures you would specialize in taming if you lived in the exciting world of Pokemon. From Normal to Fire to Water to Dark and more, the possibilities are endless.
Previously, we exposed the type of Pokemon you are based on a thorough personality analysis. Now it's time to identify your Gym Leader persona—with the same accurate process.
How to Guess Your Gym Leader Type
Each Pokemon type has its unique personality traits, and the same can be said for their trainers. To determine your Gym Leader type, you can compare your traits with their iconic features. Utilize the following table as a guide:
| | |
| --- | --- |
| Gym Leader | Personality Traits |
| Normal | Balanced, dependable, practical |
| Grass | Nurturing, natural, tranquil |
| Water | Adaptable, intuitive, fluid |
| Fire | Passionate, intense, impulsive |
| Electric | Energetic, innovative, bold |
| Flying | Free-spirited, adventurous, agile |
| Bug | Persistent, resourceful, tenacious |
| Poison | Sly, cunning, manipulative |
| Fighting | Courageous, honorable, determined |
| Rock | Resilient, steadfast, grounded |
| Ground | Practical, reliable, hardworking |
| Psychic | Intuitive, enigmatic, wise |
| Ghost | Mysterious, elusive, haunting |
| Ice | Cool-headed, meticulous, calculated |
| Dragon | Majestic, powerful, ambitious |
| Dark | Cunning, deceptive, ruthless |
| Steel | Strong-willed, unyielding, disciplined |
| Fairy | Enchanting, whimsical, nurturing |
What Your Gym Leader Type Reveals About You
Matching with a Gym Leader reveals a lot about your personality, playing style, and love for Pokemon. Our test helps you discover more about yourself in the following areas:
·       Personality (obviously)
When you match with a Pokemon Gym Leader type, you'll immediately notice the similarities in your personalities. Our test results detail why you're a great match for a particular type and what traits you share with the legendary characters in that group.
·       Playstyle
Not all Gym Leaders fight with the same style. Some are aggressive, others are tricky, and a lot of them are cautious. But what the test does is use your responses to create your playstyle profile, figuring out how you'd approach Pokemon battles.
·       Proficiency
The Gym Leader Typology Quiz takes into account the complexity of the Pokemon you train, so the more skilled you are, the higher your score will be.
·       Pokemon Preferences
Who would you choose as your Pokemon partner? That's the question we answer in the Gym Leader Quiz after overviewing your preferences and comparing them to that of famous Trainers.
Hey, You'll Also Find Out "Which" Gym Leader You Are
After each quiz result, we provide information about Pokemon Trainers who share similar personalities to yours. So, this quiz is also perfect for those wondering which Pokemon Gym Leader they resemble. All you will need to do is answer 20 questions based on the Pokemon franchise to find out which world-renowned master you are.
By the way, if you're a diehard geeky fan of the franchise, try the Pokemon Trivia Quiz next. It will determine if you're a veteran or a newbie player.
Ready to Hit the Pokemon Gym?
Are you ready to discover your ultimate Gym Leader type? Hit that start button and get ready to reveal your true Pokemon fan preferences.
In just a few minutes, you'll get to meet your perfect mastery class. These custom-designed questions will help identify your training specialty and uncover what kind of Gym owner you would be in the exciting universe of Ash and Pikachu.
Let's get started! 🕹
How to Play?
Playing personality quizzes is straightforward: Choose the option that's true about you—or you relate to—and select "Next." Unlike trivia quizzes, personality tests have no right or wrong answers. But the questions are in forced-choice format. The point is to push you to choose an option that makes the most sense, not the one that's 100% true. For the most accurate results, don't overthink your responses. Go with options that you "feel" are the best.
Questions of the quiz
1

What type of Pokemon is your favorite?

Intense

Cool

Natural

Shocking

Mysterious

Sneaky

2

What's the best strategy for winning a battle in Pokemon?

Aggressive

Tactical

Stealthy

Speedy

Mind games

Tricky

3

What kind of Gym Leaders do you dislike the most?

Arrogant

Boring

Weak

Predictable

Overconfident

Dishonest

4

In a word, what kind of opponents are the most boring?

Slow

Basic

Passive

Uncreative

Predictable

Cowardly

5

Of the following options, which Pokemon game is your jam?

Red

Sapphire

LeafGreen

Yellow

Platinum

Black

6

In a word, what's the best strategy for catching Pokemon?

Quick

Patient

Lure

Paralyze

Hypnotize

Trickery

7

What is your favorite Legendary Pokemon?

Entei

Kyogre

Celebi

Zekrom

Mewtwo

Darkrai

8

In a word, what makes the Pokemon franchise unique?

Passion

Diversity

Nature

Innovation

Imagination

Morality

9

What Pokemon Go event sounds like the most fun?

Raid

Safari

Community

Spotlight

Psychic Spectacular

Team Rocket

10

In a word, how do you feel after losing a match?

Furious

Reflective

Disappointed

Determined

Analytical

Vengeful

11

Which Pokemon is as iconic as Pikachu?

Charizard

Gyarados

Bulbasaur

Raichu

Alakazam

Umbreon

12

If you were a Gym Leader IRL, what kind of outfit would you rock?

Leather

Wetsuit

Floral

Neon

Robe

Hoodie

13

Who's your comfort character from the Pokemon anime series?

Ash

Misty

Brock

Pikachu

Sabrina

Jessie and James

14

How would you rate your level of aggressiveness on a scale from 1 to 6?

15

In a word, how would you describe your in-game bestie?

Loyal

Chill

Helpful

Energetic

Enigmatic

Unpredictable

16

What type of Gym in Pokemon games is your favorite?

Reputable

Exotic

Forest

Techno

Mystical

Underground

17

What would it be if you could change one thing about Pokemon Gyms?

I'd make them more challenging

More diverse

More interactive

More visually appealing

More mysterious

More rewarding

18

What feature do you have that makes you a great leader?

Passion

Strategy

Nurturing

Charisma

Wisdom

Perception

19

What would be the #1 rule in your Pokemon Gym?

Never give up

Stay calm

Respect nature

Have fun

Believe in yourself

Trust no one

20

Final question: Which one's your favorite team?

Team Magma

Team Aqua

Team Flare

Team Plasma

Team Galactic

Team Rocket