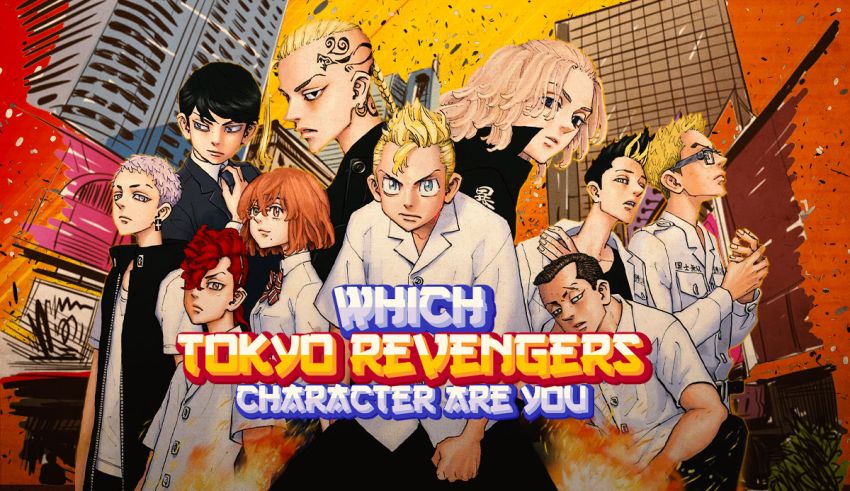 This ultimate personality quiz helps you find out which Tokyo Revengers character you are by 20 simple questions. Are you Takemichi, Mikey, Draken, or else?
Explaining the Tokyo Revengers Character Quiz
The test is a series of questions about your behavior and appearance with the goal of discovering your Tokyo Revengers character match. It identifies which middle-schooler boys or girls of Mizo Middle School are similar to you.
Similar to our Jujitsu Kaisen character quiz, we create your profile before matching it to that of the anime personas. But the questions are a bit darker since Tokyo Revengers is a rather graphic Shōnen.
Find out which character you are.
The main goal is to answer, "Which Tokyo Revengers character are you?" We collect data and create your virtual avatar based on your responses. Then, we compare it to our database of the anime's personalities to find the perfect match.
Discover your gang.
The Tokyo Revengers quiz also reveals your motorcycle gang as a bonus feature. The test includes all the gangs on the show and uses your personality to figure out which one would recruit you.
Tokyo Maji Gang (Toman)
Moebius
Valhalla
Black Dragon
Tenjiku
Bonten
And other groups.
Get a personality analysis.
The cool thing about the quiz is that it breaks down your character. So, by the end of the test, you also know what kind of person you are and why you matched a specific Tokyo Revengers gang member.
How to Match Your Persona to One of the Characters
It's always challenging to find out which anime character you are. But thankfully, most anime shows have fandoms that describe each character's personality so you can decide which one you represent in real life.
Read the following persona descriptions of the main characters and see if you relate to any of them. If you do, that particular boy/girl is probably your match.
#1. Takemichi Hanagaki
As the show's protagonist, Takemichi starts off as a timid boy with undeniable low self-esteem. However, he becomes a determined, hardworking, and reliable individual upon discovering his time-traveling abilities.
He's even shown to put others' needs before himself, trying to build a better future for them. But Takemichi is also confused about his values and goals at times. He needs to remind himself of his path and make critical decisions to achieve his ultimate purpose: saving his loved ones.
#2. Hinata Tachibana
Not many fans would pick Hinata if you asked them, "Which Tokyo Revengers character are you?" But she's definitely one of the most believed girls in the anime—and probably many Otakus' waifu.
Personality-wise, she is outgoing, upbeat, optimistic, and strong-willed. Everyone could rely on her energy because she could easily cheer them up. It's quite easy for Hinata to befriend people and get closer to them. And that makes her a popular girl in the entire Mizo Middle School.
#3. Manjiro Sano
Also known as Mikey, Manjiro is one of the most popular characters in Tokyo Revengers. He's strong, clever, and witty, but also reckless. As the leader of the Toman gang, he causes fear in his enemies, and even some of his own gang members are fearful of his power.
Manjiro has an active dark core or dark impulsivity that causes him to struggle with anger issues. And he gradually turns into a coldhearted leader who cares about nothing but destroying his enemies.
#4. Ken Ryuguji
Although a bit rude and blunt, Draken is a fan-favorite character in Tokyo Revengers anime and the quiz. Despite being a badass gang member, he has a soft and caring side that he only shows to his closest allies.
But similar to Mikey, Ken also goes through extreme rage episodes, which turn him into an unstoppable, scary monster. Though, he's always been kind to his best friend Mikey and has never stopped protecting him.
| | |
| --- | --- |
| Character | Age |
| Tachibana Hinata | 1991 |
| Naoto | 1992 |
| Hanagaki Takemichi | 1991 |
| Sano Manjirō | 1990 |
| Matsuno Chifuyu | 1991 |
| Ryūguji Ken | 1990 |
Other characters.
Tokyo Revengers (aka 東京卍リベンジャーズ) has lots of interesting personalities. And it's quite time-consuming to review all of them to find you're your match. So, taking our genuine quiz is actually your best bet. It's accurate and covers all the main characters.
Are You a Toman Member or a Casual Middle-Schooler?
The quiz helps you answer things like, "Which Tokyo Revengers character am I?" But it's not dedicated to gang members only. You might realize that other non-gang-member characters share more characteristics with you. Take Hinata, for example. She's a bright, outgoing girl that has nothing to do with the cruelty of Toman or other groups. Nothing could stop you from matching her—but your own responses.
Disclaimer
QuizExpo doesn't own any of the Tokyo Revengers character quiz images. No copyright infringement is intended. Please, contact us for any concerns/requests.
How to Play?
Playing personality quizzes is straightforward: Choose the option that's true about you—or you relate to—and select "Next." Unlike trivia quizzes, personality tests have no right or wrong answers. But the questions are in forced-choice format. The point is to push you to choose an option that makes the most sense, not the one that's 100% true. For the most accurate results, don't overthink your responses. Go with options that you "feel" are the best.
Questions of the quiz
1

Which one could be your motivation for joining a gang if you lived in the Tokyo Revengers universe?

Nothing. I'd never join a gang.

Investigation.

Research

Protecting a particular person

Helping a friend get out of the gang

Having fun and making more money

2

What's so special about Toman compared to other motorcycle gangs?

Nothing is special about a gang

They're unbelievably young.

They have interesting motives.

They are a family, not a gang

They are pretty emotional teenagers

They put fear in their enemies

3

Which one sounds like a fun twist for the Tokyo Revengers plot?

We find out that the whole story is a dream.

We realize that Manjiro has been snitching on his gang members

We find out that a government experiment causes Takemichi's powers

It's revealed that Ken and Manjiro were in love

We find out that Hinata is actually an evil character

All gang members die, and only Takemichi survives

4

If you were a first-gen gang leader, what would your priority be?

I'd never want to be a gang member

Helping those in need

Stopping the violence in the streets

Recruiting more members

Protecting my friends and family

Defeating other gangs

5

What's a quality that you'd look for if you had to recruit new members for your group?

Generosity

Intelligence

Levelheadedness

Loyalty

Responsibility

Brutality

6

What would you do if someone mocked your loved one?

Ignore them

Ask them to stop

Roast them

Give them a lesson

Plan my revenge

Attack them right away

7

Pick the characteristic that you think would make a person super-boring.

Dullness

Dumbness

Indifference

Levelheadedness

Seriousness

Talkativeness

8

Pick a weapon that you think would be cool to use in Tokyo Revengers battles.

I don't like weapons

Handgun

Sniper

Dagger

Baseball bat

Whip

9

Which one describes your clothing style better?

Cute

Formal

Classic

Unique

Casual

Gothic

10

How would you express your love for someone?

I tell them directly.

I'd protect them

I'd spend most of my time with them

I'd buy them gifts

I'd write them romantic letters

I'd ignore them

11

What would you do if you had a crush on another Mizo Middle School student who's in a gang?

I'd never confessed my feelings

I'd stay away from them

I'd let them know how I feel

I'd join their gang

I'd ask them to leave the gang

I'd try to become their gang's leader

12

What would you use it for if you had Takemichi's time travel ability?

To help others

To fight the bad guys

To solve mysteries

To have fun and live a longer life

To protect my loved ones

To gain more power and wealth

13

Which one could be your priority if you lived as an actual Tokyo Revenger character?

Finding true love

Being a good person

Learning more about street life

Having fun with my friends

Stop gang activities in the city

Create my own gang

14

How do you feel about going to school?

I love it

I like it

Meh

I don't like it

It's boring

I hate it

15

What is (or was) your favorite subject in school?

Arts

Mathematics

Science

P.E.

Literature

None

16

How do you spend your free time?

I watch anime

I play video games

I read books

I listen to music

I daydream

I don't do anything specific

17

What's something about Tokyo Revengers anime that you don't like?

It's a bit too violent

It's predictable

It's irrational

It doesn't have enough action

It's unpredictable

It's too emotional

18

What would you do to a member of your gang who snitched on you?

Forgive them

Exile them

Punish them

Make them regret it

IDK. It depends

Get rid of them forever

19

What would you do to an opposing gang member who has surrendered and wants to join your group?

Forgive them

Interrogate them

Exile them

Make them regret their actions

IDK. It depends

Get rid of them forever

20

Final question; how old are you?

14 or younger

15-17

18-20

21-25

26 or older

I'd rather not say