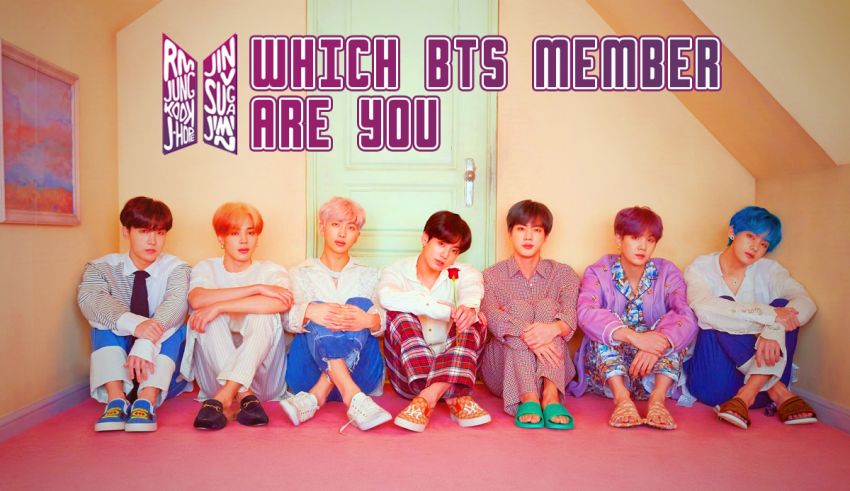 If you are a super fan for BTS, then you may wonder which BTS member are you? This accurate quiz can help you match your personality to 1 of the members.
Who is BTS?
BTS has become the king of teenagers' hearts, especially teenage girls. When you have a teenager at home or near you, you're likely to learn fascinating stuff about BTS, and you're absolutely familiar with them. Or most likely, if you're reading this article, you're also a BTS fan. To clarify, BTS or Bangtan Boys is an international music group made up of seven famous and lovable members. The popularity of this group rather than its professional style and music comes from its members. Each member has a specific role in the group and also has a unique appearance and personality traits.
Which BTS Member Are You?
Which BTS member is attractive to you? Or which BTS member are you? Most of the fans can quickly answer this question, and a few are curious and want to know the answer. If you're going to see the answer to this question, "Which BTS member are you?" Join us in this article.
A brief overview of BTS History
The group is ten years old and has presented the best works to its fans in these ten years. The group was formed in 2010, and some of its members were gradually selected and added from Korean Voice competitions. The name of the group is BTS, meaning "Bulletproof Boy Scouts." The group desires to "prevent prejudices, criticism, and expectations that target adolescents like bullets." And for this reason, the songs they sing are mostly in this context. In fact, this group's goal is to create and increase adolescents' self-confidence and break the traditional taboos of families.
On June 12, 2013, they officially released their "2Cool 4Skool" album debut song 'No More Dream. This becomes a tipping point for the group's worldwide success, as they perform international tours and concerts every year and contribute to their reputation. They have appeared in numerous programs and gatherings to date and are currently the most influential group in the modern music world.
Their popularity not only ends with their music, but their photos and signatures can be seen in fans' clothes, books, notebooks, bags, and even tableware. Their concerts with huge audiences are held worldwide, and it is the wish of all fans to attend the shows, even once. Social analysts believe that this group will significantly impact adolescents' intellectualism and self-confidence and envision a beautiful future for young people.
BTS members
The members of this group are so popular that you can see them in different formats worldwide. The hoodies and sweatshirts that teenagers wear, the coffee-drinking mugs, and the photos on their rooms' walls, their backpacks are all adorned with BTS members' pictures and signatures. Jungkook, Ji-min, Jin, Suga, RM, V, and J-Hope are the BTS group members' stage names. According to an online survey, the most popular BTS member is Jungkook, followed by Suga, V, and Jimin. Here we briefly explain the BTS personality types:
Jungkook
He is the calmest and most shy member of the group, who hardly expresses his feelings. Jungkook does not talk much and usually does not complain about anything. He is so introverted that he can only cry in critical situations. But when he fully trusts someone, he treats them very warmly and honestly. Jungkook enjoys playing guitar, drawing, and watching the movie.
Suga
Suga is very knowledgeable, and his friends say he behaves like grandpas. He is very cool and likes to sleep, so he says, "I can not live without my bed." He is very confident in his thoughts and very focused on doing things. Suga usually talks a lot but does not have a hasty personality. He enjoys playing games, reading comics, and basketball.
V
Kim Taehyung or V has a bubbly personality, which means he is lively, animated, and fun to be around. Everyone loves him and usually gets positive energy from him. He is very passionate, lively, and enthusiastic about life. V is brilliant and talented and always wants to have a positive effect on other group members. He enjoys photography, dancing, playing basketball, and Scuba diving.
Jimin
Jimin is a sympathetic member of the group who always puts his friends and the group first. He always understands his friends and always tries to help and support them. According to his friends, he is full of love, and everyone, even the fans, can easily understand this. Jimin is the most mature and hardest-working member of the group, and everyone likes to ask him for help because of his kindness. He enjoys talking to himself and is a deep thinker.
Now that you are somewhat familiar with the four famous BTS members' personality traits, which one do you think you look like? If you are unsure, it is better to play this BTS quiz. As mentioned earlier, each member of this group has specific personality traits, interests, and hobbies. So in this quiz, you can find out which BTS character you are by answering questions about these things.
How to Play?
Playing personality quizzes is straightforward: Choose the option that's true about you—or you relate to—and select "Next." Unlike trivia quizzes, personality tests have no right or wrong answers. But the questions are in forced-choice format. The point is to push you to choose an option that makes the most sense, not the one that's 100% true. For the most accurate results, don't overthink your responses. Go with options that you "feel" are the best.
Questions of the quiz
1

Unfortunately, the result of your work did not get what you wanted, what do you do?

I cry

I have a new method

It does not matter, I will do it again

I try to find my mistake

2

Which of the following movies did you watch and you liked it?

Love Rosie

Tazza: The High Rollers

Miracle in Cell No. 7

The Notebook

Inception

Eternal Sunshine of the Spotless Mind

None of them

3

Which of the following words is most appealing to you?

Bunny

Minstradamus

TaeTae

Dooly

ChimChim

None of them

4

How do you usually act in front of your friends?

I usually do not talk much

I am always cool

I always give them energy

I always support them

5

What is your favorite color?

6

Which of your bad habits bother your friends?

Putting my tongue on my cheek

Biting my nails

Losing tools

Being late

I don't have any bad habit

7

Which of the following animals would you like to see at the zoo?

Dinosaur

Dogs

Lion

None of them

8

If you were in a band, what position would you like to have?

Main vocalist

Lead Rapper

vocalist

Main Dancer

Sub Rapper

9

Which of your personality traits is most prominent?

Perseverance

Quiet and relax

Outgoing and fun

Selfless and hard work

10

What is your favorite flower?

Tiger flower

Angelica

Browallia

None of them

11

Who is your role model?

G-Dragon

Rapper Kanye West

Jaehyun (Golden Child)

Singer Rain

12

What do you usually do in your free time?

Painting

Playing Game

Photography

Talking to myself

Playing basketball

Reading Comics

13

Which personality trait would you like your partner to have?

Don't talk too much

Sleep a lot

Have a good sense of humor

Be selfless

14

What is your zodiac sign?

Virgo

Pisces

Capricorn

Libra

None of them

15

What is your lucky number?

16

Choose a food ...

17

Which of the following countries do you want to travel to?

Japan

Philippines

Taiwan

United Stats

18

How do you usually express your emotions?

I do not show my emotions

By talking

By joking

By kissing

19

Who is your favorite actress?

Lilly Collins

Amanda Seyfried

Rachel McAdams

None of them

20

Choose a motto..

"I'd rather die than to live without any passion!"

"Let's live with having fun"

"I just came up with it but let's life coolly to the maximum".

"Do everything until I can't."