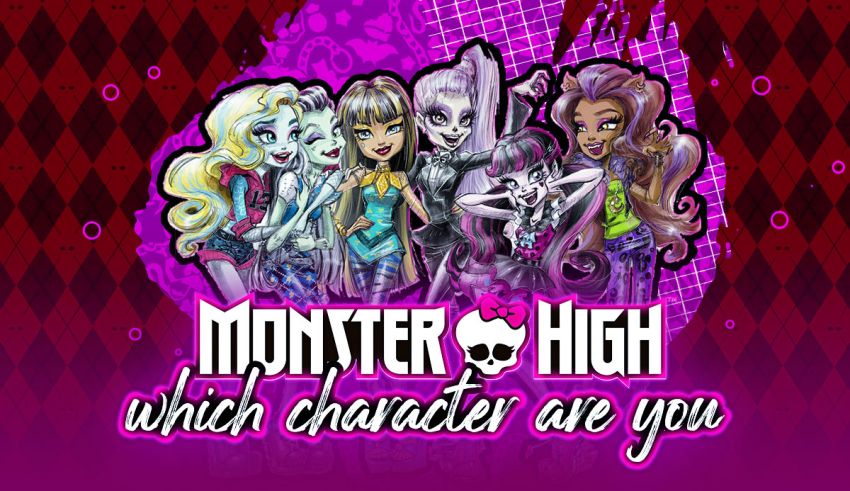 We can determine which Monster High character you are by analyzing your personality and spookiness level. Are you Cleo, Ghoulia, Abbey, Clawdeen, or else?
The Ultimate Monster High Character Quiz
With its 20 personality questions, the Ghoulfreind finder quiz reveals which Monster High student you represent in real life.
Monster High is a famous doll collection by Mattel, the company behind American Girl Dolls. But the current test is based on animated web series and movies.
See which Monster High student you are.
The quiz's premise is to answer questions like, "Which Monster High character am I?" We analyzed all the freaky-fab ghouls and created a detailed personality database. Your answers allow us to match your persona to that of the school's girls and boys to find your perfect match.
Meet your Ghoulfriend.
Don't you want to know which of the ghoul gang members could be your bestie if you were a Monster High student? Our quiz is able to discover your Ghoulfreind based on your characteristics and decisions.
Find out which famous monster's child you are.
You know that Monster High characters are children of famous mythical creatures, right? But what about you? Who are your mysterious parents? The test has an interesting analysis that offers some insight into your family background and possible origin story.
Get a spooky personality analysis.
You want to know which Monster High character you are, and we get it. But the cool thing is that the quiz has more to offer. It can review your responses to find out what type of person you are. So, by the end, not only will you meet your perfect match, but you'll also find out the reason.
It's the First MBTI-Based Monster High Quiz
No other personality test is accurate because they are based on the characters' interests (i.e., favorite food, color, etc.). But we have created the internet's first Myer-Briggs Type Indicator quiz for Monster High franchise.
It's super-accurate because the questions focus on your actual persona rather than basic likes or dislikes.
| | |
| --- | --- |
| Character | Personality |
| Abbey Bominable | INTJ |
| Clawdeen Wolf | ESTP |
| Cleo de Nile | ESTJ |
| Draculaura | ENFP |
| Frankie Stein | ENFJ |
| Ghoulia Yelps | INTP |
| Lagoona Blue | ENFJ |
#1. Abbey Bominable
As an INTJ, Abbey is a natural problem-solver. However, she can also be fierce, nerve-wracking, and maybe even stubborn as a teenager. Abby is also quite blunt and would say anything straight-up to your face regardless of the intention and context.
But many fans would still pick her when asked, "Which Monster High character are you?" It's because she's stylish, confident, and independent.
#2. Draculaura
Although childish at times, Draculaura is a sweet, warm, and kindhearted monster. She is easygoing and sensitive, too, making her an absolute ENFP. Draculaura is actually a vegetarian who despises blood and violence despite her blood-sucking background.
Thanks to her lovable personality, Draculaura often tops the most popular Monster High characters list. And fans are thrilled when she shows up in their test results—or at least that's what our data suggests.
#3. Ghoulia Yelps
Yes, she's technically a zombie, but a super-intelligent and cute one. Ghoulia is an INTP who's quite introverted and shy. However, she's caring towards her friend and has shown to have a heart of gold.
Ghoulia is also a geeky bookworm who's constantly reading, experimenting, or inventing new stuff.
#4. Lagoona Blue
Big-hearted and kind to everyone, Lagoona has become one of the loveliest Monster High students in recent years. She can befriend anyone regardless of their look, background, or social status. As an ENFJ, Lagoona is also laid back and considerate. But certain behaviors or topics could irritate her and trigger her sensitive side.
Our statistics reveal that participants who get Lagoon as their match are the happiest. It could be because of her popular status in the school and cheerleader-like lifestyle.
Other Monsters.
The spooky high school has so many monster students. So, it might be overwhelming to find your match on your own. That's why we recommend taking the quiz. It's fast, fun, and freaky. We can compare your personality to that of high's teenagers and generate reliable results in a few minutes.
Do You Comply with Scaremerican Culture?
Living in the Boonited States of Scaremerica is complicated. You are expected to value monsters' cultures and probably, despise humans. But not all Monster High characters believe in that. Take Draculaura, for example. She is a vegetarian who can't stand seeing blood despite her vampire descent.
So, one of the primary questions of the test is how loyal you would be to the Scaremerican culture had you been an actual Monster High student. And we review your opinions on different topics to come up with reliable analysis.
Ready to Meet Your Ghoulfriend Self?
Your freaky-fab persona is awaiting you on the other side of the quiz. You're only one step away from meeting your actual Monster High character and besties. All you have to do is start the test and respond to twenty spookily entertaining questions.
Give it a try. You're going to love it.
Disclaimer
QuizExpo does not own any of the Monster High Character Quiz images. Mattel owns the rights to all the said pictures, and no copyright infringement is intended.
How to Play?
Playing personality quizzes is straightforward: Choose the option that's true about you—or you relate to—and select "Next." Unlike trivia quizzes, personality tests have no right or wrong answers. But the questions are in forced-choice format. The point is to push you to choose an option that makes the most sense, not the one that's 100% true. For the most accurate results, don't overthink your responses. Go with options that you "feel" are the best.
Questions of the quiz
1

What kind of ghoul in Monster High would attract you?

Caring

Protective

Easygoing

Smart

Confident

Good-looking

Popular and rich

2

How would you spend your weekends if you were a ghoul gang member?

I'd invite my besties over and have fun.

I'd cook something delicious for my friends.

I'd go to a disco and dance till I couldn't feel my legs.

I'd study or take care of postponed tasks.

I'd work out or go hiking (or something like that)

I'd go shopping with my friends.

I'd throw a huge party and invite every Monster High student.

3

What's the most important trait you look for when choosing a Ghoulfreind?

Politeness

Kindness

Sense of humor

Intelligence

Reliability

Style

Confidence

4

How would you treat humans if you lived in the Monster High universe as a ghoul?

With kindness

With respect

I'd treat them like everyone else

I'd be friendly to them but not too approachable.

I'd be cautious around humans and never trust them.

I'd show them who's the boss around.

I'd never interact with them.

5

How would you react if someone bullied your best friend in Monster High?

I'd ask them to stop.

I'd ask for the teachers' help.

I'd threaten the bullies.

I'd probably mind my own business.

I'd give the bullies a lesson they'd never forget.

I'd plan my revenge and wait for the right moment.

I'd bully them back.

6

Choose a mythical persona for yourself.

Angel

Fairy

Mermaid

Goblin

Yeti

Griffin

Unicorn

7

Which one would be your go-to style if you lived in the Monster High universe?

Cute

Goth

Casual

Emo

Tomboy

Sassy

Vintage

8

What makes a ghoul unique?

Voice

Friendships

Sense of humor

Knowledge and experience

Skills and abilities

Style and look

Family background

9

Which of the following activities would you like to try with your Ghoulfreinds?

Watching a horror movie

Camping in jungle

Traveling to a new place

Trying out new science experiments

Going to a gym and working out together

Designing different outfits for each other

None of them

10

Fill in the blank. My bestie should be a ___________ person.

Good

Funny

Agreeable

Intellectual

Tough

Trendy

Popular

11

What do you like about the Monster High franchise?

The characters

The stories

The relationships

I like the lore in general

I like the characters' monster persona

I like the girls' outfits

None of them

12

How easily angered are you? (10 means you're incredibly irritable).

13

How do you feel about going to school?

I like it

It's cool

Sometimes it's fun

I LOVE school

I don't like it

I think it's boring

I hate school

14

What is the most challenging part of high school life?

Nothing. High school life is not challenging at all.

Dealing with relationships

Dealing with high school dramas

Making new friends

Getting good marks

Becoming a popular student

All of them

15

Choose a destination that you'd like to travel to.

A romantic place

A nostalgic place

A place with lots of festivals

A historical place

An exotic place

A trendy place

A luxurious place

16

Of the following options, which one could make you happy?

A message from an old friend

A small gift from a new friend

A romantic date with your lover

An academic achievement

An athletic achievement

An Amazon gift card

None of them

17

You get a flat tire on the way home. How do you feel about that?

I feel lucky that it didn't cause any serious trouble.

It makes me feel sad. But it's not a big deal.

I feel fine.

It stresses me out.

I don't feel anything specific.

It irritates me a little bit.

It makes me feel helpless and angry.

18

Which one sounds like a cool nickname for your Monster High persona?

Little Fairy

The lovely prince/princess

The icon

The ultimate guru

The badass baddie

The diva

The king/queen

19

Choose a word that describes your best friend better.

Lovely

Inspiring

Cool

Clever

Responsible

Elegant

I don't have a best friend

20

Final question; how old were you when you watched your first Monster High web series episode?

12 or younger

13-14

15-17

18

19

20 or older

I haven't watched any of the episodes