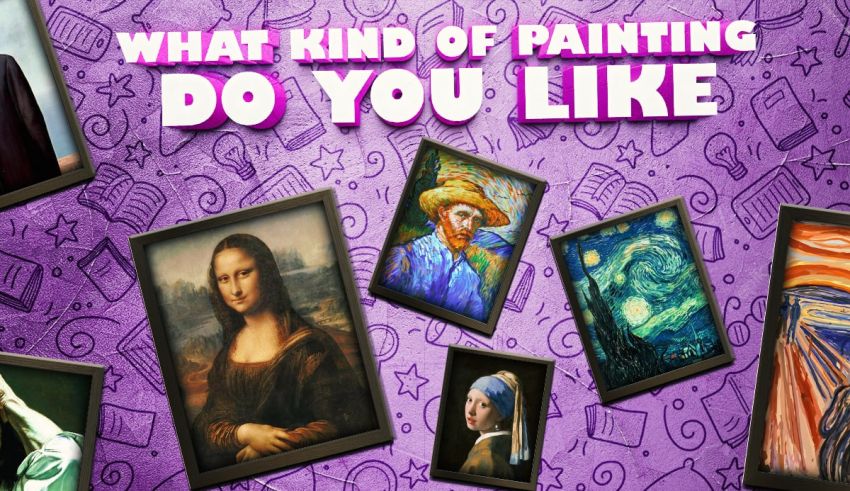 This quiz will guess what kind of painting you like. It is an art personality quiz that reveals your favorite artwork style accurately.
The Type of Painting That You Like
Art is a subjective medium of creation. The artist injects their individual views into their art. Likewise, choosing your favorite artwork is a subjective process. You decide if you like a painting based on your thoughts and emotions.
But things are not straightforward for all art enthusiasts. For some, picking their favorite painting is as challenging as picking their all-time favorite movie. There are so many options to choose from.
An alternative for picking your favorite art is letting your MBTI choose it for you.
If you already know your personality type, use the following table to find out what artwork style you might like.
| | |
| --- | --- |
| Personality | Favorite Painting |
| INTJ | Art Nouveau |
| INTP | Futurism |
| ENTJ | Dadaism |
| ENTP | Surrealism |
| INFJ | Baroque |
| INFP | Neoclassicism |
| ENFJ | Pop Art |
| ENFP | Impressionism |
| ISTJ | Realism |
| ISFJ | Fauvism |
| ESTJ | Cubism |
| ESFJ | Photorealism |
| ISTP | Constructivism |
| ISFP | Abstract Expressionism |
| ESTP | Romanticism |
| ESFP | Expressionism |
How to Know What Kind of Painting You Like
It's normal to be confused about the type of art you enjoy the most. Unlike your favorite color, your preferred art style doesn't come to you instinctively. You may need time to explore various styles and mediums to make up your mind.
If you're in a hurry, though, choose the kind of painting you like with these three strategies.
1.     Choose Art Based on Style.
Learn more about art styles and techniques. Familiarize yourself with the most iconic movements and get to know the influential artists.
If you don't know where to start, try overviewing Realism, Impressionism, and Surrealism.
2.    Pick the Paintings that Suit Your Interior Design.
Your interior design can determine the kind of painting you like.
Many home décor styles are inspired by art movements that carry the same elements. So, look around and see what designs you already prefer.
If your interior design is modern, a modern or post-modern painting is an excellent choice. If it's minimalist, then a minimalist painting is the perfect fit. And if it's traditional, a religious or history painting is your best bet.
To match the art you like with your interior design, take our other quiz, "What Color Should I Paint My Room?"
3.    Go with the Popular Paintings.
Currently, the most popular paintings are realism art, photorealism art, painterly art style, impressionism painting, abstract art, surrealism art, and pop art.
If you don't know what painting your favorite is, choose one of these popular ones.
Take the Art Personality Test to Discover Your Favorite Painting
Still wondering what kind of painting you like? The following art-inspired questions determine your preferred style and recommend artists that you should check out. All based on your personality.
Not only does the quiz figure out your preferred artwork, but it also helps you make art that sells—if, of course, you're an artist.
Disclaimer
QuizExpo does not own some of the images used in the Favorite Painting Quiz and intends no copyright infringement.
How to Play?
Playing personality quizzes is straightforward: Choose the option that's true about you—or you relate to—and select "Next." Unlike trivia quizzes, personality tests have no right or wrong answers. But the questions are in forced-choice format. The point is to push you to choose an option that makes the most sense, not the one that's 100% true. For the most accurate results, don't overthink your responses. Go with options that you "feel" are the best.
Questions of the quiz
1

What is your favorite interior design?

Traditional

Country House

Midcentury

Scandinavian

Boho

Modern

2

Where would you like to hang a painting?

Living room

Kitchen

Home office

Dining room

Bedroom

Other

3

Which one describes the color palette of your favorite painting?

I like realistic color palettes.

I want it to be lively.

I like neutral color palettes.

I like surprising/unpredictable color palettes.

I prefer dark and gloomy palettes.

I prefer color palettes that imply meaning.

4

What kind of meaning should an artwork imply?

It should signify something personal.

It should portray peace of mind and beauty.

I think it should have a philosophical, deep meaning.

I like paintings with mythological or mysterious meanings.

I believe art should be about emotions, not meanings.

It's the viewer who should project meaning onto an artwork.

5

What type of artists are you a fan of?

Famous

Poetic

Traditionalist

Talented

Emotional

Modernist

6

How do you want to feel when looking at the painting in your room?

Nostalgic

Peaceful

Enlightened

Intrigued

Inspired

Imaginative

7

What makes an artist great?

Skill

Life story

Achievements

Creativity

Emotions

Ideologies

8

When it comes to art, are you a traditionalist or a modernist?

I might be a traditionalist.

I'm slightly traditionalist.

I'm fairly traditionalist.

I'm somewhere in between.

I'm slightly modernist.

I'm fairly modernist.

9

What do you think of hype-realistic paintings?

I love them

I usually like them.

I only like antique ones.

I like some of them.

I don't like them.

I hate them.

10

Should an artist use technology to create art? Why?

No, that's not art.

I'm not sure. But I don't think so.

No, that's disrespectful.

It's okay to use technology in some cases.

Meh, it's okay. But it would create soulless art.

Yes, technology is merely a medium.

11

What do you think of AI-generated art?

I hate it.

I can't say I like it.

I don't relate to it.

I think it's interesting.

I think AI art is emotionless and pointless.

I love it. It's the future of art.

12

Should all paintings have a meaning?

Yes

No

It depends on the subject.

It depends on the artist.

Art is doomed to have meaning.

It's the viewer who decides that.

13

Which one sounds like a good subject for a painting?

A group of happy children playing.

A snowy mountain across the river.

A historical battle with so many details.

A mythical creature hiding in a cave.

A couple kissing during a funeral.

A geometric shape that implies a philosophical meaning.

14

Should art always signify beauty?

Yes

I'm not sure.

In most cases, yes.

It depends on the artist.

Art is always beautiful, even when it's not about beauty.

No, art should not be limited to beauty.

15

What historical era had better artists?

1500s

1600s

1700s

1800s

1900s

2000s

16

What emotion is more artistic?

Love

Joy

Loss

Fear

Lust

Confusion

17

What's your favorite movie genre?

Thriller

Romance

Documentary

Sci-fi

Drama

Experimental

18

Which word can describe your personality?

Protective

Easygoing

Reserved

Committed

Emotional

Open-minded

19

Of the following options, which one is your favorite topic?

Mathematics

Geography

History

Metaphysics

Psychology

Philosophy

20

Pick the book title that intrigues you.

Anna Karenina

To Kill a Mockingbird

The Great Gatsby

Don Quixote

Invisible Man

Half Asleep in Frog Pajamas