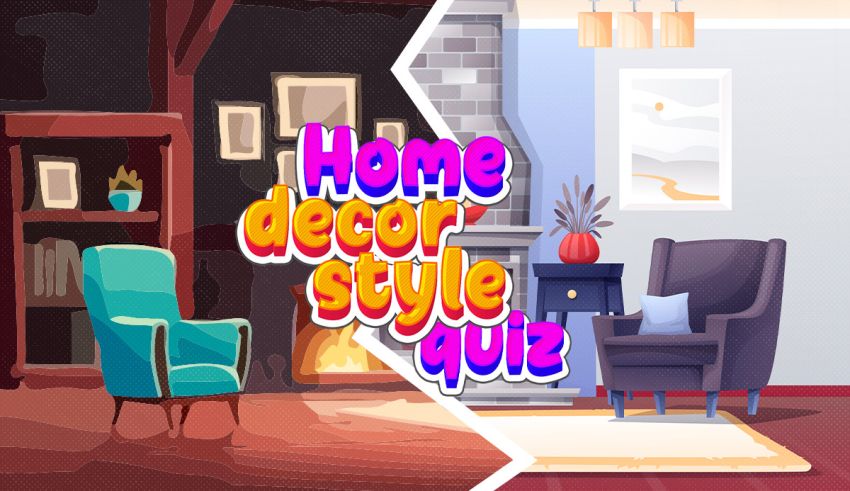 This home decor style quiz reveals the design you like and probably use in your house. Answer 20 interior decoration questions to find your dream style in 2022.
Home Décor Style Quiz Explained
It's a questionnaire that identifies what home decorating style you prefer. It could be used to understand your current interior design type and your desired furnishing.
The quiz results are based on the latest interior design survey in the US. So, you will also find out how popular your decoration is among other Americans.
| | |
| --- | --- |
| Home Décor Style | Popularity |
| Modern | 29% |
| Traditional | 23% |
| Contemporary | 15% |
| Eclectic | 13% |
| Farmhouse | 7% |
How Does it Differ from an Interior Design Quiz?
The interior design quiz helps you decide what style matches your home. But the decoration test asks questions about your current décor to figure out what style you prefer. That's the main difference between the two questionnaires.
However, it's good to participate in both because you could benefit from the two perspectives, especially if you're considering changing your furnishing.
2 Things to Know Before Determining Your Decorating Style
Christina Dennis from DIYMommy.com shares some tips in one of her recent YouTube videos. As a DIY and décor expert, she believes that you need to remember two things before analyzing or changing your interior design:
#1: Your home probably has a mixed design.
"Don't feel like you have to put yourself in a box of one [décor] style. Your most likely a mix," says Christina. Most people employ two, three, or even four different elements when furnishing their homes. And that's because it takes a design expert to create a cohesive look in all the rooms.
#2: It's okay to change your décor style over time.
Christina also adds, "We naturally change our decorating styles as we grow and mature and learn more about decorating and interior design." So, it's fine if you don't like your home's current look or feel a need to change.
Identify Your Interior Design Style in 3 Simple Steps
Yes, taking a home décor style quiz is your most convenient way of discovering your decoration type. But it's not the only one. With the following three-step guide and a bit of hard work, you can accurately determine what style(s) you're using/would like to use in no time.
Make a list of your furniture.
You need to know what pieces of furniture you have to find your décor style. Include everything you see around yourself, and don't neglect the smaller pieces. You're better off without a long, random list. So, try to divide your stuff into different categories based on their place or room.
Create an inspirational Pinterest board.
Look up the most popular home décor styles on Pinterest and save the ones you like. (It's okay to use Instagram, too). Pick the images with a similar or comparable look to your home decoration.
Compare your furniture to the images.
Finally, see which style has the most similar pieces of furniture compared to your home. Don't forget to match the colors and shapes, too. Your décor style is the same as what you see in the inspirational pictures, even though they might not be a 100% match.
Tips on Discovering Your Home Décor Style in 2022—And Beyond
You don't always need a quiz to figure out what furnishing style you're using. With the right tips and instructions in mind, you can identify any home décor type in a couple of minutes. Here are some tips by Coral Hoyt, a well-known designer.
Shop for inspiration.
Window shopping furniture could be educational. Many shops décor their space in different styles, and you could actually ask them about it to learn more.
Have a home color pallet.
Identifying your favorite colors in your house can be quite useful. And the pallet you create can reveal your dream décor style.
Create a style vignette.
According to Coral Hoyt, "A style vignette is a vignette that reflects your style. So, to [create one], I want you to look around your home and find the core pieces that you really like and believe that reflect the style you're going towards. Place these items on display on a counter or a table and take a picture of them." You can use this image as a reference for finding or creating your home décor style later on.
Take the Quiz for a Reliable Answer
Are you still wondering, "What is my home décor style?" If yes, it's time to find out the answer with unbelievable accuracy. Our quiz uses interior design questions to reveal your current furnishing type and determine your dream one simultaneously.
Disclaimer
QuizExpo is not associated with any persons or organizations mentioned in the home décor style quiz.
Questions of the quiz
Question 1

Why do you feel like you might need a home décor style quiz?

I'm tired of my current furnishing

It feels messy in my home

My décor doesn't match my mood

My home doesn't feel like a home

I'm looking for a cozy and comfortable style

Because I change my home décor style every year or so

Question 2

How do you want to feel in your home? What's your priority?

Comfortable and trendy

Relaxed and trendy

Nostalgic and accustomed

Free and creative

Cozy and calm

Sassy and luxurious

Question 3

Which one sounds like good material for interior design?

Metal

Marble

Wood

Exotic materials

Rock

Glass

Question 4

Fill in the blank. The decoration should help a house's residents __________.

Create a work-life balance

Feel connected

Have their own space

Unleash their spirit

Satisfy their needs

Feel better about themselves

Question 5

Pick your favorite color pallet.

Black, grey, white

White and green

Brown, black, red

Yellow, orange, blue

Brown, grey, black

Black and gold

Question 6

Which of these pieces of furniture could be a focal point in your living room?

Couch

Bucket

Painting

Bed

Table

Statue

Question 7

What decade's décor style do you like better?

The 2000s

The 1990s

The 1980s

The 1970s

The 1960s

The 1950s

Question 8

How should one feel after entering your house and seeing your decoration for the first time?

They should feel familiar with the whole concept

They should feel relaxed and welcomed

They should feel classy and special

They should feel at home

They should feel pleasant

They should feel surprised

Question 9

Which one sounds like a dream location for your house?

In a big city

In a small town

In a small village

Near a beach

Up in the hills

In the richest and busiest part of the city

Question 10

What inspires you when decorating your home?

Trends

Needs

Traditions

Moods

Budgets

Celebrity's lifestyle

Question 11

How much would you like to spend on your home décor style?

About $3,500

Less than $1,000

About $5,000

Around $2,000

No money at all

$10,000 or more

Question 12

How many colors do you think a well-thought interior design should have?

Question 13

What kind of lines would you like your design to have?

Horizontal Lines

Straight Lines

Diagonal Lines

Zig-Zag Lines

Circular Lines

Curved Lines

Question 14

Choose a word that describes your dream interior decoration.

Sleek

Functional

Lovely

Creative

Warm

Classy

Question 15

How would you describe your current bedroom design?

Functional

Messy

Exaggerated

Doll

Cozy

Cheap

Question 16

What is an ideal kitchen like?

It's sleek and functional.

It should have an essentialist design.

It's large and has lots of space

It's cute and friendly

It's a place you enjoy cooking at

It's luxurious and glamorous

Question 17

Should the living room have lots of furniture, or is it best to keep it decluttered?

Something in-between would be fine

It should be extremely decluttered

It should have lots of pieces of furniture

It doesn't really matter

It depends on the season

It should have lots of eye-catching pieces of furniture.

Question 18

Fill in the blank. Your need __________ furniture.

Functional

Essential

Valuable

Innovative

Antique

Expensive

Question 19

What is the most important function of a good design?

Creating a cozy atmosphere.

Helping you make the most of space.

Making the space aesthetically pleasing.

Make you feel good about your house.

Create a nostalgic atmosphere.

Create a classy look.

Question 20

Final question; which one is a better description of your personality?

Determined

Introverted

Friendly

Extroverted

Easygoing

Ambitious