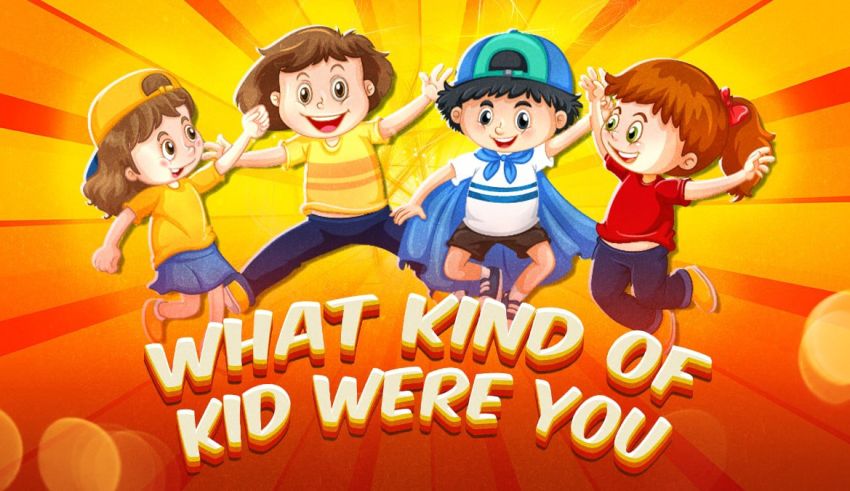 Do you wonder what kind of kid you were? This quiz reveals your true childhood persona at school and at your home.
This Quiz Reveals the Type of Kid You Were
You might be on your way to becoming a normie adult. But don't you wonder what kind of kid you were in the eyes of others? If you do, take this fun personality quiz. It has 20 questions that expose your genuine childhood persona—with hilariously high accuracy.
You may consider yourself an average kid. But were you, really? Did others see you as a normal kid, too? The test on this page has all the answers. And, spoiler alert, most people are shocked by its results.
If you're into teenager quizzes, try the Jock Nerd Goth Prep Test next. It evaluates your high school persona based on your rizz and style.
Discover Your School Kid Persona
For most of us, teenagehood was divided into two halves: Your life at home and your life at school. The good news is that this quiz exposes both. With these questions, you get to see what type of kid you were both at home and in school.
How to Know What Kind of Kid You Were?
Asking around might be the most accurate way to figure that out. But only weirdos are still in touch with their high school friends. The next best way for that is by taking the Kid Typology Quiz. It asks you the right questions and reveals what kind of kid you were—without forcing you to ask for your school bullies' analysis.
Usually, though, people have one of these personas as kids:
#1. NPC
An NPC kid is excessively predictable. All they want is to get by the school, go back home, and play video games; nothing special about them. But unlike incels and weirdos, they are not socially awkward—they just don't care about social interactions.
#2. Nerd
A self-explanatory persona, the nerd is often the teacher's pet. They are the ones who bring up forgotten homework and raise their hand to all boring questions. But nerds are also distinguishable by their unconditional love for sci-fi stuff, anime shows, and computer science.
#3. Popular Beeotch
Thanks to their above-average attractiveness, popular beeotches behave as if they own the school. They are low-key bullies who enjoy humiliating average-looking people. And they seem unable to think about anything but clout, brands, and boys.
#4. Jock
Also called a Gigachad, a jock is the overly athletic kid in school. They're all about motivational speeches, the rise-and-grind attitude, and the hustler mindset.
#5. Weirdo
Marked by their love for controversial topics, lack of social skills, strange smell, and awkward body posture, weirdos are the silent kids at the end of the class. A weirdo may never self-question, "Am I weird?" during their teenagehood. But their weirdness usually hits them during adulthood, making them wonder why they were such a strange kid.
Answer 20 Questions, Expose the Kid in You
Do you still want to know what kind of kid you were? Take this fun quiz to expose your childhood persona. The following questions analyze your current personality type to reverse-engineer your persona as a kid.
By the way, if you liked this test, make sure to check out the Princess, Slut, or Loser Quiz, too, because it has the same vibes.
Now, let's find out what kind of kid you were.
How to Play?
Playing personality quizzes is straightforward: Choose the option that's true about you—or you relate to—and select "Next." Unlike trivia quizzes, personality tests have no right or wrong answers. But the questions are in forced-choice format. The point is to push you to choose an option that makes the most sense, not the one that's 100% true. For the most accurate results, don't overthink your responses. Go with options that you "feel" are the best.
Questions of the quiz
1

Which word summarizes your childhood?

Predictable

Progressive

Strange

Tragic

Inspiring

Comical

Controversial

Irritating

2

Choose a word that describes your school lunch.

Delicious

Healthy

Creative

Tasteless

Energizing

Unhealthy AF (junk or fast food)

Luxurious

I used to snatch others' lunches.

3

What kind of video games do you (or used to) play?

Mainstream games

Sci-fi, RPG, or complicated strategy games

Indie and controversial games no one has ever heard of

Simple and relaxing mobile games

I only play shooter games

I just like online multiplayer games

I don't have time for video games

I hate video games

4

What was your parents' relationship like when you were a kid?

They loved each other

They were both focused on my upbringing

They were divorced

They were both absent. So IDK

They argued all the time

They didn't give a F*** about anything

They cheated on each other all the time

They were abusive and toxic

5

What stuff do you share on social media?

Random selfies or pictures of my pet

I post work- or school-related stuff

I post random shi* that no one gets

I post songs, poetry, or things like that

I post motivational stuff

I just share funny and random stuff

I use social media to hit on hotties

I use social media to troll people I hate

6

Which one's true about your TikTok FYP?

Lots of dance videos

Lots of informative videos

Dark, strange, and non-comprehensive

Sad, depressing, SH-vibes,

Motivational, tutorials, positive vibes

Memes, stupid jokes, Gen-Z humor

Thirst traps, hot girls/boys, dirty-mind vibes

I hate TikTok and everyone in it

7

What's your style like?

Casual

Formal or prep

Random (whatever)

Gothic-inspired

Sporty (comfortable)

Trendy

Sexy

Intimidating (gangster vibes)

8

Which one's a topic you could give an improvised lecture on?

My favorite TV show

A famous anime's timeline or lore

The origin of the dark web

Music

Sports

Memes

Bedroom stuff (naughty things)

I hate all these topics

9

What type of movies did you use to watch as a kid?

Mainstream shows

Anime

Adult shows

I wasn't allowed to watch TV

I used to watch sports channels

I used to watch teen sitcoms

I used to spend most of my time on YouTube

I hate TV shows

10

What do you think of anime?

I like some of them

I can't live without it. Anime is my life

I prefer h.e.n.t.a.i

I can't relate to anime

I think anime is for kids

I like funny anime

I like the ones with hot characters

I hate anime and anime fans

11

Favorite music genre?

Pop

K-pop

Alternative

Emo rap

Hip-hop

Whatever. I don't have a specific music taste

I like trendy stuff (Things I hear on TikTok or Snapchat)

I don't like music

12

Which one better describes your besties at school?

Normal

Intelligent

I don't have any besties

Messed-up

Strong and supportive

Funny AF

Hot and charming

Intimidating and irritable

13

What do you like about school?

Spending time with friends

Studying and learning new stuff

Watching people

Sleeping in classes

Doing sports with friends

Goofing around with friends

Picking up hot chicks or seducing attractive boys

Messing with weirdos and making fun of people

14

What's your prominent mood like?

Calm

Excited

Nervous

Sad

Motivated

Bored

Aroused

Angry

15

Fill in the blank. The first thing I check on my phone in the morning is ________.

Emails

News

Adult websites

Twitter

Fitness app

Snapchat

Instagram

My ex's social media

16

What app has the highest screen time on your phone?

Facebook

YouTube

Online forums or fandoms

Spotify

Fitness app(s)

Snapchat

Instagram

I'd rather not say

17

Which one describes your relationship with teachers?

They liked me, but it wasn't anything special

They loved me and adored every aspect of my personality

They didn't even know my name

They didn't like me and often ignored me

They admired my physique and athleticism

They liked my jokes and found me funny

I feel like many of them were low-key into me

They hated me because I hated them

18

What would it be if you could change one thing about your childhood?

I'd spend more time with my family

I'd study harder

I'd stop hiding my true identity

I'd smile more often

I'd work harder and hit the gym earlier

I'd keep in touch with my friends

I'd spend less time chasing girls/boys

I'd hurt anyone who hurt me

19

Pick the description that matches your party persona.

Shy but friendly

Awkward but talkative

Awkward and silent

Sad and irritated

Loud and uncontrollable

The star of the show (all eyes on me vibes)

Hookup addict

Street-fight enthusiast drunk

20

Final question: Which of these shows is nostalgic?

Caillou

Arthur

Teletubbies

Wizards of Waverly Place

Ben 10

Phineas and Ferb

Boy Meets World

I don't know any of these shows