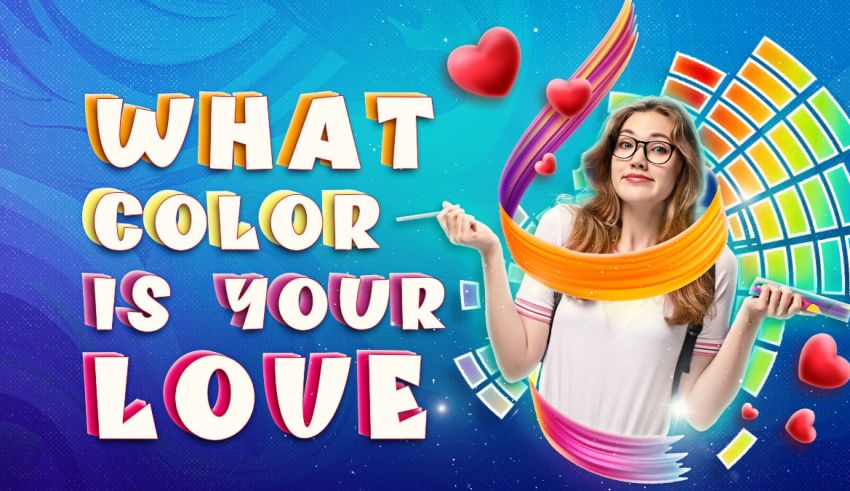 Hey, what color is your love? Take this romance hue quiz to see if your love is a passionate red or another shade.
Is Your Love Colored? What Color Is It?
Multiple studies have proved a correlation between people's personalities and their favorite colors. But did you know that love has colors, too?
In theory, your love is the same color as your personality. For instance, if you're a passionate and intense person, your romantic hue is red. But if you're a loyal and trustworthy one, it's blue.
Use the following table for a quick overview of your romance color:
| | |
| --- | --- |
| Love Color | Features |
| Red | Passion, romance, desire |
| Blue | Trust, loyalty, peace |
| Yellow | Warmth, happiness, intimacy |
| Orange | Excitement, enthusiasm, joy |
| Green | Growth, harmony, calmness |
| Purple | Luxury, spirituality, mystery |
| Black | Power, elegance, sophistication |
| Pink | Affection, tenderness, nurture |
What Do Colors Symbolize in Love?
Psychologically speaking, the color that you relate to represents hidden aspects of your personality. And when it comes to love, it can indicate how you show affection, trust, and commitment. While it's not an accurate way of analyzing one's dating personality, color profiling reveals the relationship values and priorities of a person.
Here are some common love colors and what they mean.
Red Love
The color of seductiveness and intensity, red represents passionate, romantic love that reminds you of fairy tales. Red lovers have a clear and bold love language and often find it easy to confess their feelings for their crushes.
Blue Love
As the color of calmness and trust, blue in love means commitment and compassion. Blue lovers don't give up on their relationship and are willing to build compatibility rather than find it.
Green Love
From the perspective of romantic relationships, green symbolizes peace of mind and calming energy that results in a trust-orientated relationship. Green lovers make their loved ones feel safe and encourage them to thrive in their personal lives.
If you're a green lover, we recommend you take our "Soul Color Quiz" next because it matches your spiritual vibes.
Black Love
Black in love stands for sophisticated and respectful relationships. It's the color of lovers who prioritize ration over emotion and fall in love with the ideal candidates, not the ones that excite them the most.
Yellow Love
As the color of energetic vibes, yellow means joyful and playful love. Yellow lovers are adventurous and would like to try out new things with their partners, as it makes them feel alive.
This Quiz Reveals the True Color of Your Love
Don't you ask yourself, "What color is my love?" I know it sounds like a random thought. But just imagine how cool it would be to know you and your partner's mutual hue! 😍
Think of all the crazy-romantic things you could do with that information. (I'll go first, get matching-colored PJs that remind you of the color of your love.)
All you need to do is answer the following romance questions to discover the true color of your feelings for your significant other. We promise you a super-emotional quick journey with accurate and free results.
By the way, ask your partner to take the quiz as well. It would be a blessing to know that their color of love matches yours!
Also, make sure to check out our Levels of Attraction Quiz to see how deep in love you are.
How to Play?
Playing personality quizzes is straightforward: Choose the option that's true about you—or you relate to—and select "Next." Unlike trivia quizzes, personality tests have no right or wrong answers. But the questions are in forced-choice format. The point is to push you to choose an option that makes the most sense, not the one that's 100% true. For the most accurate results, don't overthink your responses. Go with options that you "feel" are the best.
Questions of the quiz
1

What would someone need to compliment to make you feel flattered?

My passion or talent

My kindness

My energy and enthusiasm

My boldness and adventurous spirit

My calm and grounded nature

My trustworthiness and loyalty

My creativity or spirituality

My power and sophistication

2

In a word, what's love to you?

Passion

Nurturing

Joy

Excitement

Harmony

Loyalty

Compatibility

Reliability

3

How do you know when you're in love with someone?

I feel a strong physical attraction

I feel a deep sense of caring and tenderness

I feel excited and happy just being around someone

I feel a rush of excitement and adrenaline

I feel calm and safe around someone

I can trust and be loyal to someone

I feel a deep spiritual connection

I feel empowered and motivated

4

What can diminish your love for someone?

Lack of passion

Dullness

Lack of spontaneity

Lack of physical tension

Instability (emotional or financial)

Mistrust

Bad vibes

Disrespect

5

Which one better describes your anger type?

Explosive

Passive-aggressive

Avoidant

Impulsive

Rational

Constructive

Mild

Intense

6

How do you express your affection for someone?

physical and emotional signals

Caring and nurturing gestures

Playful and joyful energy

bold and exciting gesture

Calm and grounded signals

Trustworthiness and loyalty

Creative and unique gestures

Sophisticated and classy gestures

7

How do you recover from heartbreaks?

Therapy

Self-nurturing and self-compassion

Self-exploration and self-discovery

Self-growth and self-improvement

Self-reflection and inner peace

Self-forgiveness

Self-expression and creativity.

Self-empowerment and self-confidence.

8

What's one feature that your lover must have?

Passion

Kindness

Playfulness

Boldness

Balance

Loyalty

Nonconformity

Ambition

9

How would you confess your feelings to your crush?

With a bold and passionate declaration

With a heartfelt and sincere expression

With a playful and lighthearted confession

With an exciting and adventurous gesture

With a romantic and soothing expression

I'd show my feelings through actions

I'd find the most unique way to do that

I'd wait for them to figure it out

10

What types of activities are romantic?

Dancing or hiking

Romantic dinners or cozy nights in

Amusement parks or picnics

Skydiving or road trips

Nature walks or yoga

Thoughtful gestures or surprise dates

Painting or stargazing

Fine dining or spa days

11

On a scale of 0 to 10, how romantic are you?

12

How do you define flirting?

Subtle romantic cues

Teasing expressions of attraction

Fun and lighthearted interactions

Adventurous advances

Subtle physical compliments

I don't like flirting

Innovative ways of getting closer to someone

Impoliteness and lust

13

What type of physical intimacy is your favorite?

Intense

Soft and tender

Playful and fun

Exciting and adventurous

Calming

Romantic

Kinky

Respectful

14

How would you describe healthy arguments in a relationship?

Respectful disagreements

Gentle and compassionate discussions

Arguing while hugging or holding hands

Emotionally safe arguments (no judgments)

Rational arguments

Honest and constructive arguments

Short and mutually solved arguments

I don't like any type of argument

15

What's your favorite type of love?

Unpredictable (or modern)

Soft

Energetic

Mysterious

Peaceful

Faithful

Spiritual

Old-school (traditional)

16

What's the scariest thing about being in love?

Losing control

Being vulnerable

Being hurt

Taking risks

Losing balance

The fear of betrayal

Commitment

Dependency

17

In a word, how do you feel when you're in love?

Needy

Safe

Active

Excited

Calm

Committed

Inspired

Stronger

18

What's your toxic behavior in a romantic relationship?

Being possessive

Being overly needy

Being avoidant

Being impulsive and reckless

Being passive-aggressive and resentful

Being jealous

Being dramatic

Being manipulative

19

What type of people attract you?

Romantic

Nice

Funny

Confident

Gentle

Trustworthy

Unique

Successful

20

What kind of movies would you like to watch with your significant other?

Romantic dramas

Romantic comedies

Comedies or adventure films

Action films

Thrillers

Documentaries

Art-house cinema

Horror movies