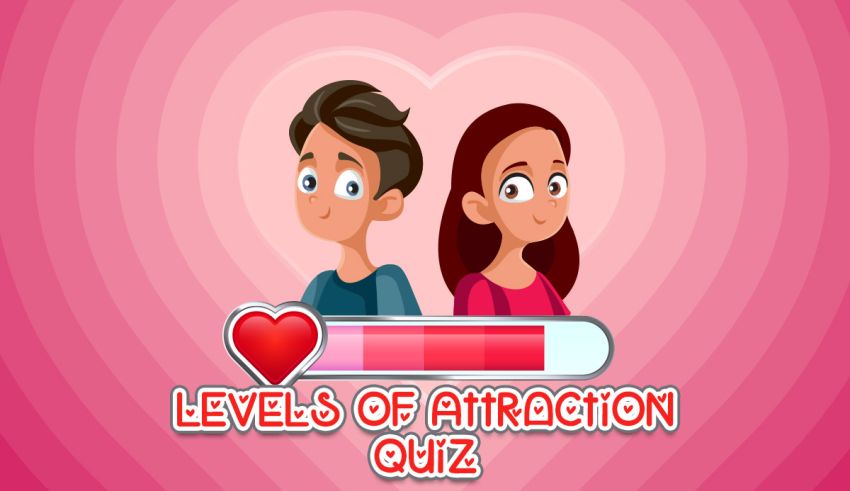 With the Levels of Attraction Quiz, you see if your crush likes you back, 100% honestly. Plus, you find out the chemistry level between the two of you.
What Is the Levels of Attraction Quiz?
Comprised of twenty romance questions, the Levels of Attraction Quiz is a crush level indicator. It identifies if and how much your crush likes you back.
The test also determines your flirting style, offering a detailed analysis of your art of seduction.
| | |
| --- | --- |
| Level of Attraction | Sign |
| High | Hugs you longer than usual. |
| Moderate | Makes eye contact when laughing |
| Low | Is reluctant to hang out with you |
| No Attraction | Avoids any interaction |
A relationship expert and psychologist, Kimberly Moffit, created the original Levels of Attraction Test. Her version had 40 questions and included professional pieces of advice. However, you had to pay a fee to access the test results.
Dr. Kimberly's work inspires the current Levels of Attraction Quiz. But it's 100% free and has no paywalls.
What Are the Main Levels of Attraction?
There are four levels of attraction in the pre-relationship stages: Your crush is either into you, has mixed feelings for you, has not noticed you, or doesn't like you.
·       Your crush might be into you.
One of the early levels of attraction has to deal with mixed emotions. In this stage, your crush either sees you as a friend or is not confident in dating you.
·       Your crush is definitely into you.
When the level of attraction is high, your crush gives off obvious signals of liking you. Basically, they find you attractive, and you can sense that through their open body language, smiles, compliments, and flirt attempts.
·       Your crush is not into you.
At any point, your crush may feel like you two are not compatible. This is when they show a lack of interest in hanging out with you or taking an interest in your personal life.
·       Your crush has not noticed you.
When your crush is not aware of you, the level of attraction is low. But this doesn't mean that they don't like you. In this stage, you have the opportunity to confess your feelings for your crush or ask them out on a date.
Who Needs the Levels of Attraction Test?
Anyone wondering if their crush likes them would benefit from the Levels of Attraction Quiz. It's a helpful self-report test that analyzes your crush to see if there's chemistry. (Note that the test is gender-inclusive and offers accurate results for all participants.)
Ready to See If Your Crush Likes You Back?
You may not be able to read your crush's mind. But with the Levels of Attraction Quiz, you get to decipher their verbal and non-verbal signals. The test reveals if they like you back with solid pieces of evidence you already have.
All you have to do is press the start button and answer 20 quick questions about your crush.
Disclaimer
QuizExpo is not associated with any of the names mentioned in the Attraction Level Quiz and intends no copyright infringement.
How to Play?
Playing personality quizzes is straightforward: Choose the option that's true about you—or you relate to—and select "Next." Unlike trivia quizzes, personality tests have no right or wrong answers. But the questions are in forced-choice format. The point is to push you to choose an option that makes the most sense, not the one that's 100% true. For the most accurate results, don't overthink your responses. Go with options that you "feel" are the best.
Questions of the quiz
1

How does your crush reply to your messages?

Their replies are causal. Like a friend

Their replies are detailed and playful

They usually talk about NSFW stuff

Their replies are short and cold

We don't text

2

Which one better describes your social media interactions?

We often exchange memes

We reply to each other's stories and posts

It's random, but they usually show up when I post selfies

They don't interact with my posts and stories

We don't even have each other's handles

3

What's your relationship like with your crush's friends?

I'm friends with most of them

They love hanging out with me

They tease me (and I don't like it)

They don't seem to like me

I don't know any of them

4

How do you react when you randomly encounter your crush?

I wave or say hi

I nod and smile

It depends on who's with them

I can't say hi because they often ignore me

I pretend I haven't noticed them and do nothing

5

How does your crush react to bumping into you?

They wave or say hi

They smile and nod

It depends on who's with me

They treat me like a stranger

They don't even know me

6

How do you feel when you're around your crush?

Excited

Slightly nervous (but happy)

Sacred or overly nervous

Sad and disappointed

None of the above

7

Which one's true about your crush's body language around you?

They touch my arm while laughing

They look me in the eye when talking

Their body language makes me uncomfortable

They rarely look me in the eye when talking to me

I don't know. I've never noticed anything specific

8

Have you ever been on a date with your crush?

Yes and no. I'm not sure if it was a date.

Yes, and it went pretty well.

No, but they invited me over

I asked them on a date, but they said no

No, we don't even know each other that much

9

How does your crush treat you when no one's around?

Nothing changes when we're alone

I feel like they're softer and more vulnerable

I feel like they make me uncomfortable

They're cold and serious

We've never been in a one-on-one situation

10

What do you usually talk about with your crush?

Random and funny stuff

Our personal lives, feelings, and plans

NSFW stuff

Work- or school-related stuff

We don't talk at all

11

How does your crush react when you talk about your struggles?

They turn into an excellent listener

They insist on helping me out

They tease me or make fun of my problems

They don't even care

I don't talk to them about my problems

12

Do your crush's friends tease them when you're around?

Not really. I'm not sure.

Yes, I think they do.

No, but they tease me a lot

No, they often ignore me

I've never been near their friends

13

Which one sounds like a better flirting strategy?

Honest compliments

Bold and confident statements

Playful and naughty stuff

Subtle and indirect compliments

I don't know

14

How'd your crush respond if you asked them out on a date?

They'd not say no. But I'm not sure

They'd definitely say yes and like the idea

They'd invite me to their house

They'd definitely say no

I have no idea how they'd react

15

Does your crush tease you?

Sometimes, yes.

Yes, and I like it.

Yes, but it makes me uncomfortable

No, not at all.

I've never talked to them

16

What do your friends think of your crush?

They see my crush as a friend

They love my crush

They hate my crush

I can't say they like my crush

They don't even know about my crush

17

Would you say your crush knows a lot about your personal life?

Not really. But they do know a lot

Yes, they know a lot about me

IDK. They don't take an interest in my personal life

No, they don't care

We've never talked

18

Does your crush open up about their personal life to you?

Sometimes, yeah

Yes, they find me a trustable listener

No, they hide everything from me

No, they're not interested in talking to me

No, we don't even know each other

19

Where do you usually meet your crush?

When hanging out with mutual friends

In a class or at work

Random places or at their house

I have to put in some effort to see them

I only met them once or twice

20

Final question: Is your crush single?

I think so

Yes, they are

They say they're single, but I think it's a lie

No, they're not

I don't know