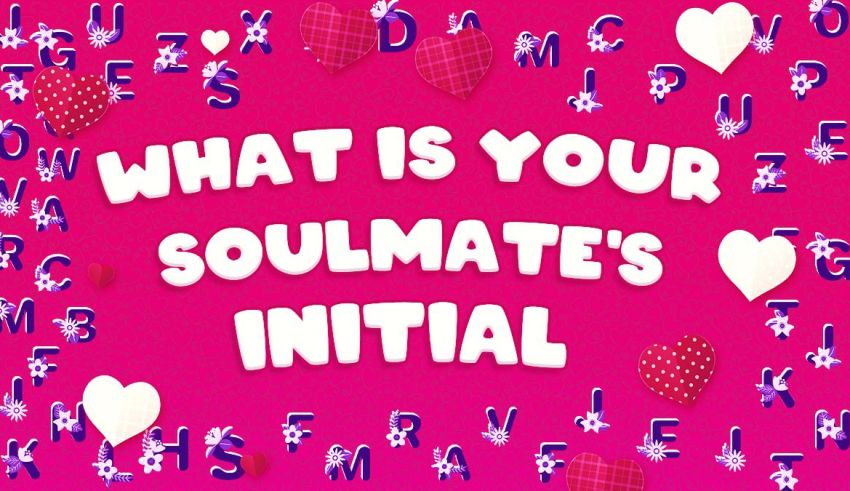 What is your soulmate's initial? Take this lover name generator quiz to find out the answer. We use your personality and zodiac sign for accurate predictions.
What Is the Soulmate Initial Quiz?
With the Soulmate Initial Quiz, you predict the first letter of your future lover's name. The test is designed to consider your personality, zodiac sign, and moon phase to determine what your partner's name might be.
How to Know Your Soulmate's Initials?
While it may seem unbelievable to guess someone's name before meeting them, there are actually non-scientific methods that people have used. A trend on TikTok emerged where users claimed to reveal soulmate initials based on the shape of their thumb. Additionally, some believe that a person's zodiac sign or date of birth can determine their partner's initials.
Let's explore the two most common approaches to uncovering the initials of your twin flame.
The Left Thumb Sign
By looking at the wrinkles on your left thumb's knuckle, you can find your lover's initial. (This might require using a magnifying glass or your phone's macro lens.) The idea originates from the TikTok trend, where people post letters hidden in their thumb wrinkles.
What Are the Most Common Soulmate Initials?
Recent statistics from Ancestry.com showed that the most common initials in the US are J, M, A, C, and S. In other words, there is a 19.23% chance that your partner's initial is J, M, A, C, or S.
On top of that, we know that the most common names in the US for boys are James, Jackson, Liam, Noah, Aiden, and Lucas. And the most common girl names are Emma, Olivia, Sophie, Elizabeth, and Charlotte. Based on that, if you're living in the US, it is probable that your girlfriend's initial would be A, while your boyfriend's initial would likely be L.
Discover Your Lover's Name Before Meeting Them!
For those looking to find their soulmate's initial, the test on this page is the ultimate solution. We ask you 15 personality questions and come up with the most accurate prediction about your lover's name.
Don't you want to know who you'll marry? Let's explore the possibilities and foresee your spouse's initials. (A little curiosity has never killed anybody, right?)
How to Play?
Playing personality quizzes is straightforward: Choose the option that's true about you—or you relate to—and select "Next." Unlike trivia quizzes, personality tests have no right or wrong answers. But the questions are in forced-choice format. The point is to push you to choose an option that makes the most sense, not the one that's 100% true. For the most accurate results, don't overthink your responses. Go with options that you "feel" are the best.
Questions of the quiz
1

What's your birth month?

September, August, or Jul

June, May, or October

April, March, or November

December or February

January

2

How old are you?

22-26

19-21

17-18

27 or older

16 or younger

3

How many breakups have you been through?

1 or 2

3 or 4

5 or 6

7 or more

None

4

What type of people attract you?

Nice

Courageous

Successful

Rich

Good-looking

5

How do you feel about your name?

I love it

Meh, it's fine

I'm not sure

I don't like it

I hate it

6

Would you say you have a common name?

Yes, it's incredibly common

It's only common in my hometown

Um, I don't know. I guess it's slightly common

It's a slightly strange name

I have a pretty darn strange name

7

What's your lover archetype?

Giver

Supporter

Explorer

Queen or King

I don't know

8

How would you describe your style?

Casual

DIY (Unique)

Trendy

Chic

Whatever

9

What is the most effective way to find a date?

Dating apps

Traveling

Bards and discos

Hanging out in luxurious places

I don't really know

10

What kind of first dates are you into?

Casual

Creative

Classic

Fancy

Can we just skip that part?

11

Which nickname could potentially suit your lover?

Babe

Bea

Baby Momma or Daddy

Sir or Ma'am (in a playful way)

I'd rather change their own name into a nickname

12

Which description matches your left thumb's knuckle wrinkles?

Lots of wrinkles

Moderately wrinkled

Not much wrinkles

One or two wrinkles

No wrinkles at all

13

Choose a word that resonates with your soul.

Peace

Journey

Romance

Money

Nostalgia

14

What's your vibe like?

Approachable

Loud and crazy

Quiet and lazy

Classy and sophisticated

IDK. It depends on who I'm hanging out with

15

Final question: What's love to you?

Commitment

Passion

Family

Serenity

Lust