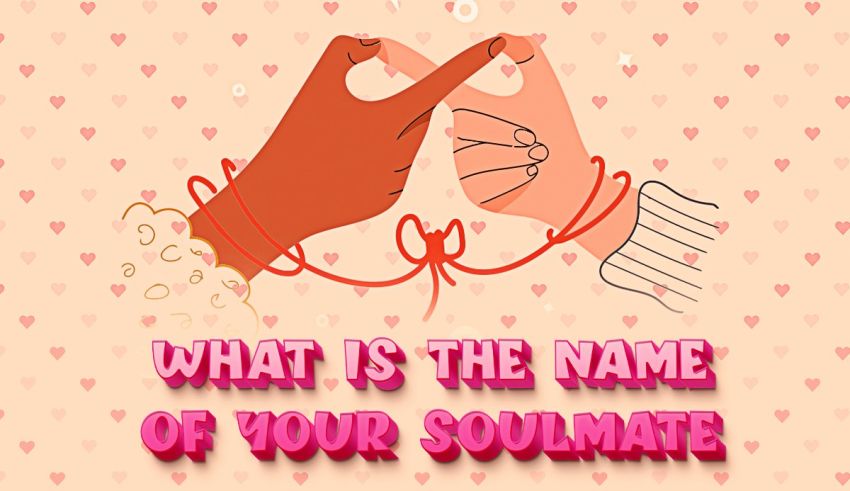 What's your soulmate's name? This romance name generator reads your soul to find the answer. Answer 20 questions about your life and personality to find out.
The Soulmate Name Quiz Explained
With 20 romantic questions, the Soulmate Name Quiz predicts your lover's name.
A soulmate, sometimes called a Twin Flame, is the person you're connected to on a deep, spiritual level. While it's often your lover, a soulmate can be a friend in a platonic relationship.
The test on this page reviews your personality, desires, and wishes to identify the name of such a person.
For another similar experience, try "When Will I Meet My Soulmate?"
Does It Matter to Know the Name of Your Soulmate?
Recent studies suggest that our names can influence our personalities and life choices. So, by knowing your soulmate's name, you might get an idea of the type of person they are—before even meeting them.
Of course, few things about the future are 100% predictable. But the soulmate name generator is a fun way to have a sneak peek at your future love life.
If you're lucky, your soulmate will have a name with positive connotations and meanings.
The Only Meaningful Test to Predict Your Lover's Name
Most other soulmate name quizzes are random title generators. They don't care about your personality and life experiences. But we've created the first test with meaningful results.
Our soulmate name generator identifies the type of person you desire to be with. And uses the information to predict their name. The results are, therefore, relatable and profound.
Your soulmate's name might be one of the following.
| | |
| --- | --- |
| Soulmate Name | Meaning |
| Alana | Precious |
| Jolie | Pretty |
| Zain | Grace |
| Nomi | Delightful |
Take the quiz for more suggestions.
Good News: Soulmate Name Generator Is Gender-Inclusive
Your soulmate doesn't have to be a man or woman. Gender has nothing to do with falling in love or connecting to people. That's why the Soulmate Name Quiz results are gender-inclusive.
You may receive a list of male, female, or unisex names. It all depends on your responses.
By the way, people like you enjoy "The Soul Color Quiz" as well. Make sure to give it a try after this one.
Discover Your Future Love's Name
You're now ready to find out your soulmate's name.
The name of your lover will reveal so much about your future. Is your soulmate 100% romantic? What kind of person are they? Are they soft-hearted or stone-hearted?
Let's find out.
The following questions will reveal your soulmate's name instantly.
How to Play?
Playing personality quizzes is straightforward: Choose the option that's true about you—or you relate to—and select "Next." Unlike trivia quizzes, personality tests have no right or wrong answers. But the questions are in forced-choice format. The point is to push you to choose an option that makes the most sense, not the one that's 100% true. For the most accurate results, don't overthink your responses. Go with options that you "feel" are the best.
How many questions does this quiz have?
20 questions
How long does it take to complete this quiz?
4 minutes
Questions of the quiz
Question 1

What makes a relationship long-lasting?

Commitment

Compassion

Communication

Attraction

Question 2

What could make a person your soulmate?

Uniqueness

Similarity

Appearance

Success

Question 3

What's your ideal partner like?

Someone who truly wants me.

Someone who supports me.

Someone attractive.

Someone respectable.

Question 4

What's a feature you always look for in a partner?

Loyalty

Generosity

Self-care

Confidence

Question 5

What type of names do you like better?

Traditional.

Cute.

Unique.

Modern.

Question 6

How do you want your soulmate to make you feel?

Safe

Respected

Special

Proud

Question 7

What's your priority in a relationship?

Planning for the future.

Enjoying the moment.

Avoiding the past.

All of them.

Question 8

How many soulmates can a person encounter in their life?

Just one.

Not many.

I don't know.

A lot.

Question 9

Which feature is a turn-on?

Physical strength.

Charming voice.

Natural beauty.

Being stylish.

Question 10

What's the best thing about finding your soulmate?

You have someone to trust with your heart.

You have someone to enjoy your life with.

You have someone to grow together with.

You have someone to help you out.

Question 11

What should be your soulmate's priority?

Our relationship.

Their own mental health.

Their physical health.

Our future goals.

Question 12

Which one is your priority in life?

Family.

Mental health.

Being in shape.

Career.

Question 13

How do you feel when you're lonely?

Scared.

Sad.

Bored.

Happy.

Question 14

How romantic are you?

Extremely romantic.

Slightly romantic.

It depends.

Not romantic.

Question 15

Which couples' activity is the most enjoyable?

Cuddling.

Cooking.

Walking.

Shopping.

Question 16

How would you show your love for your soulmate?

Hugging and kissing.

Doing favors.

Complimenting.

Buying gifts.

Question 17

How do you spend your free time?

I watch movies or play games.

I learn a new skill or read.

I sleep or spend some time on social media.

I work out or do something productive.

Question 18

What would its genre be if your life were a movie?

Romance

Drama

Comedy

Sci-Fi

Question 19

What should your soulmate do when you're sad?

Hug me and tell me it'll be fine.

Be a good lister and let me vent.

Help me forget about my problems.

Help me solve my problem.

Question 20

Final question: How old are you?