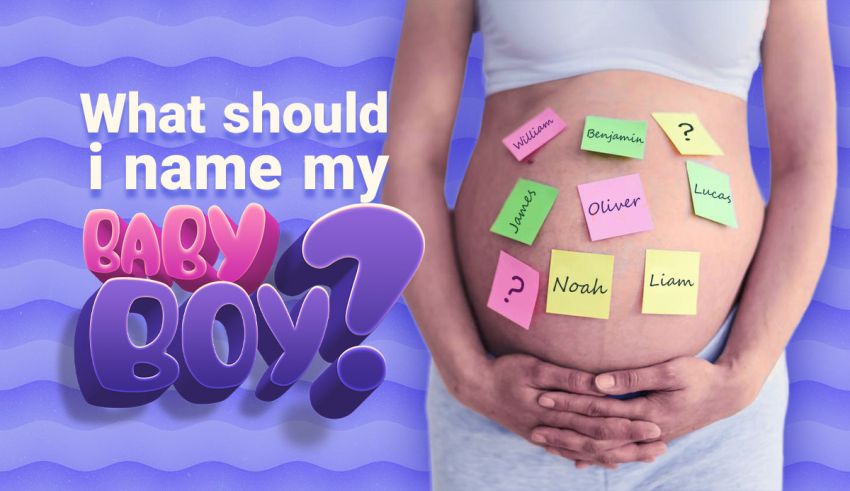 Are you going to be a parent and ask everyone, "What should I name my baby boy?" Here's a quiz that suggests names based on your interests, beliefs, and plans.
Finally; A Genuine Quiz to Decide What to Name Your Baby Boy
It's not an easy decision. You want to find the perfect name for your newborn and the options seem to be either limitless or extremely limited. Plus, you have to come up with a name that most family members are okay with. But what if we tell you there's an easier way?
The quiz on this page uses the latest findings and data to suggest a curated and customized list of baby boy names after analyzing your views, interests, and ideologies. The participants' satisfaction has been above 76% in the past few months—and we do our best to update the lists constantly.
How It Works
The 'what should I call my baby boy quiz' is a set of twenty questions about the most critical factors in choosing a name. The goal is to determine what type of first name suits your newborn son based on his parents' personalities, goals, and likes.
Unlike other online tests, we do not throw a bunch of random titles at you at the end of the test. The lists will be customized and tailored for your specific needs.
| | |
| --- | --- |
| Boy Names | Popularity in the US |
| James | 14.2% |
| Robert | 13.52% |
| John | 13.51% |
Note: The above table shows the popularity of the top three boy names in the US over the last 100 years (the source is US Social Security ).
Understanding your likes and dislikes.
For the most part, the 'what should I call my baby boy quiz' tries to figure out what type of forenames or titles you prefer. Since there are many available options out there, we focus on channeling and narrowing down your ideas to come up with the perfect choices.
Reviewing your social and cultural views.
Sociologists believe that you can predict a child's parents' education level, location, career, and even political views just by analyzing their names. So, it's crucial to think about what you want others to know about you and your family when naming your newborn kid. And that's why the quiz analyzes your social and cultural views before suggesting a list of baby boy names. We want to make sure that the recommendations match your lifestyle and traditions.
Experts Answer to, "What Should I Name My Baby Boy?"
Eleanor Turner, a best-selling author of 18 books and a dozen articles on the topic, believes that names are important. In her Ted Talk, she offers tips on things to look for when choosing the first name for your newborn. She thinks you have asked the following questions before deciding on a forename.
– Can you pronounce it just by looking at it?
– What do you want people to know about you by hearing your kid's name?
– Is the name you picked offensive or controversial?
–  What would the initials of your baby boy or girl's name be?
Based on what an expert like Eleanor Turner suggests, here are the things you should consider before asking, "What should I name my baby boy?"
Pronunciation
You may probably have heard of Elon Musk's baby's name: X Æ A-Xii. (Yes, it's impossible to pronounce). But if you want to find the best first name for your kid, one expert piece of advice is to stay away from such made-up stuff. One problem about having an unpronounceable name is that you'll probably be the only person who has it. And the Social Security Administration, which is in charge of recording all baby names used in the US, only records names that have been used at least five times nationwide. So, going with an unpronounceable, strange, unique baby name might leave your kid unrecorded.
Social validity
Eleanor Turner tells a true story of a child who couldn't get his name written on his birthday cake because of his name. He was called Adolf, and his sister was named Jocelyn Himmler. So, you have to consider what social consequences your child will face in the future because of their name.
Connotations and initials
A child named Alfred Sam Smith would probably not like it when others use his initials to refer to him. When you ask, "What should I name my baby boy or girl?" it's crucial to know that it's not all about how it sounds or looks. You have to consider the connotations, historical meanings, and even the initials.
Why You Shouldn't Pick a Bizarre Name for Your Child
Celebrities like Kanye West and Kim Kardashian started the trend of naming your kids with strange, unique forenames or nicknames. (Think Chicago and North West). But the thing is that they see their names as a part of their brand. Most people reading this post are not superstars—and that's a fact. So, you might not want to treat your baby boy's name as a part of your brand because there is no brand.
Giving your child a bizarre name may cause trouble and mental pressure in their personal life for no reason. Some even say that selfish and irresponsible parents pick such a weird name to become the center of attention—without thinking about the child's future.
How Can an Online Quiz Help Parents Asking, "What Should I Name My Baby Boy?"
It's extremely confusing to find a proper, cool, and handsome name on the internet. But not because there are no options—it's because there are too many. However, the baby boy name quiz helps narrow down the options and categorize them into manageable categories based on your likes and dislikes. It's one of the best ways of finding new ideas and analyzing proper options.
The Quiz Includes Unisex Names, too!
Some parents don't want to determine their child's gender and label them boys or girls. So, we got them covered. Our baby boy name quiz has non-gender-exclusive names and respects everyone's gender identity.
Disclaimer
QuizExpo is not associated with any of the names and organizations mentioned on the 'what should I call my baby boy quiz.' The questionnaire is created independently, and no copyright infringement is intended.
Questions of the quiz
Question 1

How do you want people to feel when hearing your boy's name for the first time?

Nothing specific

I'd like them to feel nostalgic

I want them to feel inspired

I want them to feel surprised

Question 2

Which one is the most critical aspect of a child's name?

Its pronunciation

The meaning

Its connotations

Its uniqueness

Question 3

Which word describes how you want your boy's name to sound?

Cool

Classic

Non-biased

Interesting

Question 4

Select the statement that describes your family traditions and ideologies.

We like to keep things casual.

We have strict rules and traditions.

We like everyone in our family to feel free and accepted.

We have abnormal and surprisingly unique traditions.

Question 5

Fill in the blank. Names that have __________ meanings are my favorite.

Predictable

Deep

Universal

Strange

Question 6

Imagine your boy grew up and matured. How would you describe him in your imagination?

A nice and cool guy.

A respected and successful man.

A good human being. (I don't want to label my child).

A one-of-a-kind amazing boy.

Question 7

What's the main reason you don't know what you should name your boy?

There're too many options.

We want it to be the best name possible.

We can't find a non-biased name.

The options seem so limited.

Question 8

What part of picking a baby name confuses you the most?

Its rhyme and sound

Its historical meaning

Its effect on my child's future.

Its individuality.

Question 9

If you could pick one adjective to describe your future, grown-up boy, what would it be?

Happy

Successful

Considerate

Special

Question 10

How would you describe your own name?

Familiar

Meaningful

Okay

Ordinary

Question 11

Some say that the best baby boy name is the one that has a story behind it. What do you think?

I don't think so

I like names that signify epic stories

I don't like biased or stereotypical names

Your boy will give the name a story anyway

Question 12

What's your opinion about naming a baby after famous people?

I think that's extra

I believe that's the best option.

What if your child doesn't like that person?

That makes the whole thing boring.

Question 13

What about naming your child after late family members?

Maybe

Only if the late person is well-received

Not at all

I think that's too old-school

Question 14

What's your opinion about baby boy names that are strangely unique? (Think X Æ A-Xii).

It's stupid.

It's meaningless.

It's interesting.

It's the best way of naming your kid.

Question 15

What is something about modern names that you don't like?

They're hard to pronounce

They don't have historical meaning

They are biased and gender-exclusive

They are repetitive and boring

Question 16

It's said that names only remain popular for 100 years at most. What do you think about that?

I don't mind. No one lives that long.

That's an interesting fact.

I'm glad they change.

I wish they changed sooner than that

Question 17

When picking the best baby boy name for your newborn, what is your priority?

That everyone in the family likes it.

That it represents who we are properly.

That my child will like it in the future.

That it's not going to be old-fashioned by the time he's a grown man.

Question 18

Some believe that your kid's name affects their personality in the future. Do you agree?

I don't think so.

Yes, it does.

Not at all.

I've never heard that before.

Question 19

What do you think about baby boy names of other cultures? Would you like to use them for naming your kid?

Sure, especially if they sound cool.

No, I prefer my own heritage and culture.

Only if it signifies a universal meaning.

No, I'd like to come up with my own ideas.

Question 20

Final question; which of the following words sounds appealing to you?

Super Bowl

Library

Ocean

Bumfuzzle