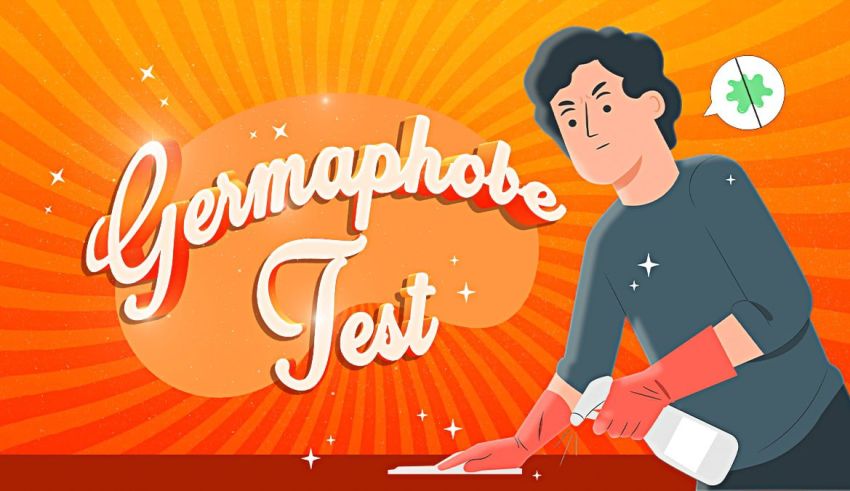 This Germaphobe Test will help you find out if you are a germaphobe or not. It's all about cleanliness, germs, and you!
The Germaphobe Test Explained
With 20 hygiene questions, the germaphobe test is a germaphobia and OCD self-assessment. It helps you self-diagnose any irrational fear of germs based on your obsessive-compulsive behaviors.
What Is Germaphobia?
Germaphobia (aka mysophobia) is an irrational fear of germs, microbes, bacteria, and contaminants. A germophobic person feels extreme anxiety and might go through a panic attack when exposed to triggers such as dirt, scars, infections, etc. As with all other types of phobias, germaphobia has false alarms: It triggers unnecessary fight-or-flight responses.
On the opposite flank of the germaphobia spectrum, there are people who love germs. Germaphile is someone who's fond of microorganisms for a peculiar reason.
What Causes Germaphobia?
While the root cause varies for each person, germaphobia is usually caused by childhood trauma, behavioral exposure, false information, OCD, or neurological factors.
Signs You Are a Germaphobe
If you constantly worry about getting contaminated, can't stop washing your hands or cleaning personal objects, and are afraid of physical interactions with other people, you are likely a germaphobe.
But note that the level of irrational fear varies from one person to another. So, you might despise germs and choose a super-hygienic lifestyle without being diagnosed with a phobia.
Generally, though, the following signs indicate you are a germophobe:
Peculiarly long and detailed cleaning routine.
Extreme anxiety and panic attacks when exposed to germs.
Avoiding dirty surfaces at all costs.
Limited physical interactions like hugs or shaking hands.
The constant fear of surrounding germs.
Isolated social and dating life.
The Truth About Germs That School Didn't Teach You
Jason Tetro, the author of The Germ Code, believes that "good germs exist." In fact, according to Jason, out of over 2 million germs on our planet, less than a thousand are harmful microorganisms. He suggests that instead of fearing microbes, we need to love them, as they keep up healthy.
Without helpful microbes, our bodies would fail to function—and our species would go extinct. An average human has 39 trillion microbes and bacteria. And every single one of them to survive.
OCD Vs. Germaphobia: Which One You Have?
Not every obsessive-compulsive disorder is triggered by germs. However, all germophobes exhibit obsessive-compulsive behaviors in regard to cleaning and hygiene. In other words, not all OCD patients have germaphobia, but all germaphobia patients have some level of OCD.
To find out if you have OCD or germaphobia, analyze the triggers. What activates your fears? If your anxiety and obsessive-compulsive behavior are solely related to microbes and invisible contaminants, then it's likely germaphobia. However, if your behavior is triggered by other factors beyond germs, then it could be OCD.
Are You Germophobic? Take the Test to Find Out
Stop asking yourself, "Am I a germaphobe?" Instead, take the germaphobia test on this page and get diagnosed immediately. The following questions identify if you just have an irrational fear of germs or if it's a totally different condition.
Hit the start button, and let's analyze 20 factors to see if you are a germophobe! 🔎👾
How to Play?
Playing personality quizzes is straightforward: Choose the option that's true about you—or you relate to—and select "Next." Unlike trivia quizzes, personality tests have no right or wrong answers. But the questions are in forced-choice format. The point is to push you to choose an option that makes the most sense, not the one that's 100% true. For the most accurate results, don't overthink your responses. Go with options that you "feel" are the best.
Questions of the quiz
1

How often do you wash your hands?

When they get dirty

I'd say I wash them more than others

Every other hour or so

I rarely wash my hands

2

Do you have a specific routine for cleaning your phone?

Not really

I might clean it with wipes

Yes, I frequently use cleaning products for that

No, I've never cleaned my phone

3

How do you feel about shaking hands with strangers?

I'm okay with it (unless you're a dirty person)

I can't say I like it

I hate it (and won't do it)

I love it, no matter what

4

Is physical intimacy a challenging aspect of romance?

No, that's my favorite part

I've some challenges regarding that

Yes, that's stopping me from dating

No, I don't care how dirty you are; I'm ready for it

5

How many hours do you spend cleaning your room?

1 or 2

3-4

5 hours or more

Less than 30 minutes

6

How would you feel about sleeping on someone else's bed?

I don't like it. But it's not a big deal

It depends on whose bed it is

I would never be able to do that

IDC. I can sleep anywhere

7

What's the worst thing that could happen after touching a dirty surface?

You'd get sick or something like that

You'd get a serious infection or disease

You'd die

Nothing! If anything, it'd make you stronger

8

Can you eat or drink from shared containers or utensils?

Only if I have to

It depends on who I'm sharing with

Disgusting! I'd never be able to do that

Sure! I do that all the time

9

Did you use to wear gloves and masks before the pandemic?

Only in specific circumstances

Gloves, no. But masks, yeah

Yes, I still wear them all the time

No, I didn't wear them during the pandemic, either

10

How often do you use public bathrooms?

When I'm at work

When I have absolutely no other options

I never use public bathrooms

All the time. They're really convenient

11

What do you do after hanging out with a sick person?

I might wash my hands

I take a shower and wash my hands multiple times

I take multiple showers and take lots of antibiotics

I don't do anything specific

12

Has your fear of germs affected your love life?

No, not really

Kind of, yes

Yes, it has ruined it

No, but my lack of fear of germs has

13

What's your anxiety level when you're in public places?

Low

Moderate

High

Not anxious at all

14

How easy is it for you to eat at a restaurant?

I care about the place's hygiene. But it's not a big deal

I can only eat at highly hygienic places

I can never eat at a restaurant

I can eat anywhere; IDC

15

Final question: how many cleaning products do you use in the shower?

2

3 to 4

5 or more

1 or none