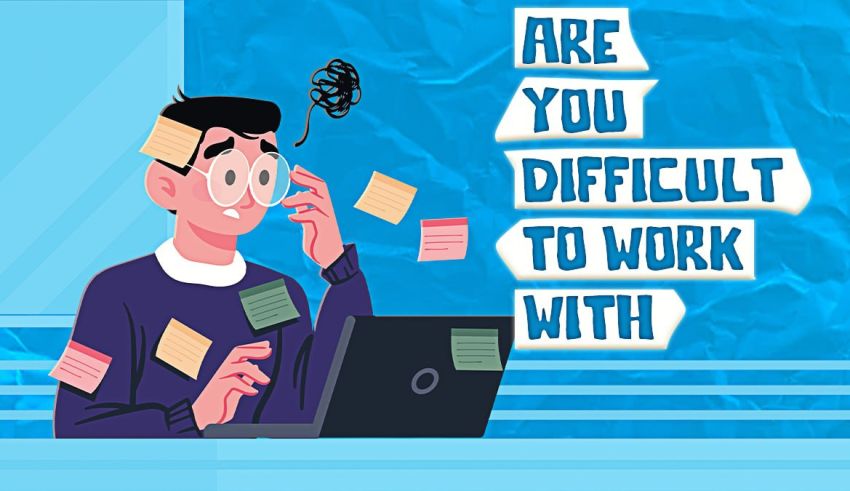 Are you difficult to work with? This workplace personality test will expose how challenging it is to be your coworker.
Who Is a Difficult Person to Work With
Generally, a person who engages in office politics, causes unnecessary drama and conflict, and hinders the work of others is considered a difficult coworker.
A difficult person at work often shows signs of inflexibility, selfishness, jealousy, pessimism, and miscommunication. But at a managerial level, challenging personalities are controlling, manipulative, and narrow-minded.
Signs You Are a Difficult Person at Work
If you show four or more of the following behaviors at work, you might be a difficult person to work with:
You're involved in conflicts. While arguments are perfectly normal in a professional environment, too much drama involving the same people is a sign of a difficult personality.
You're a stubborn worker. Excessive disagreements and inflexibility at work indicate some level of toxicity in the workplace.
You criticize everything. Constructive criticism is a must for a healthy workplace. But being too critical implies a lack of teamwork spirit.
You overreact to criticism. Difficult people at work resist feedback and take everything personally.
You can't communicate your needs. A toxic or passive communication style hinders workplace relationships and affects the entire team negatively.
You can't keep promises. Missing deadlines, being late, and making false promises are all signs of being a difficult person to work with.
You have trust issues. A difficult person can't delegate tasks or work in teams because they don't trust anyone.
You devalue the company's guidelines. Inappropriate or embarrassing mistakes at work might be a sign that you're difficult to work with.
How to Stop Being a Difficult Coworker
Empathy, emotion management, and healthy bond formation at workplaces can help you become a cooperative person who's easy to work with.
If you don't want to be a difficult colleague, follow these steps:
Request feedback. Let your coworkers point out your weaknesses and give you the opportunity to improve on them.
Become an active listener. Take a genuine interest in others and practice empathy.
Trust your team. Don't let your trust issues stop or hinder the teamwork.
Manage your emotions. Remain professional under pressure and keep your anger and stress under control.
How Difficult Is It to Work with You?
You might have your dream job and feel confident about your expertise. But that doesn't mean you're an easy person to work with. In fact, you may be a toxic coworker who's causing all the drama at work.
If you're asking yourself, "Am I a difficult person to work with?" this quiz is for you. The questions on this page reveal if you're a narcissist workmate, a manipulative colleague, or a passive and aggressive collaborator. It also reveals if it's them, not you. By the end of this difficult personality test, you may realize it's actually your coworkers or your workplace toxicity that's causing the problems.
By the way, if you're a company manager, make sure to take the "Leadership Style Quiz" next. It would expose why you're a problematic boss and what you can do about it.
Now, let's figure out how difficult it is to work with someone like you.
How to Play?
Playing personality quizzes is straightforward: Choose the option that's true about you—or you relate to—and select "Next." Unlike trivia quizzes, personality tests have no right or wrong answers. But the questions are in forced-choice format. The point is to push you to choose an option that makes the most sense, not the one that's 100% true. For the most accurate results, don't overthink your responses. Go with options that you "feel" are the best.
Questions of the quiz
1

How often do you engage in workplace arguments?

Rarely

Occasionally

All the time

My coworkers push me to engage

2

How do you react when your coworkers criticize you?

I listen to them and try to improve myself

It depends on my mood

I tell them to mind their own business

I ignore them because they're too harsh

3

How do you criticize your colleagues?

I show empathy and remain respectful

It depends on who I'm talking to

I'm frank and unfiltered

I don't. No one listens to me

4

What type of professional communication do you prefer?

Verbal and in-person

Short and non-verbal

I prefer no communication at all

Written

5

What archetype do you have at work?

Team player

Hidden gem

Solo fighter

The caretaker

6

How do you deal with your deadlines?

I'm always on time

I'm usually on time

I can never meet the deadlines

I can't deal with them. My manager keeps changing them

7

Do you trust your workmates?

Yes, absolutely

Not really

Not at all

They don't trust me

8

Which strategy is best for getting promoted?

Hard work

Communication skills

Office politics

IDK. I'll never be able to get promoted

9

How do you manage work overloads?

I talk to my manager

I ask for a coworker's help

I delegate the work to someone else

I don't. That's one of my main struggles

10

Do you feel alone at your workplace?

No, I feel like I'm a team member

Kind of, but I don't care

Yes, I don't like anyone at my workplace

I think no one likes me. So, yeah

11

How is your relationship with your workmates outside work hours?

We hang out like friends

I hang out with a few of them

I intentionally avoid them

I think they avoid me

12

Do you love your job?

Yes, I love my job

Maybe; I'm not sure

No, I hate it

I'm a bit confused

13

Do you like the team you work with?

Yes, I love them

I like some of my coworkers

I hate all of them

I do, but they don't seem to like me

14

On a scale of 0 to 5, how good of a team worker are you?

5 (I love teamwork)

3-4 (Meh)

0 (Solo worker)

1-2 (Not the best teammate)

15

What do you think about workplace gossip?

I despise it

It depends on the topic

I love it

I've been a victim of it

16

How would you react if you witnessed mistreatment at your workplace?

I'd report it

It depends on the situation

I'd mind my own business

I'd do nothing because no one cares

17

Be honest; do you care about your company's guidelines?

Absolutely

Kind of, yeah

I care about the ones that make sense

I do, but others don't

18

Would you call yourself an optimist or realist teammate?

Optimist

Realist

Pessimist

Visionary

19

How do you feel about deadline changes?

I try to cope with changes

It often puts me off

I complain to my manager

It happens so often that I'm numb to changes

20

Final question: Are you good at following orders?

Yes, I usually am

It depends on the order

No, I hate receiving orders

I used to be good at it. Not anymore