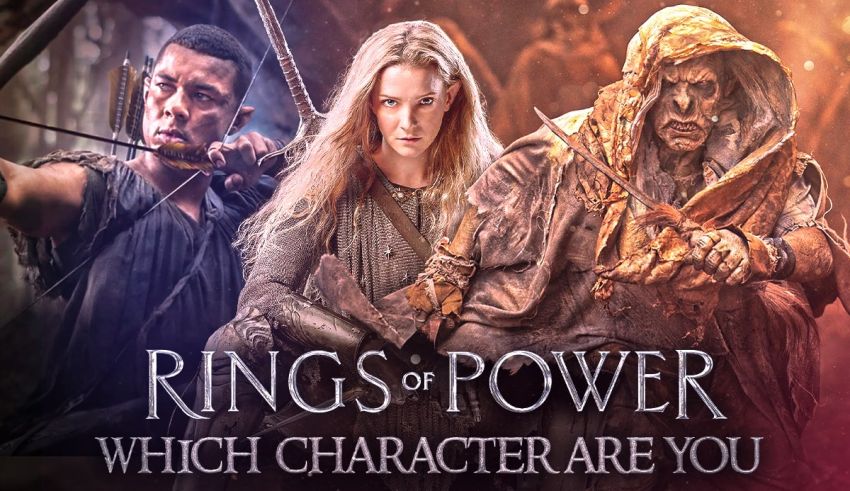 This personality quiz discovers which the Rings of Power character you are. Are you Galadriel, Arondir, Halbrand, or else?
The Rings of Power Personality Quiz Explained.
It's a 20-question test to reveal which of the TROP characters is similar to you.
The Rings of Power is Amazon Prime's adaptation of Tolkien's Lord of the Rings and explores the second age in Middle-Earth.
There are currently over 18 characters in the show. And the quiz helps you discover the one resembling your personality.
Find Out Your TROP Character with an MBTI Test
Mayer-Briggs Type Indicator is the most reliable method to compare your personality with the fictional characters of the Rings of Power.
Our quiz exposes your MBTI through psychological questions with a Lord of the Rings theme. Then, it compares your type with that of the show's cast to unveil the perfect match.
Note that all other quizzes are interest-based. They suggest similar characters based on your likes and dislikes, which is an inaccurate process.
The following is a table of the primary characters' personality types.
| | |
| --- | --- |
| Character | MBTI |
| Galadriel | INFJ |
| Arondir | ISTJ |
| Halbrand | ISTP |
| Bronwyn | ESFJ |
| Elanor | ENFP |
| Tar-Míriel | ENFJ |
| Gil-Galad | ISTJ |
Canon and Non-Canon Characters Included
The TROP character quiz covers both original and canon personalities.
Aside from canon characters like Galadriel and Elrond, Amazon's the Rings of Power introduces a handful of non-canon characters: Arondir, Bronwyn, Disa, Halbrand, Elanor, and Theo, to name a few.
How to Know Which the Rings of Power Character You Are?
Reading the Rings of Power's character descriptions helps you find your counterpart in Middle-Earth.
Here are the four main characters' descriptions.
#1. Galadriel.
Unlike Peter Jackson's version, Galadriel's personality in the Rings of Power is not fully molded. She's strong, independent, and brave. But the young Galadriel is also stubborn and vengeful.
#2. Arondir.
A newly introduced Elf, Arondir is watchful, protective, and thinking. As an ISTJ, he's also introverted and judging, making him an excellent watchman.
#3. Elanor.
Another non-canon character in TROP, Elanor is adventurous, inquisitive, resolute, and curious.
#4. Halbrand.
Not much is known about Halbrand's personality. He's a secretive and mysterious character whose sarcastic remarks bare important messages.
Heads Up: You Might Match the Bad Guys!
The Rings of Power character quiz is able to distinguish good from evil. So, your responses might lead to matching a monstrous creature or a heartless human.
In the lands of Middle-Earth, where darkness creeps in silence, not every creature is good. Some are as evil as Sauron himself. And you, my friend, might be one of them.
Take the Quiz to Meet Your Middle-Earth Match
Hardcore LOTR fans might be like, "Which character am I?" after watching the first few episodes of the new spin-off.
The good news is that you already have the answer: take the TROP character quiz to see which Hobbit, Elf, or Human looks like you.
Disclaimer
Amazon Prime owns the images in the Rings of Power Quiz, and QuizExpo intends no copyright infringement.
Questions of the quiz
Question 1

What would you do if Sauron killed one of your loved ones?

I'd pray and ask for god's help.

I'd seek revenge no matter what.

I'd ensure my other loved ones are safe.

I'd try to figure out why he did that.

I'd mourn and move on.

I'd build their statue to honor them.

I'd get myself a Ring of Power ASAP.

I don't know what I'd do.

Question 2

Which one could be your dream occupation if you lived in the Rings of Power universe?

Farmer

Hunter

Soldier

Scout

Queen

King

Treasure Hunter

Spy

Question 3

A Snow-Troll is about to attack a kid. How do you react to that?

I yell and ask for help.

I throw a stone at the Snow-Troll.

I shield the kid with my body.

I climb a tree and try to distract the monster.

I'd ask the monster to leave.

I'd grab a stick and attack the monster.

I'd run away or hide.

I don't know. It depends.

Question 4

Which one is your favorite location in TROP?

Khazad-dûm

Númenor

Tirharad

Forodwaith

Ost-in-Edhil

Lindon

None of them.

I don't know any of them.

Question 5

What's the best strategy to deal with Sauron?

Staying away from him.

Fighting him.

Hiding from him.

Finding his weaknesses.

Learning magic.

Building an undefeatable army.

Joining him.

I don't really know.

Question 6

What would you use it for if you had a Ring of Power?

I'd never use it for anything.

I'd use it to kill the bad guys.

I'd use it to protect my family.

I'd use it to explore the Unseen World.

I'd use it to talk to the dead.

I'd use it to build an advanced empire.

I'd use it to become an invincible warrior.

Meh. I don't know.

Question 7

You see a burning object falling from the sky. What's your next move?

I take my family to a safe place.

I grab my sword and prepare to fight.

I tell everyone to evacuate the city.

I go check it out alone.

I skim old books to see if it's a sign.

I go check it out with a group of people.

I run away.

I don't know. It depends.

Question 8

What's the most challenging thing about living in Middle-Earth?

Dealing with the monsters.

Becoming a respected warrior.

Protecting your loved ones.

Deciding what's right and wrong.

Resisting the temptation of power.

Fighting the Orcs.

Not having a Ring of Power.

Meh, IDK. I've never been to Middle-Earth.

Question 9

Choose a weapon.

Shield

Sword

Arrow

Dagger

I don't like weapons.

Spear

Poison

I can't decide.

Question 10

What would you prioritize if you were a king or queen?

Feeding poor people.

Destroying the Orcs.

Building defensive walls.

Exploring other lands.

Civilizing my land.

Uniting all other lands.

Looking for Rings of Power.

I wouldn't want to be a king or queen.

Question 11

How would you describe Númenor?

Heaven.

The land of cowards.

The promised land.

The land of wonders.

The land of great kings.

The land of true warriors.

The land of liars.

I don't know what or where it is.

Question 12

How would you feel if you encountered Sauron?

Scared

Enraged

Cautious

Curious

Strong

Calm

Excited

Numb

Question 13

You saw a wounded Silver Elf in the woods. What now?

I take them home and heal them.

I ask them what happened and who did it.

I scan around before approaching them.

I secretly watch them to ensure they won't hurt me.

I give them some food and water and then leave.

I help them find their fellow soldiers.

I mind my own business and leave them alone.

Meh, it depends.

Question 14

What are your thoughts on the Unseen World?

It's a scary realm.

It's not a scary place.

I'm not interested in "seeing" it.

I'd love to see it.

It's already described in the books. I don't need to see it.

All the living should be banned from entering this world.

It sounds like a peaceful and fun place.

I don't know what or where it is.

Question 15

What would you do if you came across a wounded lonely Orc?

I'd give it some food and leave.

I'd put it out of its misery.

I'd ensure there are no other Orcs around.

I'd try to talk to it.

I'd ignore it and move on.

I'd take it captive.

I'd torture it.

IDK. It depends on my mood.

Question 16

Of the following LOTR characters, which one is your favorite?

Frodo Baggins

Legolas

Aragorn

Gollum

Arwen

Boromir

Bilbo Baggins

None of them

Question 17

Random question: how would you rate the Rings of Power? (10 means it's perfect).

10

8-9

6-7

4-5

3

2

0-1

I haven't watched it yet

Question 18

What movies do you like other than LOTR?

Fantastic Beasts

Star Wars

Mummy

Harry Potter

Narnia

Avatar

Star Trek

None of them

Question 19

Choose one of the symbols or objects that you relate to.

Water

Sun

Tree

Magnifier

Crown

Sword

Ring

None

Question 20

Final question: How old are you?

14 or younger

15-17

18-20

21-24

25-29

30-35

36 or older

I'd rather not say.