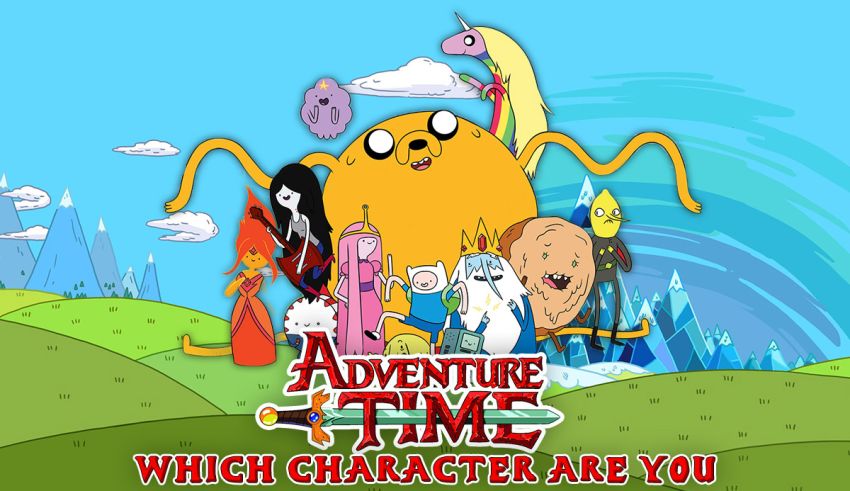 This quiz has an accurate answer to the question which Adventure Time character are you? It matches you to Finn, Jake, Marceline, Princess Bubblegum, or others.
A Chaotic Adventure Time Character Quiz
Watching a crazy show like Adventure Time might make you go, "How would I look like in such a weird world?" And that's why the quiz on this page exists. It's specifically designed for fans and viewers who wonder which character is similar to them.
We have already created several TV & movies quizzes. But this one is unique thanks to the strange and mind-bending plot of Adventure Time. We did our best to keep the questions as hilariously unbelievable as the show's episodes.
But if you're interested in cartoon personality tests, you should also check out our BoJack Horseman Character Quiz, which is as entertaining as the one you're about to take.
Find out which character you are.
The premise of the Adventure Time personality quiz is to match your personality to that of the show's main characters. So, the big question is, "Which of the Land of Ooo creatures do you represent in real life?" To do so, we have already created detailed profiles of all the famous adventurers. And your responses will help us figure out your perfect match in no time.
Discover your best friend in the Land of Ooo.
Most participants are like, "I want to know what I as an Adventure Time character could look like?" The good news is that you get the answer by taking the quiz. However, that's not all we offer. One of the perks of participating is finding out what other character could become your bestie. Not only will we match your profile to that of the adventurers, but we will also look for the best candidates for becoming your #1 companion.
See what species you belong to.
Fans already know how complicated the universe of Adventure Time is. You come across many strange species like Elementals, Candy People, Pubs, MOs, and even vampires. However, a cool feature of the quiz allows you to discover what species you'd belong to if you and the actual character of the show. (This has never been done before, and we'll use your profile to determine the species).
And get your personality analyzed.
There's a lot to reveal about a person who asks, "Which Adventure Time character am I?" That's why our quiz results include a brief (but profound) breakdown of your persona. The goal is to explain why you matched a specific adventurer and what it means.
How to Know Which Adventure Time Character You Are
Taking a genuine online quiz is the best method. But not all fans would like to do that. So, here's the alternative way, which requires lots of effort. If you want to find your perfect Adventure Time match, you need to read the character description of the protagonists. You have to know what each character's personality is like before deciding which one you relate to most.
The following descriptions might come in handy if you want to go manual and find your match independently.
#1. Finn Mertens
As the show's protagonist, Finn is everything you want to see from a hero. His strong sense of right and wrong turns him into a genuinely lovable and trustworthy boy. But he's rather simple-minded and might be impulsive at times. Finn's character gradually develops, becoming less of an idealist as the story progresses.
If you ask the fans, "Which Adventure Time character are you?" many would pick Finn over others. That's because he's brave, nice, selfless, and relatable.
#2. Jake the Dog
Despite being too laid-back for being a dog, Jake is a true friend. He's always there for Finn and never hesitates to offer reliable pieces of advice to him—although sometimes, he just talks nonsense. Jake has weird habits like writing backward (probably because he has dyslexia) or making inappropriate jokes at the wrong time. But overall, he's a reliable, responsible, and levelheaded friend.
#3. Princess Bubblegum
Despite her polite, naïve, and kind personality, Princess Bubblegum seems to have a twisted side, too. She's usually all bubbly and lovely. But in some episodes, we see her doing somewhat controversial things, such as cutting some innocent creatures' legs for some reason.
#4. Marceline
She's not your usual vampire. This red-stuff-consuming creature is a musician who doesn't like violence. However, just like Princess Bubblegum, she has some rather twisted sides, too. In the series, we also realize that Marceline is quite emotional that she cannot let go of her Teddy bear.
| | |
| --- | --- |
| Character | Age |
| Finn Mertens | 12 |
| Princess Bubblegum | 19 |
| Jake the Dog | 40s |
| BMO | 1000+ |
| Marceline | 1000+ |
What about other characters of the show?
The Cartoon Network's hit introduced hundreds of memorable creatures and species in its ten seasons. So, it's not an easy task to discover which Adventure Time character you are on your own. That's why we recommend taking the personality quiz instead. You can finish the whole questionnaire in less than 5 minutes and receive your accurate results for FREE.
What's the Point of Taking an Adventure Time Personality Test?
The point is to see yourself from a completely different point of view. It might sound like a silly thing to ask, "Which Adventure Time character am I?" But the truth is that matching a specific weird personality actually reveals so much information about you—and the type of person you are.
For instance, our data shows that people who match Finn tend to be heroic and spontaneous. That's while those similar to Marceline often struggle with depression or general anxiety.
Disclaimer
QuizExpo does not own any of the images used in the 'which Adventure Time character are you quiz.' Warner Bros. owns all the said pictures. No copyright infringement is intended. Please, contact us with any concerns.
Questions of the quiz
Question 1

If you had a weapon that could destroy an entire planet, how would you use it?

I'd destroy the weapon immediately.

I would use it to create law and order.

I'd use it to prank politicians and scare them.

I'd use it to destroy any planet that threatens mine

I'd use it to become the king/queen of the planet

I would use it to destroy all planets

Question 2

What's something about the Adventure Time characters that you love most?

Their motivations

Their relationships

I like the characters' emotional sides

I like their inner growth

I think their twisted personalities are adorable

I don't like anything about them

Question 3

If you could change something about the Adventure Time plot, what would it be?

I'd add more action scenes

I would show interpersonal stuff

I'd add a musical theme to some episodes

I'd make it more tragic and real

I would like to turn it into an adult show

I'd change everything about it

Question 4

Imagine Jake and Finn are arguing over something stupid. How would you react to it?

I'd ask them to stop

I'd help them communicate instead of fighting

I'd try to figure out who's right

I'd threaten both and make them stop

I would watch and enjoy

I'd engage and argue with them for fun

Question 5

Would you like to have a time travel machine? Why?

No, I'm okay with being present

No, I think it's too much a trouble

Yes, because I'd like to see my late relatives again

Yes, because it would be so much fun

Yes, because it'd help me conquer the whole planet

Question 6

What's so cool about being a character in the Land of Ooo?

There are always some new adventures

The friendships are real

You can express your true self

You get to meet some weirdly cool people

You can manipulate stupid characters and become their king or queen

There's nothing cool or fun about living in that universe

Question 7

Which one sounds like how your friends would describe you?

Righteous

Reliable

Emotional

Weird

Twisted

I don't have any friends

Question 8

How would YOU describe your friends?

Trustworthy

Lovely

Cruel

Complicated

Stupid

I don't have any friends

Question 9

If you were Finn's bestie, how would you help him deal with all the unexpected adventures?

I'd join his adventure

I'd listen to him and offer advice

I would support him emotionally

I could become his wingmate

I'd sleep with him to keep him motivated

I'd never actually want to be his bestie

Question 10

What's the best way of fighting villains like the Lich?

An all-out war

Negotiation is the best technique

Using spies and secret missions

Defense is the best form of attack

Executing everyone who's related to him

You could never defeat the Lich

Question 11

Imagine you're the last human on the planet. How would you spend the rest of your life knowing that?

Trying to find other humans

Enjoying my time on earth in peace

Crying and wishing to be dead

I'd probably be talking to my imaginary friends

I'd break in into houses and have fun

I'd love to be the last person alive

Question 12

Which of the following Adventure Time species do you relate to?

Humans

Pubs

Vampires

MOs

Oozers

Demons

Question 13

What kind of career would you like to have if you lived in the Land of Ooo?

Schoolteacher

Sports coach

Musician

Inventor

A rich person's spouse

I wouldn't want to have any specific career

Question 14

Of the following characters, which one do you like the LEAST?

Marceline

BMO

Jake

Finn

Marceline

I don't like any of them

Question 15

How would you explain the show's plot in one word to a friend who has never watched it?

Epic

Cute

Emotional

Weird

Twisted

Stupid

Question 16

Which statement describes your personality better?

I'm never afraid of responsibilities.

I'm always there for people, no matter what.

Sometimes, I can't even understand myself.

I'm not a regular person. Everyone knows that.

I'm unpredictable. You can never say you know me.

I don't like being around people.

Question 17

Which one should be a good human being's priority?

Making the world a better place.

Caring for their family and friends.

Spreading love

Protecting the weak

Being the best at everything possible

There's no such thing as a good human being

Question 18

What's your predominant mood?

Optimistic

Grateful

Sad

Anxious

Numb

Angry

Question 19

What's something about the Adventure Time series that you don't like?

I don't like that the episodes are too short.

Some episodes were too harsh, and I don't like that

I don't like that it's a kids' show

I don't like that it's sometimes too complicated

I don't like that it's too predictable

I don't like anything about the show

Question 20

Final question; how old are you?

16 or younger

17-19

20-25

26-29

30 or older

I'd rather not say