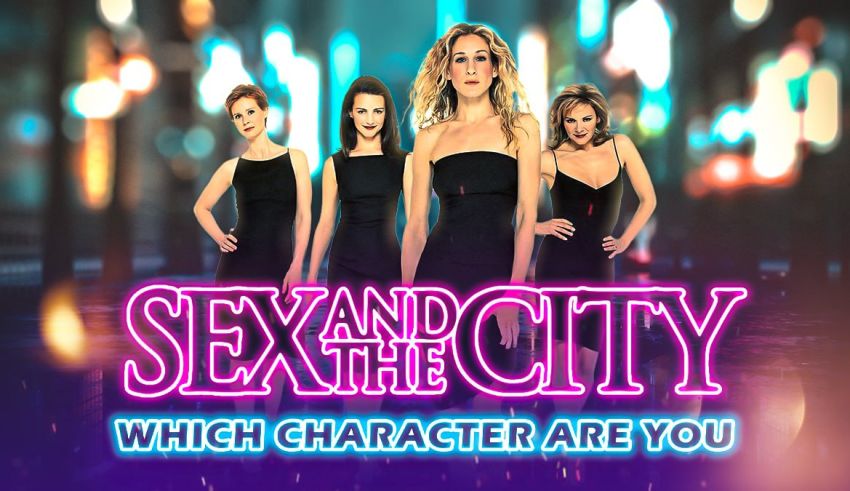 This quiz is inspired by Candace Bushnell's novel to reveal your Sex And The City character. Are you Miranda, Carrie, Samantha, Charlotte, or else?
Sex And The City Characters That You Might Be
You're either the character that you relate to or the one that you envy. But when it comes to a show like Sex And The City, things are much more complicated. The characters evolve and grow so drastically that you think to yourself, what would I do if I were Carrie—or maybe Samantha, Miranda, or Charlotte?
When I binge-watched the first three seasons of SATC, I couldn't figure out which character I resembled the most. Some people might say I give off Miranda vibes, but I wasn't sure if that was true. So, I decided to find the real answer—and help others discover their match—by creating a genuine Sex & The City Personality Quiz.
If you want to know which of the main gals you are, just read the following descriptions. (You are the one that makes you nod a little and go, "Well, that sounds familiar.")
Carrie Bradshaw
As an adventurous columnist, Carrie is a creative, daring, and romantic protagonist of Sex And The City. She enjoys exploring new ideas and seeing life through different lenses, almost like a classy food critic looking for the best dish in the world.
Samantha Jones
A seductive woman, Samantha is a liberal woman at ease with her sexuality. She, like Carrie, relishes new experiences. However, unlike most of her friends, Samantha is also willing to take the risk, stepping into the dark whenever she feels intrigued enough.
Miranda Hobbes
Miranda is cerebral, reliable, and righteous. As a friend, she's mostly the voice of the reason, trying to talk her loved ones out of stupid choices. But despite her normie persona, she later discovers a more adventurous side to her that wants to live life to its fullest.
Charlotte York
Seeking stability in love and friendship, Charlotte is the old-school persona of a traditionalist woman in Sex And The City. She doesn't want the Hollywood Glimmer in her life. Instead, what she wants is a rustic household assembled with commitment and passion.
This Quiz Reveals Your SATC Persona—With MBTI!
Okay, maybe reading the brief character descriptions of Charlotte, Carrie, Miranda, and Samantha won't help you find your perfect match. What now? Don't panic. My personality quiz has got your back.
The Sex And The City Quiz on this page reveals which character you are after analyzing your MBTI—and comparing it to those of the original cast.
If you're too impatient to wait for the test results, flick through the following table and see which girl is your doppelganger.
| | |
| --- | --- |
| SATC Character | MBTI |
| Miranda Hobbes | ISTJ |
| Carrie Bradshaw | ENFP |
| Samantha Jones | ESTP |
| Charlotte York | ISFJ |
Bonus: "And Just Like That" Characters Included
You can't be a fan of Candace Bushnell's best-seller and not know of And Just Like That. But I'll go over it anyway. AJLT is the revival or reboot of the original Sex And The City, currently renewed for a third season on HBO.
As for the good news, my SATC Test includes some of the notable and beloved characters from this reboot as well. So, basically, you might match Seema Patel, Dr. Nya Wallace, Lily York—and maybe even Che Diaz (though they were not that popular in the first season).
Find the New Yorker in You Today
For all the guys and gals still wanting to discover their Sex & The City personality, you're on the right page. My 20-question quiz will expose your inner New Yorker (with a tad of inspiration from Darren Star's show).
Since you're here, I'd also recommend checking out our other classic, "Which Pretty Little Liar Character Quiz." It takes you back to the good old days of young-adult drama.
Disclaimer
QuizExpo does not own images used in the Sex & The City Quiz and intends no copyright infringement. HBO owns all the said pictures.
How to Play?
Playing personality quizzes is straightforward: Choose the option that's true about you—or you relate to—and select "Next." Unlike trivia quizzes, personality tests have no right or wrong answers. But the questions are in forced-choice format. The point is to push you to choose an option that makes the most sense, not the one that's 100% true. For the most accurate results, don't overthink your responses. Go with options that you "feel" are the best.
Questions of the quiz
1

Which one is a better word to describe your fantasies?

Predictable

Innocent

Classic

Wild

Unpredictable

2

What's your relationship with your hometown like?

I love it like an old friend that I don't see very often

Meh, it's not that deep of a relationship

I love every bit of it like it's my lover

I don't like it all that much

Honestly, I hate it

3

What's love to you? (If you had to describe it with only one word.)

Compassion

Decision

Commitment

Lust (only the kind with signed papers)

I'm still figuring it out

4

What's your friend archetype?

Supporter

Advisor

Parent (or older sibling)

Adventurer

Weirdo

5

What kind of lover are you?

Passionate

Loyal

Protective

Seductive

I don't know

6

If you were a Sex And The City character, what would your nickname be?

Angel

Sloth

Mommy or Daddy

Baddie

Mystigue

7

How do you recover from a tough breakup?

I go to therapy

I ask for the help of friends and family

I pray or go on a spiritual journey

I just drink and screw around

I just pretend I'm fine and carry on

8

What do you have to say about your ex?

I wish them the best

I was so darn stupid to date them

I miss them so much

I'm sure they miss me

I'm sorry

9

Fill in the blanks. Me in the bedroom is _________.

A true love-maker

A boring show

A shy and innocent pal

A fire you can't handle

A professional

10

Are you at ease with your sexuality?

I think so

Not really

Not at all

Yes, sure

Me? Yes. Others? No

11

What's your style like?

Trendy

Casual

Formal

Chic

I have my own unique style

12

What kind of parent are you (or would you be)?

Friendly and supportive

Overprotective and nervous

Strict and rule-oriented

Casual and liberal

I don't want to be a parent

13

What's your priority in a long-term relationship?

Communication

Respect

Loyalty

Sexual tension

Tolerance and acceptance

14

How would you keep your long-term relationships fun?

Couples therapy

Going on trips and having date nights

Getting married and having kids

Lots of S.E.X.

I don't think I'll ever be able to do that

15

How would you describe your dating personality?

Present (I'm attentive and confident)

Awkward (I'm really bad with first dates)

Shy (I can't say a word before they break the ice)

Naughty (I can't stop teasing my date)

Funny (I make you laugh from the get-go)

16

Which SATC season is your all-time favorite?

First one, obviously

Second and third seasons

Fourth season

Fifth and sixth

I prefer the reboot (And Just Like That)

17

What would its title be if your life was a Candace Bushnell novel?

I Deserve Love

Change Me

Darling, I Will Miss You

California Is Too Hot

They Won't Get Me

18

What happens when you drink too much?

Well, I throw up

I'm in bed for like two days

I say lots of things that I shouldn't

I become overly sexual, to say the least

I become ten times funnier

19

What did you think of the first two seasons of And Just Like That?

It was okay

I can't say I like it

I prefer the original show

I liked the second one better

I loved it. It's an incredibly fun show

20

Final question: What's your toxic trait?

Procrastination

Hiding my emotions

Overprotectiveness

Carelessness and irresponsible decisions

Aggression