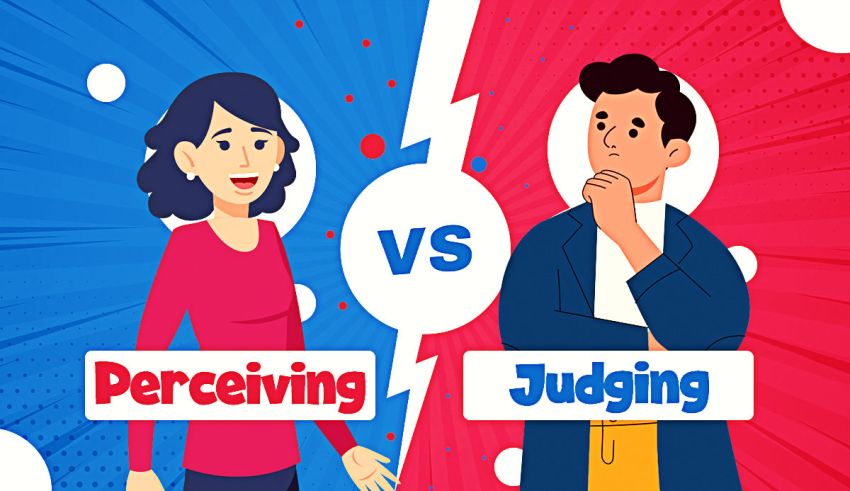 The Judging vs. Perceiving Test determines if the last letter in your MBTI type is J or P. Give it a try if you're asking yourself, Am I judging or perceiving?
What Is a Judging vs. Perceiving Test?
It's a personality questionnaire focused on the final dichotomies in one's Myer-Briggs personality type. Designed in self-report format, the Judging vs. Perceiving Test allows the participants to discover if their MBTI type ends in J or P.
For a better analysis, you can also take the Thinking vs. Feeling Test. It could determine if you are a Te-Fi or Fe-Ti.
How does it differ from the MBTI test?
Myer-Briggs Type Indicator test overviews all aspects of your personality to categorize you into 16 possible outcomes. Whereas, the Judging vs. Perceiving Test focuses on one aspect: mental functions.
Defining a Judging Person
A Judging person (also known as a Judger or J) is an individual who seeks a sense of control in everyday life, makes a plan and follows through with it, prioritizes making decisions, finishes every task before the deadline, and can only have fun after getting the job done.
Judgers show their decision-making skills and are either Thinking or Feeling. So, they might seem to be action- or goal-oriented as well as natural go-getters.
Defining a Perceiving Person
A Perceiving person (also referred to as Perceiver or P) is a flexible and spontaneous individual who goes with the flow, doesn't feel a need to be in charge of everything, prioritizes gathering information instead of making quick decisions, and is capable of blending work and fun.
Perceivers are likely to demonstrate their info-gathering capabilities in a social environment or when analyzing a situation.
| | | |
| --- | --- | --- |
| Type | Function | Decision Basis |
| Judging | Thinking or Feeling | Priority |
| Perceiving | Sensing or Intuition | Information |
This Is How the Test Works
The Judging vs. Perceiving Test analyzes your mental functions in fake scenarios and understands your judging axes to declare which of the final dichotomies of MBTI type (i.e., J or P) you have.
Unlike other personality questionnaires like the Enneagram Test, it considers specific aspects of your character to generate results.
Some of the main functions of the test are:
Overviewing your mental functions.
Comparing your decision-making patterns to other participants.
Determining if your functions are Introverted or Extroverted.
What Is the Idea Behind Judging vs. Perceiving Personalities?
Frank James, a famous YouTuber who creates MBTI-oriented content, explains the idea behind Judging vs. Perceiving personalities: "Because the Judging functions are more active, so if you are a Judging type, that means that you have extraverted Thinking or Feeling, which theoretically means that you are more apt and more likely to take action in the real world. Meanwhile. If you are a Perceiving type, then that means your first Extroverted function is either Extroverted Sensing or Extroverted Intuition, which, because they are perceiving functions, are not really about taking action in the world. They are more about gathering information."
3 Things That Affect Your Test Results
The Judging vs. Perceiving Test analyzes three key factors to determine your type accurately. It looks into your managerial skills and creates a P or J profile accordingly.
Decision-making patterns.
Generally, Perceivers don't rush to make decisions. They tend to gather as much information as possible before closure or conclusion. But Judgers prioritize closure and try to finalize decisions quickly.
So, the Judging vs, Perceiving Test provides questions to assess your decision-making patterns indirectly.
Time management.
The test includes specific questions to identify which end of the spectrum you lean towards based on your perceptions of time.
J individuals believe that time is a manageable asset. So, they plan every move, focus on important tasks, and get things done before the deadlines. Meanwhile, P individuals see time as a fluid concept that one should learn to flow with—rather than bend it.
Lifestyle.
The difference between a Judger and Perceiver is more apparent when comparing their lifestyles. So, the test overviews several aspects of your daily life to finetune the results.
Note: the questions are not personal, and you do not have to provide us with any private information.
Read Before Taking the Judging vs. Perceiving Test
Labeling people based on their personality type of dichotomies is not a good idea. So, we want you to keep two things in mind before starting the quiz.
#1. Judging axes don't determine your MBTI type.
You cannot use the information you get from the Judging vs. Perceiving Test to declare one's Myer-Briggs type. The results should only be perceived as estimations about the "final letter" in your type. (e.g., the J letter in INFJ).
#2. Judging people are not judgmental, and Perceiving people are not perceptive.
It's wrong to assume J people are disapproving or P people are sensitive.
The terms refer to your mental functions. So, when one has a J personality, they are likely to have Thinking or Feeling functions. And when one's type is P, they might have Intuition or Sensing functions.
Disclaimer
QuizExpo is not associated with any of the individuals/organizations mentioned in the Judging vs. Perceiving Test. The questionnaire is created independently, and no copyright infringement is intended.
How to Play?
Playing personality quizzes is straightforward: Choose the option that's true about you—or you relate to—and select "Next." Unlike trivia quizzes, personality tests have no right or wrong answers. But the questions are in forced-choice format. The point is to push you to choose an option that makes the most sense, not the one that's 100% true. For the most accurate results, don't overthink your responses. Go with options that you "feel" are the best.
How many questions does this quiz have?
20 questions
How long does it take to complete this quiz?
5 minutes
Questions of the quiz
Question 1

What is your priority on a Monday morning?

Organizing daily tasks

Preparing for a busy week

It depends

Question 2

Which one sounds like a good idea for the weekend?

Taking care of postponed tasks

Studying or learning a new skill

None of them

Question 3

How would you describe the way you work and get things done?

I get things done as quickly as possible

I don't rush it and take my time to get things done.

It depends on my mood.

Question 4

What kind of tasks would give you stress?

Messy and unorganized tasks

Tasks with deadlines

It depends on lots of factors.

Question 5

How do you feel about the deadlines?

I like them

I don't like them

It depends on the type of deadline.

Question 6

Are you good at time management?

Yes, I'm pretty good at it.

No, I'm not good at all.

Neither good nor bad.

Question 7

Which one sounds like a technique you'd use to get more things done in a day?

Divide each task into manageable micro-tasks

Working with a slow pace but for longer hours

Asking for a friend's help.

Question 8

What is your priority when making difficult decisions in life?

Inner values

Available information

Others' advice

Question 9

What do you think of people who are focused on getting to a destination and never enjoy the ride?

I relate to them

I don't like such an attitude.

It depends on the context.

Question 10

Choose a piece of advice that you relate to.

Time is the most valuable asset you have.

Don't worry; be happy.

None of the above.

Question 11

Which one is similar to your concerns about your career?

I want a job promotion.

I need a less-stressful job.

I need a job.

Question 12

How do you function under stress or mental pressure?

I can't function at all.

I can perform well under stress.

IDK. It depends.

Question 13

How nervous are you when a deadline is close and you are behind the schedule? (5 means you're overly nervous).

5 (super-nervous)

0-2 (little to no stress)

3-4 (slightly nervous)

Question 14

How do you feel when something unpleasant happens and interrupts your schedule?

I feel devastated

I feel fine

It depends on the situation.

Question 15

Do you feel like you have to be in charge of most things in your life?

Yes, I like to be in charge of my life.

Not really. I'm okay with not being in charge all the time.

I don't know. I think it depends.

Question 16

Which one do you overthink a lot, the past, present, or future?

Question 17

How do you balance your work and personal life?

I always prioritize work.

I always prioritize my personal life.

IDK. My work-life balance constantly changes.

Question 18

How easy is it for you to have fun during the weekdays while having other work to do?

It's nearly impossible.

It's fairly easy.

It depends on my mood.

Question 19

How do you solve a problem? What is your go-to approach?

I create a strategy as soon as possible.

I spend most of my time understanding the problem.

I often ask for others' help.

Question 20

Final question; does it make sense to rely on your intuition when making a decision?