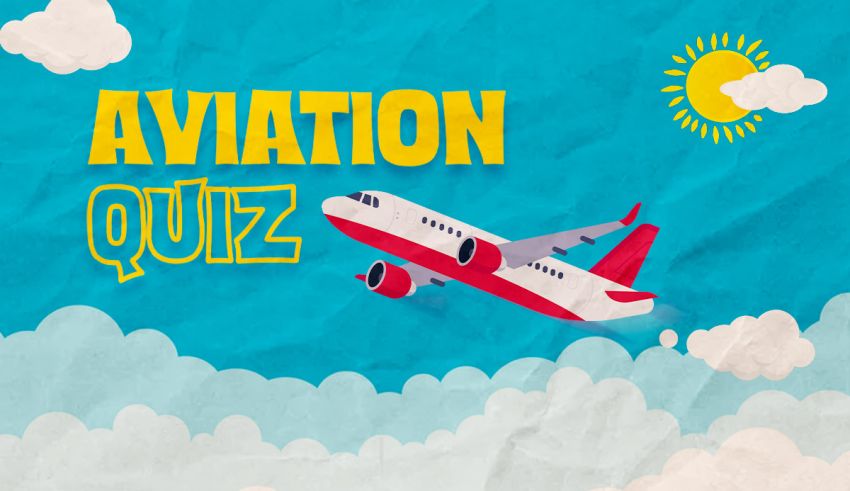 The aviation quiz reveals how much you know about aircraft and the flight industry. Only true aeronautic experts can score above 80%.
Aviation Quiz Explained
It's a 20-question trivia test about airplanes and the aviation industry in general. Each correct answer gets you a point, and the overall result shows how educated you are about aircraft.
The premise of the questionnaire is similar to our Supercar Fan Quiz. But here, we ask about everything planes.
The All-in-One Test for Aircraft Lovers
Surprisingly, there are countless aviation quizzes out there. But most of them focus on one or two aspects of the industry. So, our editorial team created a comprehensive test that covers all the main topics and generates reliable results.
The questions touch on the following subjects.
Aviation History
You can't call yourself a plane spotter without knowing much about the industry's background. That's why the aviation quiz asks questions about the history of aircraft and its iconic names.
Early Days of Flights
A popular test among aircraft lovers is the early aviation quiz. So, we dedicated a section to the milestones of the flight industry.
Airplane Trivia
You cannot create an aviation quiz with no questions about the planes. We enriched our database with fun facts and rare pieces of info about the aircraft to spice up the test.
Military Knowledge
Fighting aircraft have been a major part of aviation history. The quiz, therefore, has some tribute questions about the military planes and unforgettable influential people.
An Aviation Trivia That Gradually Gets Challenging
The questionnaire's advantage is intended for both novice and expert enthusiasts. It begins with simple questions and progresses to more complex ones. So, any score above 10 means your airplane knowledge is above an average person's.
What Your Quiz Result Actually Mean
Most online aviation quizzes score your knowledge. But none would tell you what your results indicate or imply. Our editors have turned the scores into meaningful results that determine how big of an aircraft fan you are. Here's what you need to know.
0-5 Points: Plane Watcher
Scoring less than six points in the aviation test is not that. It indicates you like planes and does care about the flight industry. But your knowledge doesn't go beyond an average person. Your score indicates that you regularly commute by airplane and follow the industry news as much as possible. But you're not a plane spotter or aircraft enthusiast.
In fact, most Americans score 0 to 10 points in the planes trivia quiz.
6-10 Points: Airplane Enthusiast
A score above six and below ten shows you like aircrafts more than an average person. It also indicates you educate yourself about the industry. Most casual plane spotters end up in the same category as you. And only about 40% of the participants score as high as ten on the aviation quiz.
11-15: A Potential Pilot
Scoring as high as fifteen in the aviation test is remarkable. Less than 25% of the participants manage to beat that result. It indicates that you are a true airplane lover. And you'd probably even consider following a career in the aviation industry—if you haven't already.
16-20: An Aeronautic Expert
It's rare for the participants to pass the fifteen correct question barrier. That's because the last five questions are pretty difficult. Less than 10% manage to beat the test and get a perfect score. Beating the trivia means you are an expert-level aircraft lover who knows about the industry way more than an average person.
Examples of Aviation Quiz Questions with Difficulty Level
| | |
| --- | --- |
| Question | Difficulty |
| Do pilots eat different food from their co-pilots? | Easy |
| How many parts is a Boeing 747 is made of? | Normal |
| How much does each Boeing 747 engine weigh? | Difficult |
| Where is the world's busiest commercial airport located? | Easy |
| What is the maximum speed of a Boeing 747? | Normal |
| What percentage of the world's population fears flying? | Easy |
No Boring Questions Guaranteed
Unlike most aviation quizzes online, we won't bombard you with the same old questions. Contrarily, you'll come across brand-new challenging stuff that would scratch your brain. Plus, you'll have the opportunity to learn fun facts and trivia about airplanes and the flight industry. (A pop-up will offer more insight into each question right after your responses).
Ready to Challenge Your Knowledge?
You don't come across an all-in-one aviation quiz every day. So, this is your call to put your knowledge to the test and see if you genuinely like aircraft. The questions cover so many topics that the results could even help you choose your career—you're a perfect candidate for the industry if you answer 16+ questions correctly.
Disclaimer
QuizExpo doesn't own some of the images used in the Aviation Quiz. No copyright infringement is intended. Please, contact us with any concerns.
Questions of the quiz
Question 1

How many hours can an aircraft fly after losing an engine midway?

2 Hours

3 Hours

5 hours

10+ Hours

Question 2

How long can an airplane oxygen mask provide a passenger with fresh air?

10 minutes or even less

12 minutes

17 minutes

30-43 minutes

Question 3

Black boxes are black hence the name. True or false?

Question 4

A Boeing 747 consumes __________ gasoline than your car.

Question 5

What part of the airplane is the dirtiest?

The tray tables

The toilets

The seats

The seatbelts

Question 6

What does a "Chicken Gun" mean in the aviation industry?

Emergency landing because of a flock of birds

Shooting dead chickens to an airplane's engine

It refers to when a bird dies in an airplanes engine

Question 7

Which phase of a flight is more dangerous, takeoff or landing?

Take off

Landing

None of them

Question 8

How much does the world's largest aircraft, the Antonov An-225, weigh?

About 500,000 pounds

About 250,000 pounds

Almost 900,000 pounds

Over a million pounds

Question 9

In percentages, how close can an average aircraft get close to the edge of the space?

Question 10

It's a myth that airplanes could trigger lightning while flying through the clouds. True or false?

Question 11

What's the capacity of a Boeing 747 fuel tank in gallons?

Question 12

Why do airplanes dim the lights during the flight?

To help passengers get some sleep

It's a security check

To help eyes get used to the darkness

None of the above

Question 13

What would happen if a passenger opened a door in the middle of the flight?

The airplane would blow up

Passengers would be sucked out of the plane

Nothing. You cannot possibly open that door

Question 14

Is it illegal to point a laser at a flying airplane?

Question 15

Which one is the world's safest airline?

Air New Zealand

Qatar Airways

Etihad Airways

Qantas

Question 16

Which one is the world's oldest airline?

Dutch KLM

Qantas

Delta Air Lines

Question 17

Who was the first pilot to fly faster than the speed of time?

Charles Lindbergh

Chuck Yeager

Amelia Earhart

Bob Hoover

Question 18

What is the most popular aircraft in the world?

Cessna 172

Airbus A320

Boeing 737

Question 19

How tall is the world's longest military aircraft?

65 feet tall

50 feet tall

45.5 feet tall

25 feet tall

Question 20

Final question; Which one is the world's fastest passenger airplane?

Aérospatiale Concorde

Boeing 777

Tupolev TU 144

Convair 990