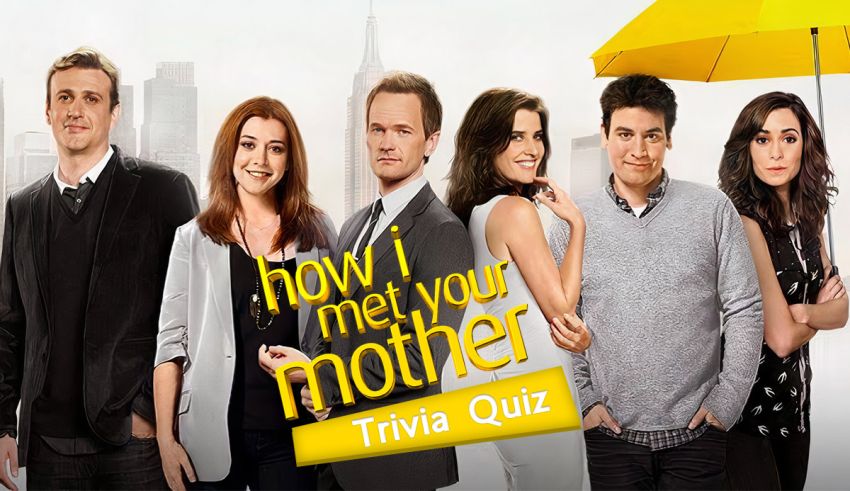 This is an ultimate How I Met Your Mother Quiz. Can you answer all these HIMYM trivia questions correctly? It is really hard, Just real fans can score 80%!
Do You Know Everything About HIMYM? We Doubt That!
How I Met Your Mother is still a trending sitcom, thanks to Netflix. But hey, how much do you know about this show? Are you a casual viewer or an actual fanatic? We created the world's most challenging HIMYM trivia test to prove that.
Unlike other tests, like the one we created for The Office, your personality does not matter here. So, it is not going to be a character match questionary by any means. All we look for here is pure knowledge of the show.
By the way, you will be scored on a scale of 0 to 20 based on your correct answers. Anything below 15 means you have failed the trivia test. (So, no hard feelings, please).
Take the Hardest Trivia Quiz Ever
The test is a set of twenty trivia questions about different aspects of How I Met Your Mother. It is called the 'hardest' because we did our best to extract the smallest details of the show you probably have never heard of.
If you are into exciting trivia quizzes, we highly recommend our Hardest Friends Test, too. It would prove if you are a real fan or not—just like the one on this page.
Test Your How I Met Your Mother Knowledge
To diversify the questions, we divided them into three primary categories, plot, characters, and timeline. Here is everything you need to know about each part.
Plot questions
HIMYM plot is full of ups and downs. But only real fans can remember the details of all the events. So, the first part of the Trivia Test is going to be about these easily-forgotten facts.
Note that the How I Met Your Mother quiz includes significant spoilers. So, you are warned. Plus, we do not think you could ever beat the test having not watched all the episodes.
Character trivia
The second part of the HIMYM Trivia Quiz is about the gang! How much information do you have about the six leading personalities of the show, Ted, Robin, Marshall, Barney, Lily, and Tracy? Not much? If so, you are better off without the test. The character questions include the tiniest details only real fans could recall.
Timeline questions
When did THAT happen? The third and final part of the How I Met Your Mother Trivia is going to be about the chronological relations between the events. For example, when did we hear Tracy's (The Mother) name in the show? Was that before we met the gang or after?
What Your HIMYM Trivia Score Means
The total number of correct answers on the test exposes the type of fan you are. We designed the How I Met Your Mother Trivia in a way that most newbie fans would fail. (Sorry). So, the more you progress, the better of a fan you are. Here is what your score means.
0-10:
You have watched a couple of seasons of the show. But that does not make you an ultimate fan. The first ten questions of the trivia test are not even challenging. So, scoring below ten means your HIMYM knowledge is deficient. One way to improve is to head to the official fandom website and study the plot and characters precisely. (Although, why would you even want to do that?).
11-15:
Scoring above eleven in the How I Met Your Mother Quiz is a good sign. It indicates that you are not an average fan. You have some detailed information about the plot, characters, and the whole timeline. But that is still not enough to beat the test. You need at least sixteen correct answers. Anything below that is a failure. Don't worry, though; you can retake the quiz anytime. So, maybe next time?
16-18:
Less than 15% of the participants manage to score as high as eighteen in the HIMYM trivia. That simply indicated that you are a super-fan. The knowledge you have about the show is impressive. And you would find few people who are as knowledgeable as you. We would call you a How I Met Your Mother Expert. But hey, that still would not make the ultimate fan. You are pretty close to becoming one, though.
19-20:
Congratulations! Scoring as high as nineteen or twenty on the How I Met Your Mother Trivia makes you an ultimate fan. Less than 5% of participants manage to get the same results. It is like you know everything about the show. You could proudly share your results on social media and dare your friends to beat you. (We doubt that they could, though).
Warm-Up Before the How I Met Your Mother Quiz
Since the questions will be mind-bending, it would be a good idea to prepare yourself in advance. Here are a couple of trivia examples for you to see how fresh your knowledge is. If you failed to answer these questions, you are better off without taking the actual quiz—because you would fail it as well.
Q1: Which city did Lily go to, leaving Marshall behind in the first season?
Q2: Lily was arrested during the Thanksgiving because of _____________.
Q3: What does Barney call the girl to who he lost his virginity?
Here are the correct answers.
A1: San Francisco
A2: Public urination
A3: The Mapmaker
What Makes the HIMYM Trivia Quiz So Special?
We created the How I Met Your Mother Quiz in 2021. So, it is the freshest test you can take. Most other trivia quizzes are outdated and spoiled. So, you would be on the right page if all you want is a new and challenging test.
Disclaimer
QuizExpo does not own any of the images on the How I Met Your Mother Trivia Quiz. Netflix owns all the said pictures.
How to Play?
A trivia quiz comes with right and wrong answers. You receive one point for each correct response—but no negatives for the incorrect ones. Take your time and read the questions carefully because some might be trick questions. Choose an option and lock it in by tapping "Next." Lucky for you, the trivia quizzes have instant results. You see if your response was correct immediately. (Green is good, red is bad.) Even better, you can learn more about the topics with the "answer reveals," the fun-fact snippets that appear after each question.
Questions of the quiz
1

Where did Barney see Ted for the first time?

2

In the episode called 'The Pineapple Incident,' Ted dated a girl called_________.

Stella

Karen

Victoria

Turdy

3

Did Barney decide to create 'Suck it Lily' before or after watching her play?

4

What was Barney's father's last name?

5

Which of the following incidents happened in the episode 'The Pineapple Incident?'

Ted couldn't decide to sleep with Turdy or her sister

Barney burned Ted's jacket

Ted drank all the ten free shots the bartender gave them

6

During Barney and Ted's flight to Philadelphia, Barney had a suitcase in which there were condoms and _______________.

More condoms

Toys

Handcuffs

A protein bar

7

Where are the gangs in the 'Atlantic City' episode from?

8

Which one helped Marshall get over his breakup with Lily?

Mopping around his house for 67 days

Making a batch of pancakes after 67 days

9

In which episode of season 4 is Ted's sister's name revealed?

Episode 1

Episode 5

Episode 11

None

10

Ted wears a ________ custom every Halloween in hopes of meeting the Slutty Pumpkin again.

11

Who was nicknamed The Iron Man?

Ted's friend

Robin's date

Barney

No one

12

What happens after Ted gets over his breakup with Robin in season 3 of the show?

He gets a random dragon tattoo

He gets a random butterfly tattoo

None

13

Where on Ted's body was the butterfly tattoo?

Shoulder

Lower back

Belly

Leg

14

What is Robin's middle name?

Chandler

Williams

Charles

None

15

What is Lily's birth month?

16

What is Barney's exact birthdate?

17

Which of these girls had an Australian date?

18

Which city does Ted hate?

Philadelphia

New Jersey

New York

None

19

What was Stella's assistant's name?

Abbigail

Abby

Christine

None

20

Marshall wanted to drive at least ____________ miles with his Fiero.