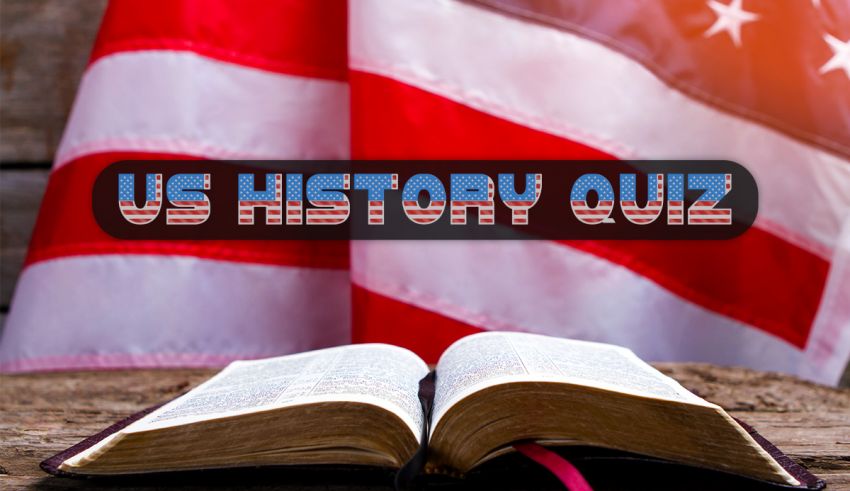 This ultimate US history quiz has 20 challenging questions. It can test your knowledge about US trivia and facts. Let's start to see how smart you are.
US history quiz
The history of every country is always accompanied by a lot of strange and exciting stories. Many things may be exciting to some of us, even those who are not very interested in this subject. This time, we want to learn some of the most enduring truths in American history with a small US history quiz.
Almost all Americans have learned about their country's history during school. But do you remember any of these classes? It's time to find out how much you paid attention in history classes! Taking the US history quiz will help you get a score.
At first, it is better to go back to the discovery of the American continent from the very beginning. As we all know, Christopher Columbus was the first person who officially set foot in the Americas and claimed this land for Spain. And on this occasion, on October 12 every year, everyone takes a day off from work and celebrates the annual celebration of Columbus Day.
US history trivia
American history is full of prevalent myths and lies that have been told in true stories for generations. If you disagree with this statement, you can do the Us history quiz to make sure. How much information do you have about US history trivia? Do you think you know everything you need to know about your country? If you believe you have enough information on this subject, I invite you to a small US history trivia challenge. Answer the following questions to test yourself.
When was it illegal to celebrate Christmas in the United States?
On what date was the American continent discovered?
Where is the smallest and largest state?
Where is the oldest city?
How many stars are there on the American flag?
Who was the first American to travel to space?
So how was it? Were you able to answer all the questions? If you could, then congratulations because you went to the next stage! But if you can't answer the questions, don't worry; follow this article to tell you some interesting points to prepare for the US history quiz easily.
American history trivia
Every country has funny facts that may not matter, and many of us may not have even thought about them, but it is always interesting to know them. So if you are also interested in this topic, it is not bad to take a look at these ten American history trivia That we listed for you
1- 4th of July is not actually the Independence Day
It is funny to say that the actual time that Congress voted to free the US from British rule was on July 2.
2- Mark Twain's real name is Samuel Clemens.
3- The original Statue of Liberty is not even in New York
Yes, that's right! The statue of liberty was a gift from France in October 1886 and is located in New Jersey.
4- The Empire State Building has its unique Zip Code
5- Oregon citizens have the fastest speaking
Marchex found that the people of Oregon had the fastest speech pattern. The slowest speakers are in Louisiana, Alabama, and Carolina.
6- The first capital of the US was not Washington DC
Located in the east of the country, it was once the United States' capital and is now the largest city on the east coast of the United States after New York. Yes, Philadelphia is the largest city in Pennsylvania and has been the first capital of the country.
7- Abraham Lincoln was the tallest president of all times!
He was six feet (193cm) tall and the 16th president of America.
8- The world's longest Broadwalk is in the Atlantic City
9- The oldest University in America was Harvard
10- Utah is the happiest state in the US
Now it's time to show off your American pride with your knowledge and take the US history quiz to have both fun and game.
American history quiz
Each era has its essential events that are worth knowing. In this case, a lot of information can be forgotten very quickly, like dates or names. But some historical events are so significant and vital that they may never be forgotten. Like the margins that happened about the recent Election in the USA! Or the catastrophe that befell George Floyd and led to a global outcry. Who knows? Maybe one day, all the strange events of 2020 in America will become American history trivia for the future!
Anyways, If you like quizzes and are interested in American history, do this American history quiz and see how many of them you can answer correctly, and don't forget to share your results with your sleepy friends in history classes! It's time for the US history quiz now; good luck!
How to Play?
A trivia quiz comes with right and wrong answers. You receive one point for each correct response—but no negatives for the incorrect ones. Take your time and read the questions carefully because some might be trick questions. Choose an option and lock it in by tapping "Next." Lucky for you, the trivia quizzes have instant results. You see if your response was correct immediately. (Green is good, red is bad.) Even better, you can learn more about the topics with the "answer reveals," the fun-fact snippets that appear after each question.
Questions of the quiz
1

........ is NOT one of the original 13 colonies

Virginia

Vermont

North Carolina

Delaware

2

West Virginia seceded from Virginia in...

3

Which American president lived in the White House for the first time?

Thomas Jefferson

James Madison

John Adams

None of them

4

What is the oldest city in the U.S.A?

Philadelphia

New York City

Jersey City

St. Augustine

5

Who was the first black woman to be elected to the US Congress?

Shirley Chisholm

Mary Eliza Mahoney

Phillis Wheatley

Rosa Parks

6

Who made the 50-star US flag pattern? And in what year?

Bestsy Ross, 1950

Stanley Pratt,1958

Robert G. Heft,1958

John Tyler,1950

7

The Statue of Liberty was a gift from...

8

Which of the following options is NOT a right protected by the First Amendment?

freedom of assembly

freedom of property

freedom of the press

freedom of speech

9

Liberty Bell is located in Washington. True or False?

10

Which US president was first seen on television?

Franklin D. Roosevelt

Warren G. Harding

William Howard Taft

James Buchanan

11

Who was the first Black student to integrate into an elementary school?

Phillis Wheatley

Ruby Bridges

Claudette Colvin

None of them

12

When did the first McDonald's restaurant open?

13

The southern economy depended on .....

Social workers

Army

Ordinary workers

Slave labor

14

Who was the first American to fly to space?

Gus Grissom

Guion Bluford

Alan Shepard

None of them

15

George H. W. Bush was the 41st president. True or False?

16

In what year were women's voting rights approved?

17

Who was the Father of the Constitution?

Ben Franklin

James Madison

Thomas Jefferson

None of them

18

In what year did World War II end?

19

The Korean War occurred in the...

20

Which of the following presidents never married?

James Buchanan

Jimmy Carter

Gerald Ford

Lyndon B. Johnson